I've lived in the Bay Area, in northern California, since I was a kid, but have rarely had a reason to visit Oakland over the years. Oakland often evokes images of a poverty ridden, perhaps even a crime inflicted town. I just never thought it had anything worth checking out. I recently had the opportunity to spend the weekend in Oakland as part of a hosted trip for Dave's Travel Corner and boy was I wrong about Oakland. The city is definitely up and coming from what I've seen so far.
A 15 minute BART ride from San Francisco, my hometown, I exit out of the station and ride up the escalator to views of the Tribune building, a daily newspaper serving Oakland, Berkeley, Richmond and surrounding areas. I walk an easy 5 minutes to the centrally located Marriott on 12th and Broadway. Check-in is a relatively smooth process and the room is just the right size. If you're lucky to get a room with a view, like I was, you'll have a great view of some of the high-rise buildings, including the Tribune. At night lit up, it's a sight.
So…what's worth checking out in Oakland you ask?
First off, I had no idea Oakland was host to beautiful Lake Merritt, a mere 15 minute stroll from the Marriott.
Second, I did not expect a romantic Gondola ride around the lake.  Gondola Servizio is located on Lakeside Drive, at the edge of the lake inside the Lake Chalet Seafood Bar and Grill. Joe, born and brought up in Oakland, oversees the counter and Alessandro helps out and is also one of the Gondoliers. Italian to the core, from Venice (my favorite city in Italy), Alessandro says this is off-peak season for Gondola rides. Makes sense. Although the day has been actually warm for mid-November, the temperature tends to drop sharply in the evenings. Today would be no exception.
Two photos above, (L-R): Room in Mariott and Lake Merritt
Early May through late October, the lake is filled with tourists from the Bay Area and neighboring towns wanting to ride a Gondola. Very few come from out of state and even less so from out of country. Mainly because Oakland is not a consideration for these tourists, as nearby San Francisco often steals the show.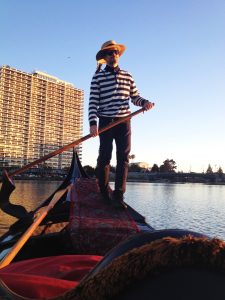 But you can't ride a Gondola in San Francisco, and definitely not with an Italian Gondolier, who not only knows the history of Oakland, but also brings with him an authentic slice of Venice, including the singing under the bridge. We glide across the lake, in the deepening twilight, crossing under the bridge, and Alessandro belts out a few hauntingly beautiful Italian verses. I forget to ask him the meaning. Instead I just enjoy his voice, starting to relax, until a man hanging out on the bridge yells out, "Yo, how much for a ride?" and Alessandro without missing a beat, responds "$40" and then keeps singing. Now that would never happen in Venice!
He says Gondoliers today are not required to sing. They are however required to have a certificate to operate a Gondola and that means they must know the history of Venice. In Venice, Gondolas were used as a private limousine by the wealthy and the Gondoliers worked for the families for a salary.  But then Italy lost its independence, along came occupation and the wealthy lost their privileges. But the Gondoliers got to keep the Gondolas and began renting them out to tourists. Sometimes to pass time, Gondoliers would sing, at other times it was to draw attention and make some extra money.
The Gondola I'm sitting in is a custom made beauty, about 20 years old, imported from Italy. The company imported two Gondolas and a smaller Venetian row boat. Purchasing a Gondola is not so easy, Alessandro explains. First you have to have access to the Gondola makers. And even if you get access, a boat can easily cost anywhere from 35,000 Euros to 80,000 Euros for a decorated one. I guess I won't be buying a Gondola anytime soon!
Why a Gondola company in the middle of Oakland, I ask perplexed at how this off the beaten path activity came about. Angelino, the owner, had wanted to start the service in San Francisco's Lake Stow, but the soaring cost of doing business in the city was a deterrent. Oakland was also in the process of renovating Lake Merritt and this, along with the affordable prices, made it a prime location for the company to put down roots.  While Angelino trained to ride Gondolas in Italy, Alessandro says he learnt how to operate a Gondola after coming to the U.S. He credits his oaring skills to Angelino. I ask him if he misses Venice. He says who wouldn't miss Venice, but he does not miss Italy. He says the country has become worse and although for a tourist, it is the best country to visit in Europe, he prefers to live in Oakland. His grandma doesn't understand why he won't operate a Gondola in Venice. But I get it. Here, he can not only ride a Gondola but he can also go to school, and look for jobs.
We glide toward the Lake Chalet, our 30 minute ride slowly coming to an end.  While mostly residential buildings surround the lake, there are a few office buildings and the Alameda County Courthouse. In the distance I can spot the Catholic Cathedral of Oakland. The lake started out as the heart of Oakland and served as a summer resort for the wealthy people of San Francisco. The areas around the lake were soon inhabited by upper class minorities who weren't allowed into Piedmont. Today, Oakland seems to be evolving and on the brink of change as more young people are starting to move in from San Francisco, looking for alternatives to living in a horrendously expensive city.  Pockets of Oakland, such as Adams Point seem to be attracting a younger crowd, while areas such as Temescal neighborhood offer hipster bars and restaurants.  I definitely get the vibe that Oakland is very hipster. Don't get me wrong, there are still parts that are sketchy and that one should avoid. But I would liken Oakland today, to what the Mission district in San Francisco was 5-6 years ago.  The chill has set in and I'm starting to wish I had my gloves.
Alessandro says couples often come for night tours and are allowed to bring a bottle of wine. Candles are complimentary and so is the singing under the bridge. I can imagine that must make for a very romantic ride on the lake, followed by dinner at the Lake Chalet or one of the many fabulous restaurants in old Oakland. We dock and I climb out, noticing the moon shining across the lake. The lights around the lake make for a very pretty picture.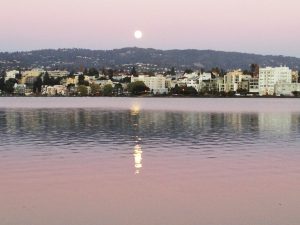 If you are visiting the Bay Area, make this Gondola ride one of your stops in Oakland. At $40, you can enjoy a 30 minute ride for up to two people or a 50 minute ride at $65. A Gondola can take up to 6 people but sometimes when people don't show up, a lucky couple can get a private tour! Now that's a bargain!
When to go: Early May through late October to enjoy the weather
Where: Gondola Servizio, 1520 Lakeside Dr, Oakland
For whom: Date night, tourists who just want to experience Oakland – off the beaten path
Tips: Bring layered clothing, gloves – November evenings tend to get chilly