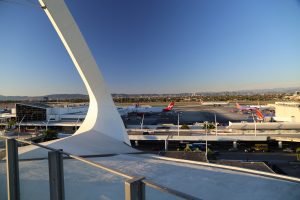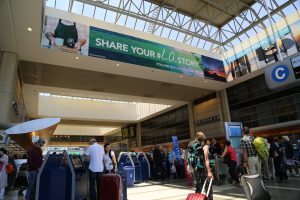 We've all been there before. You've got three hours before your next flight, and the little bag of complimentary pretzels from the last trip isn't going to hold you over until your final
destination. While some may choose to pack their in-flight snacks, other travelers may want to explore what the various terminals have to offer.
At times, deciding where to eat in the airport can be an overwhelming decision. With so many choices and options in various locations, it's hard to choose just one. The Way App not only has LAX parking and activities listed for a ton of airports, but it also has a list of the airports' restaurants.
If you're planning to fly out of LAX airport anytime soon, the following guide breaks down the wide variety of choices that LAX has to offer its passengers.
Sit Down Restaurants
Sealegs Wine Bar
This wine bar is perfect for travelers with a long layover and time to spare. You'll be lured in by their beautiful, eye-catching decor, but you'll stay for the mile-long wine list.
With items on the menu like their California Chilaquiles or the Napa Cabernet Burger, you'll forget you're in an airport altogether. Sealegs Wine Bar is located close to gate 28 in terminal 2.
Quick Grab and Go
Shake Shack
Known around the U.S. for their famous burgers, it only fits that LAX is home to one of the many Shake Shacks in the nation. If you're craving a burger over in Terminal 3, don't hesitate to head over for a quick bite.
Not sure what to get? Go for the tried and true ShackBurger with crinkle fries to get a proper experience. We can promise you won't regret it.
Built Custom Burgers
Located in Terminal 2, Built Custom Burgers is an excellent eatery for those running low on time. If you've got to book it across the airport to catch a connecting flight, this may be the spot for you.
You can choose to have a sandwich or bowl filled with a base of chicken, beef, or turkey. If you'd like to go meatless, they have vegan options as well.
Healthy Choices
Lemonade
The iconic Lemonade restaurant has found its home in LAX in terminal 5, but it's well worth the trip. A far cry from the typical fast-food restaurants, Lemonade offers travelers healthier choices such as butternut squash or roasted veggies.
Real Food Daily
For travelers who would rather stay away from any animal products during their trip would do well to pop on over to Real Food Daily. Located in terminal 4, they offer a variety of vegan options to grab for your flight.
Make the Best of Your Time in LAX
Whether you'll be at LAX for several hours or just for a quick layover, choosing where to eat can always be a struggle.
When choosing a restaurant, keep in mind the amount of time you have before your next flight. If you have several hours, a sit-down restaurant may be the best choice for you. You'll be able to enjoy the time you have before your flight in a friendly atmosphere.
On the other hand, if you only have an hour or less before departure, perhaps a grab and go location may be more convenient.