A large chunk of Guatemala's tourism revenue comes from teaching Spanish to travellers. It's not like it's the only Spanish-speaking country on the continent, but a number of factors make it a number one choice.
To start with, the Gutemaltekas speak slowly and clearly. Anyone who has been to Cuba will appreciate the importance of this – you aren't going to learn Spanish if you don't understand a single word muttered through lazy lips at machine-gun speed, half of the letters chewed into a uniform blob on their way out. Secondly, Guatemala is on the way: for anyone (and especially North Americans) going down the continent this is a good time to learn a few phrases – at the beginning of the trail. Third, the Guatemalan culture is heavily indigenous, so it makes it an interesting place to stop for a week and get to know it. And last, but not least, Guatemala is much cheaper than most of Latin America, making it a competitive proposition.
As a result, you get quite a motley crowd of students. Maybe not so much top-end travellers, but definitely a lot of backpackers eager to stock up on "Donde esta'?" and "Cuanto cuesta?" for the long journey ahead, as well as a lot of the more adventurous North American High who might not be up for roaming around the continent, but at least they will get out of the US / Canada into a native culture to spend a month somewhere different while learning the language. You normally pay for a week's course, quite a few hours a day one-to-one with a teacher, although that can modified to your needs.
Once in Guatemala, you will usually be directed to one of the two places.
Lake Atitlan is a very scenic mountanous landscape with volcanoes and postcard indigigenous people. A string of villages along the bank of the lake lets you adjust the level of spirituality according to your habitual marijuana dosage. This place is the Guatemalan equivalent of a stereotypical backpacker beach village. Antigua, on the other hand, is somewhat of Guatemalan Cuzco (but, in my opinion, not as nice), an area with Irish bars and cosmopolitan restaurants cordoned off from the rest of Guatemala for the safety of the tourists and, in places, paved to accommodate travellers' high heels.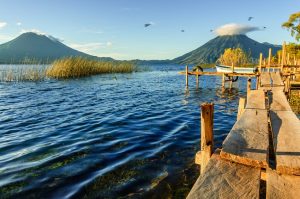 Everyone says they visit Antigua because it has the volcanoes around it. I am sorry but I don't buy it. People go to Antigua because everyone else goes there. Central America has volcanoes all over the place. By the way – very important – there is a village in Guatemala where turtles lay eggs, I read it in the Lonely Planet.
Most people are happy with those two in terms of Spanish classes. And then there are grumpy buggers like me who start kicking when they are herded to developed locations. But I didn't know of any other options, and I didn't want to end up in some total tomb somewhere. Lukily, I was given a tip, which I am now spreading with this article.
Personally, I decided to avoid Antigua in the very beginning, lest I bump into the Lord of the Underworld. But Lake Atitlan was highly recommended. It was pretty and all but after a couple of days up in smoke with Bob Marley (again) me and Luke, the guy I met there, began planning our escape from the Lonely Planet trail. The furthest we could think of at the time was El Salvador but since it was a bit of a mystery Luke decided to brush up on his Spanish. His Atitlan allowance was now spent, though, so it would have to be Antigua.
No way in hell. I told Luke I'd see him there in a few days, in brief transit and he'd better be finished by then.
After a few-day trip through the mountains I caught the chicken bus to Guatemala City, which was going through Antigua. Chicken buses. Oh yeah. Don't be fooled – the guy who is driving is not the one in control of the vehicle. It is the other guy – the primate who jumps around the roof at full speed, shouts "Guatemala, Guatemala ciudad, Guatemala, GuateGuateGuateee!!!!!!!!" like there's an imminent danger of GuateGuate, hangs out of the door and tells the driver what to do (a bit like an F1 team). And everyone else on the road: all roads are one lane each way and the general road ethics is to speed overtake on the oncoming lane regardless of tight mountain turns, and when something is coming your way, the bus pushes other cars to the side to come back into the right lane, at full speed. Whether it works out or not is largely a matter of chance. The guy is the original backseat driver, and he actually does backseat drive, only he doesn't have a seat and instead macholy hangs out of the bus fully at 45 degrees. Which is why all vehicles in CA have "Jesus is my guide" on the windscreen (phew, I thought he had forsaken us…) apart from one truck I saw that simply had "I am different" all across the front. Packed is not the word. It's just a sea of bodies. Yet someone always insists on getting from one end of the bus to another. A necessary criterium to exercise that right is an oversized basket, or at least a big stinking sack of potatoes.
Once in Antigua I heard the terrible news: Luke failed to get signed up and was only starting. I did want to go to El Salvador with Luke, though, and I was beginning to think that my Spanish could do with some classes too, so with a heavy heart I decided to stay and look for classes in the morning.
Later at night I was drowning my sorrows in Guinness, at the local command & control unit of the Irish Empire. This is when God heard my pain. He sent me a bunch of jolly Americans who were awfully nice to spill the beans about Xela.
Next morning, carefully avoiding to dirty anyone's designer fashion with my backpack, I walked to the bus station and caught a GuateGuate!!!!! to Xela.
Quetzaltenango, aka Xela, is the second largest city of Guatemala, I think. As soon as I got off the locals began looking at me with curiosity, like what the hell is he doing here? Good sign. I like Xela a lot. It's a big city but it had this warm sunny vibe on the streets by day, really mellow and totally authentic. The people just went about their business, but courteous and nice. A little too dark by night though.
It turned out Xela is the underdog for Spanish classes in Guatemala. Staying here is a real cultural submersion, schools are numerous and the number of foreigners is just about perfect – not too many to invade and enough to have a drink with if you fancy. The prices were lower than in Antigua – 100 bucks for a week (6-7 hours a day, one-to-one) with a very good school and about half of that with private teachers or less established schools.
I had been recommended a school, and I was already a day late for that week, so I was just going to go with that one, although I got a bit freaked out by the fact it had a school bell for lunch etc. My assigned teacher was an easy-going and giggly young lady. The beauty of having such a private on-to-one is that you can call the shots if you know what your language needs. She tried to drag me through the thorns of the grammar but, with so little time, I wanted it more conversational. She would keep trying to get me talking on the-book-is-on-the-table kind of topics like family, my country, my hobbies. I kept diverting it to sex, drugs and tips on catching Cuatemalan women: since I was in school in the middle of a backpacking trip, I did have to at least keep myself entertained. Piously perplexed at first, she eventually surrendered and even showed a cute curiosity for those topics. Which was much more merciful than Luke's fate: his teacher was a feisty evangelist and she would not let the conversation stray away from the Lord.
I stayed in a nearby hostel Argentina, where most travelers tend to stay. There was a bizarre neighborhood watch arrangement: at 9 o'clock a group of 10-14 youths would come out in balaclavas and ski masks, with baseball bats and all other kinds of close-quarter combat melee weaponry, and, well…keep the neighborhood safe, very actively. One of the guys in the hostel wasn't aware of it and had to take a lengthy detour on his way home one night when he saw them outside the hostel. Too right, you're not gonna think they are security, are you?
Word of warning if you think those guys look cool: don't take photos! Many Guatemaltekas believe that photos steal your spirit, and you really don't want to be informed of this by a bunch of youths in ski-masks and with baseball bats.
There are a few nice mellow bars to go to for a drink at night, and salsa nights for foreigners. While you are learning to speak you may as well learn to walk, again not very expensive and salsa teachers are abundant. You can't take your guns to the bars though, unfortunately, as the signs in the venues tell you, so people have to resort to breaking bottles over each other's heads.
Walking around the tombstone shops of Xela one afternoon (there are lots of them, business must be good) I met Sary on the central Plaza. She is a sweetest little thing and I wish I had met her before signing-up. She has her own school, at lower price, complete with accommodation, breakfast and an art gallery. Us and her friend went for some salsa and had a fantastic night. Her site appears to be down right now, but if you do go to Xela to learn Spanish do try to sign up with her, she's such a sweetie. I hope the webmaster won't mind: www.learn2speakspanish.com
All in all I was happy with this turn of events. Go to Atitlan if you want peace of mind, "peace" in the pipe, tranquility, lake, mountains and an international village. Go to Antigua if you want an international hangout with all amenities. But if you'd rather not stop cultural immersion and / or don't want to get sucked into an over-developed location just because you can't say "Cuanto cuesta"?", Xela is the answer.