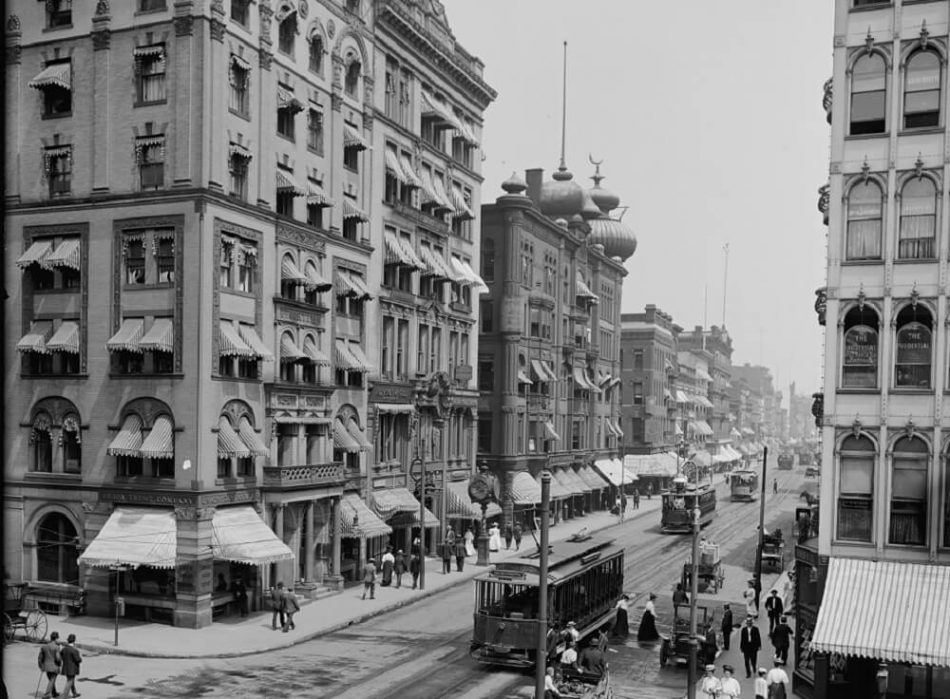 The Industrial Revolution ended long ago in the United States but remnants of its impact are still palpable. Once temples of commerce, many cities bustled with sprawling factories, grand theaters, turn of the century office towers, majestic hotels, and regal apartment buildings woven together by pedestrian friendly street grids. Today, much of this ornately designed architecture is demolished or condemned. Over the years, speculative redevelopment schemes promised a return to their former grandeur. Too few materialized but downtown Springfield Massachusetts was fortunate to preserve much of its historic architecture by mostly escaping the Interstate Highway construction wrecking balls that cleared the way in so many other cities. 
MGM Resorts capitalized on this situation along with stellar regional demographics to beat the odds and open MGM Springfield in 2018.  Smack in the middle of 3 downtown blocks hit by a tornado in 2011, their 14 acre $900 + million development involved crews propping up the outer shells and reconstructing facades of several historic buildings while infilling with brand new luxury interiors. Tying the property together, MGM Springfield used the classic New England town common as a template for their outdoor Plaza and Armory Square featuring an iconic 19th century National Guard Armory in the center surrounded by a paver lined commons that host seasonal activities like Food Truck Fridays, an open-air marketplace, weekly farmers market, performance stage, and an outdoor ice rink.
Renowned for iconic Vegas properties like the Bellagio, Mandalay Bay, and Luxor, MGM Resorts is increasingly venturing into off strip development bringing world class gaming and entertainment closer to home. MGM Springfield stands out from its other properties by integrating into the surrounding neighborhood with no fewer than 22 entrance ways connecting guests to the surrounding streets. Free loop bus service to various Museums on the Quadrangle including The Amazing World of Dr. Seuss encourages exploration well beyond the casino floor.
In addition to a resort-wide public art program showcasing a diverse array of commissioned and hand-selected pieces from local and internationally renowned artists, an interactive video presentation entitled Springfield: City of Firsts along with a history walk marked with illustrative signage at each stop informs guests that in many cases their footsteps align with past greatness. An exhibit entitled Cabinet of Curiosities: Springfield Innovations showcases Springfield's industrial legacy with items  like a 1925 Edison Western Union Stock Ticker as well as an 1895 Edison Home Phonograph.  
MGM's onsite 6-story boutique hotel's lobby features soaring glass windows, eclectic area rugs, and floor-to-ceiling bookshelves filled with vintage novels and leather-bound classics.  Advancing these library aesthetics, Lobby Bar showcases inventive cocktails inspired by literary masterpieces like Gone With the Gin and Peter Cotton Tail mixed with liquors from regional distilleries like Berkshire Mountain, Privateer Rum, and Hartford Flavor Company.

Emulating apartment-style residences with a well appointed yet cozy ambiance, the neighborhood's historic architectural styles spanning nearly 3 centuries are distilled into industrial chic interiors of concrete-planked ceilings, wood paneled walls, and large factory-style paned glass windows. Quirky brass piped Edison bulb fixtures in select halls & rooms resemble contraptions portrayed in Dr. Seuss's Horton Hears a Who, one of numerous nods given throughout the property to the author's Springfield origins.
Angled area rugs reflect an artistic asymmetry while Emily Dickinson excerpts adorn portions of carpeting. Accent art on the walls includes collages and various hand crafted prints. The top floor 1,600-square-foot Presidential Suite captures epitome of Dr. Suess with a custom chandelier made of vintage hats inspired by his popular story The 500 Hats of Bartholomew Cubbins.
Dining
When it's time to refuel, MGM Springfield's onsite dining provides a wide range of options including:
Built in 1846 hosting notable guests including U.S. President James K. Polk and President Buchanan, the former Union House Hotel later renamed The Chandler Hotel is now The Chandler Steakhouse. Vaulted ceilings, open kitchen, and elegant white table cloth service set the stage for signature dishes like Northwest Salmon, Whole Steamed Lobster, and a variety of steaks like a Tomahawk Ribeye cut from 100-percent Midwest Angus beef dry aged in-house for 21 days. Other menu classics include tableside prepared Caesar Salad and a Chilled Seafood Bar.
TAP Sports Bar
TAP Sports Bar's rotating seasonal lineup of beers on tap often feature local breweries like Two Weeks Notice and Rustic Brewing Company. In addition to their Hall of Fame Burger, signature wings, and overstuffed Reubens, live game action on a massive wall of 32 HDTVs that operate individually or as one image appeal to even the sports apathetic among us.  More obscure live sports like tennis, track and field, and polo are sure to be livestreaming along with the football and baseball mainstays. Their game room next door features diversions of a more hands-on variety like a 10-lane bowling alley, vintage video games, billiards, shuffleboard, air hockey, and foosball.
South End Market
Accessible both from Main Street and the casino floor, South End Market features a quick-casual lineup of 6 distinct eateries serving up scratch made dishes like Wicked Noodles' pan-Asian Pho; New England-style clam chowder and lobster rolls at Jack's Lobster Shack; down home classics at Bill's Diner and the pinnacle of fresh and healthy at the Hearth Grill. A wine bar and gelato & espresso counter stand at the ready for quick pick-me-ups in between gaming sessions.
Cal Mare
Run by James Beard Award-winning celebrity Chef Michael Mina and San Francisco's Chef of the Year Adam Sobel, Cal Mare evokes the vibrant seaside elegance of Italy's Amalfi Coast in its menu. Building on fresh seafood and handmade pastas, their authentic dishes include charcoal grilled fish, Squid Ink Tagliatelle, and Tuscan-Fried Whole Dorade.
Knox Bar
Taking its cue from Henry Knox, namesake of Fort Knox and builder of the historic Armory outside on The Plaza, Knox Bar serves up elevated cocktails in a 24-hour gaming lounge. You get high-roller cocktails like the Luna Di Sangue served with real gold coins to a cucumber intensive Walk in the Park.
Shopping
Boutique shopping at MGM Springfield includes onsite stores with deeply rooted local origins like Kringle Emporium and Indian Motorcycle. Situated in a ornately repurposed High Gothic-style 129 year old church painstakingly moved 600 feet from its original location onto The Plaza, Kringle got its start in nearby Greenfield MA when Mike Kittredge III, son of Yankee Candle founder Mike Kittredge, opened his own candle production facility. Now the former church showcases not only a wide variety of aromatic candles but Kringle's own line of small batch artisan chocolates, olive oils, vinegars, and assorted homemade condiments.
Indian Motorcycle was born in 1901 when former bicycle racers George M. Hendee and Oscar Hedstrom partnered to build America's first fuel-powered bike later dubbed the motorcycle. The company eventually abandoned its Springfield headquarters becoming an iconic national brand but has now returned with its first ever apparel boutique just steps away from the company's original Worthington Street factory.
Photos courtesy of MGM Springfield & Steve Mirsky.  Coverage made possible by participating in a sponsored visit.