Recently my husband and I took a trip to Las Vegas so we could get a few days away. We weighed our options carefully and decided to stay at the New York-New York, Las Vegas Hotel and Casino. We both love playing casino games and have been going there for about 20 years. From home, we're only a short 45-minute flight from the strip. It's a no brainer.
Some people go to Vegas for the shows and other entertainment, but we only go for gambling. Nothing compares to the atmosphere of the casinos there. Casinos are huge, they have tons of games, great food, and the energy is high with all the people around. We have casinos back home too, but they tend to be smaller and full of smoke.
Fun Outside of Gambling
Of course, we aren't always gambling. People-watching is unmatched in Las Vegas, and it's the cheapest entertainment you can experience. You will meet and witness the most diverse and exciting people there. This last time we even saw people walking down the street in full S&M garb!
The food in Las Vegas is fantastic! The buffets are the best – I love them for breakfast, especially. There's so much to choose from, and it all tastes delicious. My favorite is the buffet at the Wynn. The staff is friendly and helpful, the hotel is beautiful, and the food is wonderful.
This story provides an inside look at our trip to Las Vegas and gives you a couple of tips to use along the way.
My 4 Tips For First Time Las Vegas Travelers
I've learned quite a few things from all my trips to Vegas. Some of these things are common sense, and some I had to learn the hard way. These are the four main things I recommend for anyone planning a trip to Las Vegas.
● Be Discrete: Don't go flashing large amounts of cash around. Use your room safe, and keep your wallet on you somewhere secure.
● Transportation: Don't rent a car! The traffic is awful, and you'll end up paying too much for parking. Take an Uber or Lyft to and from the airport because they're less expensive than cabs. Use the monorail to get around different resort properties, especially if it's summer-time and too hot to be walking the strip.
● Get A Player's Card: This is the club card casinos use to identify and reward their players. At most casinos, it's pretty quick to get one, and they can pay off huge, especially if you end up gambling a lot or win big. Your player's card can score you free meals and maybe even a complimentary room.
● Tip Your Servers: This is especially true when you're playing table games. Tip the people that bring you drinks, and you'll guarantee they keep coming back when you're empty. It's also a nice move to tip the dealer.
The Inside Scoop On My Stay At NYNY
There are tons of hotels in Vegas, so choosing a single one isn't always easy. New York-New York is one of the older hotels on the strip, and honestly, that's why we picked it. Its old school charm reminds my husband and me of the Vegas we fell in love with 20 years ago.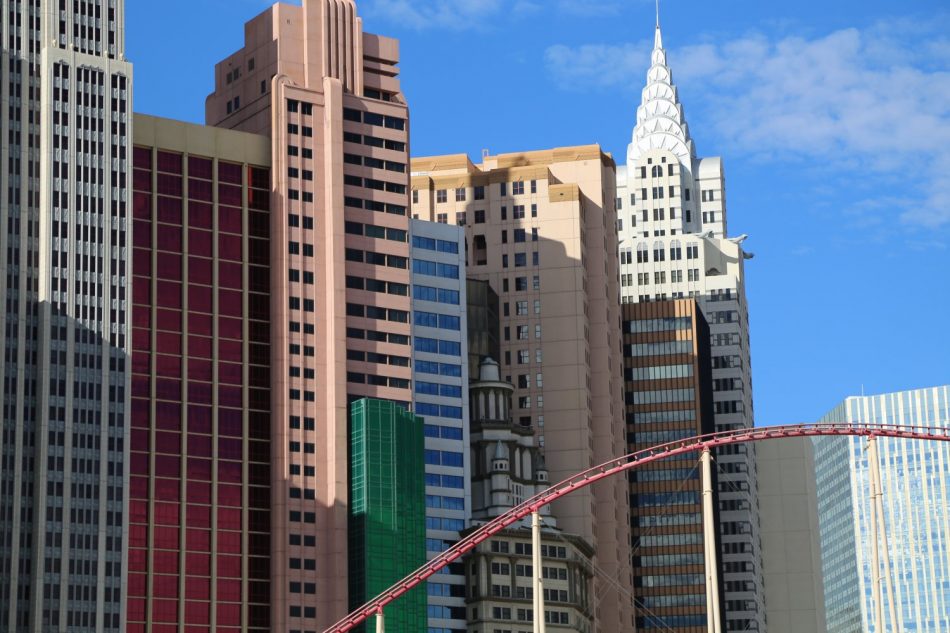 We love staying on the strip in the center of all the action, but that comes with a price. In terms of value, Las Vegas has gotten more expensive, but you still get a good bang for your buck at NYNY. We loved being able to look out the window at the rollercoaster and the Statue of Liberty. Not to mention the people at this particular casino seemed a bit more down to earth.
While the rooms do show their age a bit with their popcorn ceilings, they are spacious and clean, and all the staff are friendly as can be. Housekeeping quickly brought us the extra pillows we requested, and the bellhops took care of our luggage at departure to give us a little spare gambling time. Pair this with the monorail to get us to whichever resort we decided to visit that day, and the value of New York-New York is clear.
Hotel Restaurant Dining
As I mentioned above, we love buffets of all kinds, and NYNY was no exception. We did try a couple of other spots specifically in New York-New York during our time there. While they have a few elegant dining options, that's just not our style. My husband and I did share a monster cheese pizza from their Pizzaria. The crust was so good that I actually ate every bit of it.

We also had some hot dogs from Nathan's – because you can't just pass a Nathan's without getting a dog!
The Best Time is Spent Gambling in the Casinos
The casinos are what drive us to the "Sin City." Needless to say, we gambled every day, several times a day. There are so many casinos to choose from! Picking one to play at isn't always cut and dry.
Older resorts tend to have lower minimum tables, which can be helpful. If you really are into your game though, I recommend playing at a table with a higher minimum buy-in. You'll be playing with other people that know the game and these tables usually have increased odds.
Our Favorite Table Games
My favorite game is blackjack since I get to combine luck and skill a bit more. It's an easy enough game to learn, and I think I do pretty well most of the time. My husband, on the other hand, loves to play craps. Sometimes I'll join him at the table. However, craps has a lot going on, and I don't have a solid mastery of it yet.
No matter the game, when you get to sit at a lively table, and everyone is doing well, it's even more fun. People are high-fiving and cheering each other on nonstop. You really get a feel for the camaraderie. I'm sure it helps the mood that everyone is being offered free drinks.
My Personal Gambling Strategy
● When to bet, what to bet, and when to walk away – When I'm playing a table, I'll sit down with a couple hundred bucks and start placing relatively small bets. I like to replenish my starting amount first and keep my winning chip stack separate from my initial stack. My goal is only to play the winnings. Then I try to walk away after I'm about 50% ahead or if I've been going for a while and I'm hovering around my original buy-in amount.
● You have to look at it as entertainment – I follow the age-old mantra, never gamble more than you can afford to lose. If I get to sit at a table for a couple of hours just to break even, then I've gotten what I came for; I've had fun playing a game in Las Vegas!
● Play it cool – At the blackjack table, for example, sometimes people will get upset over the smallest thing. People aren't hitting at the right time, or splitting when they shouldn't. You can't let this stuff bother you. In the end, you're playing a game of chance, and you get what you get.
● Casino games guides – Before my trip, I usually like to know where the best games are at. So I use this Vegas casino games guide. It lets me know which casinos are offering what games and how favorable to the player the odds are.
The Surprise Of Winning Big At A Slot Machine
Tables aside, if we want a fun, relaxing, and inexpensive way to pass the time, sometimes we'll move over to a penny slot machine. I never expect to win from slots. It's usually just a way to zone out and get more free drinks. Winning almost $1,600 on a penny slot was the last thing I expected!
Any time you win over $1,200 on a slot machine you have to report it on your federal income taxes. So the casino had someone come over and get my name, address, and social security number right away. After a short wait, they brought me a tax document and a fat stack of cash. The staff was incredible and even congratulated me. The whole experience was surreal.
Final Thoughts on My Trip To NYNY in Las Vegas
I have always loved Las Vegas. That's not going to change anytime soon. If you want that old school Vegas feeling with down to earth players, then New York-New York is a great place to stay. I will undoubtedly stay there again.
On the other hand, if you are looking for the sleek modern hotel experience, the Aria or the Encore is more your style. I've stayed in both, and they are really amazing. They have an entirely different vibe. No matter where you stay, remember you can always visit and play at any number of places you want.
Take time to gamble in the casinos. Don't be afraid to sit down at your favorite table game. The people are usually lovely, and at a low buy-in table, the mood is mellow. Whatever you do, don't write off the penny slots! Have fun and good luck.
About the Author
Barbara Winters is a contributing editor at OnlineUnitedStatesCasinos.com. She likes investigating and finding great casino deals. Her favorite games are bingo, slots, and keno.