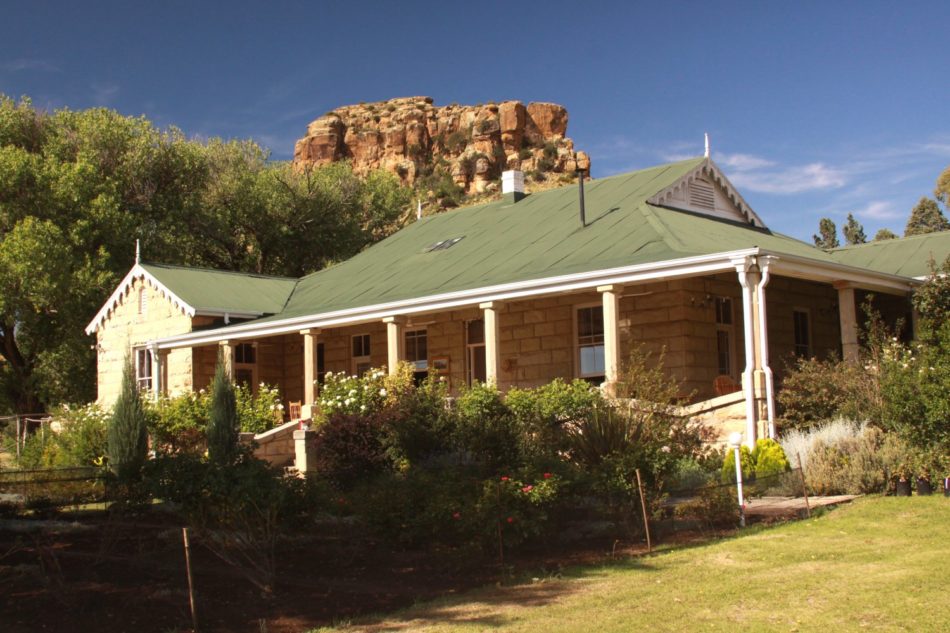 The Rose House Inn is a wonderfully restored luxury Bed & Breakfast located about 8 km from the small town of Fouriesburg in eastern part of the Free State in South Africa. The properties' old stone farmhouse was meticulously restored by innkeepers John and Trish Critchley in 2005/2006. Two stand alone cottages were constructed within the expansive gardens and now serve as the primary guest rooms.
The main two ingredients in a stay here are privacy and quiet! This is rural South Africa – you come here to get away and relax. The total property is huge – over 1400 acres. From the property on a clear day you have stunning views looking out across the entire valley and the colorful table top like rock formations (called Kopjes).
Friends from crowded Johannesburg helped John design the stand alone rooms. One of the main factors was they had to have ample space – the rooms have plenty of this. They are also set far enough away from each other that there is significant privacy. Another factor was a room where you can escape from technology. There are no televisions in the rooms and the WiFi when working is suitably slow enough that its better not to use it! Each room is well stocked with reading material – both books and magazines.
The water on the property is as fresh as one can find – piped directly from a spring in the Maluti mountain ranges behind the farm. Each room has both a shower and a bathtub in the luxury bathroom.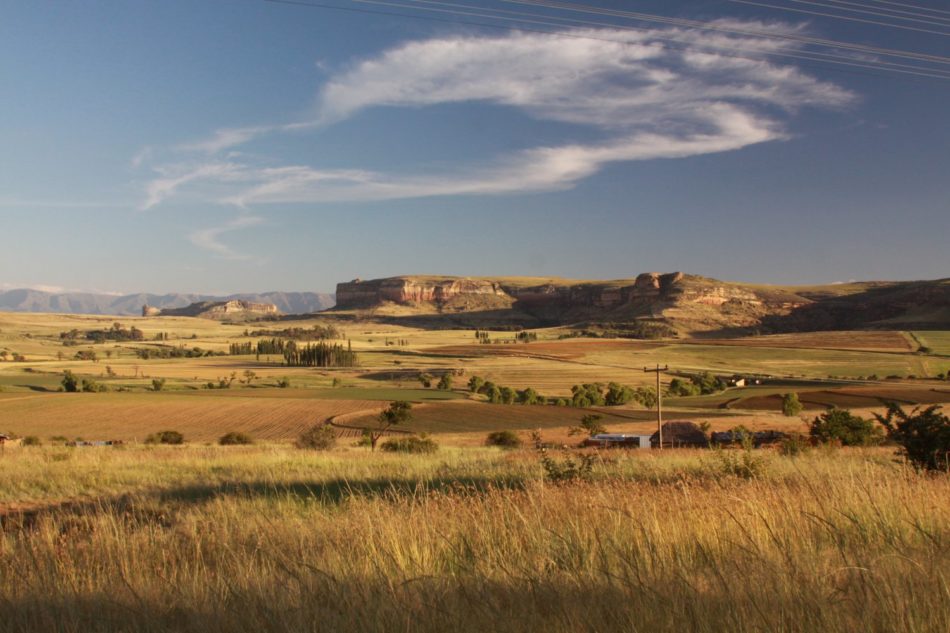 Along with the location, the Critchley's hospitality is certainly what sets this B&B apart from others. Trish provides traditional South African breakfast, served on the veranda when weather permits – using local ingredients as well as what is grown on the farm. Dinners here can be arranged by reservation.
They are doing some intriguing things on the property not the least of which is growing vineyards. The vines are at an elevation of 1700 meters making these among the highest if not the highest vineyards in all of South Africa.
It is a test of terroir, so to speak. There have never been grapevines planted in this valley for commercial use – and the closest grapevines are a few hours drive away. John is primarily growing Pinotage (the south African varietal) and Shiraz. This is a challenging environment to grow wine grapes not only because of the elevation but the soils are very shallow and John has spent significant time improving the overall quality of the soil.
In year three of growth he was hit with a 10 minute hail storm that almost destroyed the vineyard. Huge rocks of hail pummeled the vines. Ultimately he had to cut away much of the growth setting the vineyard back several years. The hail came at an angle with wind – now one side of each row is covered with hail protective netting. The seasons are short here – but during the growing season there is plenty of sunshine. The winters can get cold and there is always snowfall.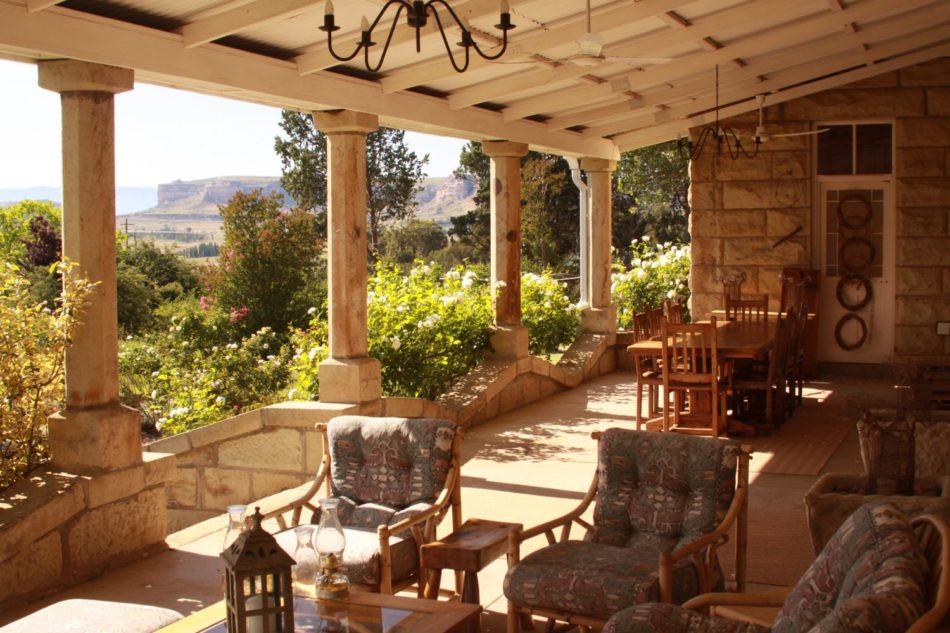 While John waits for a vintage with enough fruit he has sourced some premium Shiraz from where its already proven to grow – near Capetown and he had it vinified and bottled there. His harvest is typically in February.
One of the long stone buildings has been converted into a worm farm – mounds of decomposing cow dung are heaped together – with thousands of small red worms working their way through the manure.
One of their other neat projects is a small Farm to Table restaurant on site called the Rose Hip. The farm is about as close to "table" as you will find – with vegetables growing right outside the restaurant. Trish is prolific at canning local fruits, making juice from wild berries and making jams and preserves. All of these items are available for purchase here.
The restaurant has a full kitchen and serves a variety of small plates. With wine production on its way in the coming years this will also be a venue for wine tasting.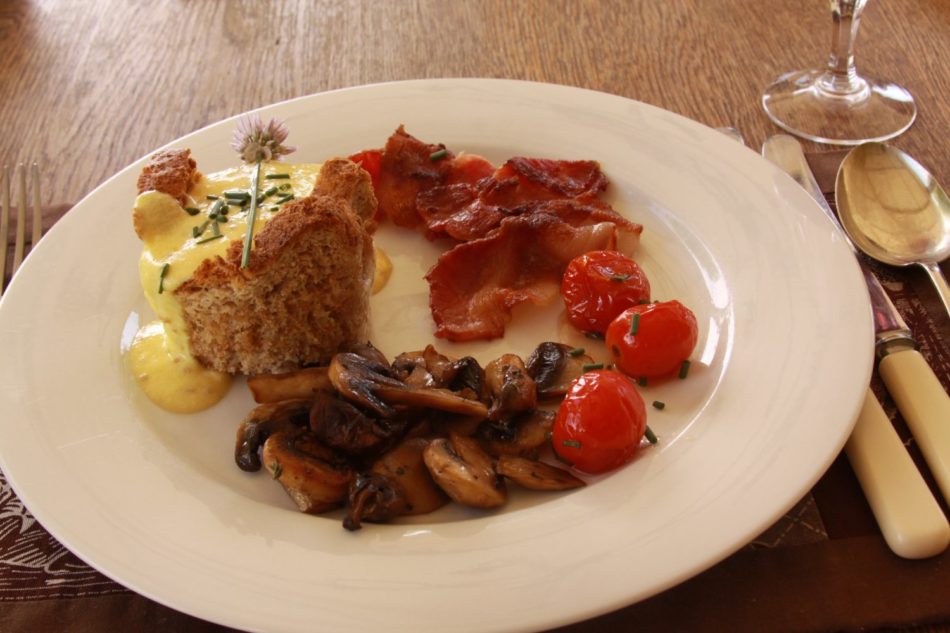 The Rose House Inn is about a 3 hour drive from Johannesburg. Nearby attractions include the small city of Clarens – a 30 km drive. This is a quaint tourist friendly city with the highlight being its main square which is full of art galleries and other specialty shops. The small town of Fouriesburg is only an 8km drive from the B&B. This town is much smaller than Clarens but is a convenient place to drive to for dinner – with its several small restaurants and supply stores.
Golden Gate National Park is about a 50 km drive (free of charge) and is in the highlands with the main pass at about 2000 meters in elevation. The attraction here is the wildlife (if you are lucky to see them) including Wildebeest, Zebra and Baboons. There are several short circular drives that leave the main road near the summit and you have your best chance of seeing wild life on these roads.
The Caledonspoort Border post in Lesotho is about a 35 minute drive – and the Afri Ski Resort Resort wholly contained within Lesotho is about a 90 minute drive from the B&B.
For more information visit: http://www.tripadvisor.com/