Calling O'Hare an airport is like calling the Queen Elizabeth II a boat. – Andrew H. Malcolm
On March 23, 1963, President John F. Kennedy landed at the new airport on Chicago's northwest side and declared the new facility could be classified as a wonder of the world.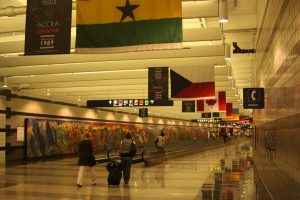 While travellers who have passed through O'Hare International Airport may have called the facility many things, few have likely gone as far as to call it a "wonder" — although technologically and architecturally speaking, it very well might be. Once the busiest airport in the world in terms of passenger traffic (a title now held by Atlanta's Hartsfield-Jackson International Airport) more than 200,000 passengers and 4,300 tons of cargo pass through O'Hare every day, making it the sixth busiest airport in the world — and a number of publications have lauded the facility for its design and efficiency.
Why ORD?
While some U.S. airport codes are easy to decipher, O'Hare's code — ORD — leads some to scratch their heads. The answer lies in the history of the land the airport stands on.
In 1942, the Douglas Company constructed an airport facility to build C-54 aircrafts for World War II. Chicago's willing workforce and proximity to railroads made it an ideal factory location. For three years, the facility churned out planes for the military.
Once the war ended, the Douglas Company sold the airport back to the city, and it was converted into a public facility and designated the site for a new airport to be named O'Hare International, after Edward O'Hare, World War II's first flying ace and the recipient of the Medal of Honor. Thanks to the nearby farming community, Orchard Place, the airport was named Orchard Field Airport. Thus, this created the designation ORD. That code remained even after the airport was officially renamed O'Hare in 1949.
O'Hare: Yesterday and Today
For the first few years, O'Hare Airport served primarily military and cargo flights to and from Chicago, relieving some of the congestion from nearby Midway Airport, which opened in 1931. The first passenger service to O'Hare didn't begin until 1955. In a year, the airport was served by Pan Am, TWA, American, United and several other airlines. However, the bulk of Chicago's airline traffic went through Midway, as O'Hare was considered remote and difficult to access, and lacked adequate passenger facilities.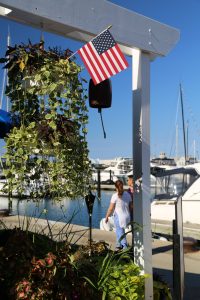 The city of Chicago committed to invest in the airport over the next few years. In 1962, the new main terminal complex opened to welcome all passengers coming in and out of Chicago. It wasn't long before O'Hare claimed the busiest airport in the world title — in fact, by early 1970s, some air traffic had to be diverted back to Midway to ease congestion. It seemed passengers were able to find things to do in Chicago, and were eager to visit the vibrant and growing city.
Today, what was once a single terminal serving all airlines has grown into a massive facility with four numbered terminals housing more than 180 individual gates. The largest concourse is Concourse G in Terminal 3, which houses a hub for American Airlines. The 144,000 square foot concourse was remodelled in 2010, and has been lauded for its design that allows natural light into what was formerly a dark and enclosed space.
Additionally, O'Hare is a hub for United Airlines. More than 45 percent of the passengers traveling through O'Hare are scheduled on United flights.
Celebrating a Milestone
Although O'Hare was open in the 1940s, it was not officially dedicated until 1963. 2013 marks the 50th anniversary of this American icon, called the "Best Airport in North America" by Business Traveler Magazine and Global Traveler Magazine.
As the last 50 years have shown, the ever-changing demands of the traveling public necessitate changes in travel facilities. O'Hare is in the midst of a massive modernization and expansion project; the final phase began in 2010 and features the construction of several new runways that will bring runway configuration into a parallel construction rather than intersecting runways. The new configuration will reduce delays and potentially increase the number of flights O'Hare can handle each day.
From its days as an aircraft manufacturing plant to its current status as a modern marvel of architecture and efficiency, O'Hare International Airport continues to impress (or infuriate) all who experience the facility. There's no telling what the next 50 years will bring, but it's certain O'Hare will be on the forefront.
About the Author: Aviation history buff and amateur pilot Steve Lester took his first flight in 1984 from Chicago O'Hare — and was hooked. An accountant by day, he writes about the Golden Age of Air travel for several magazines and blogs in his spare time.