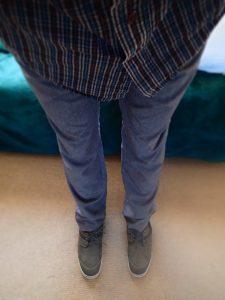 Pants, Bluff Works (Reviewed February 2013) Recently we were approached by an independent clothing company, Bluff Works, which boasted versatile pants that look good in an office yet hold up to the rigors of outdoor activities. These pants were the brainchild of founder Stefan Loble who wanted a solution to the constant ironing and washing of his work clothes.
These sharp looking *wrinkle free* pants are ideal for the urban stylist – looking good at work yet at the same time are comfortable and durable for outdoor and extended travel activities. They are certainly comfortable (athletic cut) – and yet stylish too! But the real benefit of these pants is they can be worn many times before needing to be washed or ironed. The material is made from high-performance grade polyester which is used for sports and other outdoor clothing and contains added stain-release technology. Oh, and they are made domestically in the garment district of New York City.
Having just come back from a long trip abroad we missed testing these overseas – so rather we took them out for both work and play locally. We wore them on a quick trip biking in the warm winter sunshine hitting the single track on a mountain bike in the nearby hills. And then the next week we wore them in the rain. Work hard, play hard – these are your pants.
They are lightweight and dry quickly.
For more information and to purchase, visit: www.bluffworks.co