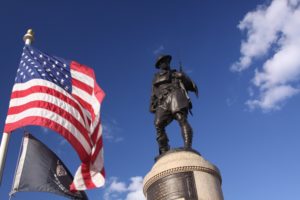 The steel industry vacated Pittsburgh starting in the mid 1980's and by the mid 90's had almost entirely disappeared. With a hold on the industry of Pittsburgh for such a long time the loss of the steel mills happened rather quickly. However the legacy of the period of steel in Pittsburgh lives on; names like Carnegie, Mellon and Frick dot the city.
As a testament to the resourcefulness of Pittsburgh, neighborhoods have since been revitalized, new industry has taken root including technology and robotics and in a number of cases steel mills have been completely removed and new neighborhoods and districts have taken their place.
For a relatively small city Pittsburgh has tons to offer from its history, world class museums, varied shopping districts, year round sporting events, art galleries and fine restaurants. Pittsburgh and vicinity is the birthplace of Rachel Carson, Andy Warhol and Perry Como.
Lastly but certainly not least is this is a city of at times rabid sports fans. With a professional hockey, baseball, and football team, sporting events are year round. Football is the heart and blood of Pittsburgh's sports fans and on game day the Steelers are the "only game" in town. Their fans "bleed" black and gold and its not uncommon to see sports signs in people's windows, signs in yards or other memorabilia around town.
Museums & Attractions
There are four Carnegie Museums in Pittsburgh and they include the Carnegie Museum of Art, Museum of Natural History, Science Center and the Andy Warhol Museum. We have spotlighted the three that we visited.
Andy Warhol Museum, or more simply "the Warhol" contains 7-stories chock full of Warhol original paintings as well as several galleries that rotate featuring works by other artists. This is the largest single-artist museum in the USA. Andy Warhol was born Andy Warhola in Pittsburgh in 1928 and this museum is a tribute to his life's work. He found inspiration in American brands – paintings of Campbell Soup cans and other iconic brands take up an entire gallery. Start your visit on the first floor with a photo and descriptive timeline of Warhol's life and then head up to other galleries organized by periods in his life. A museum store is located on the first floor. Visit: www.warhol.org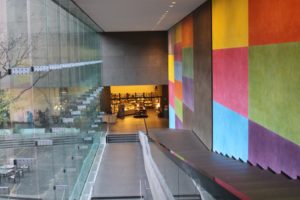 Carnegie Museum of Art contains an excellent permanent collection of art from Egypt, the Middle East, Greece, Rome and Asia – all of which date before 1300. In addition a number of galleries contain artwork ranging from Renaissance to French and Post-Impressionist to American portraits and landscapes. Admission to the Carnegie Museum of Art also includes entrance to the adjoining Natural History Museum. Visit: www.cmoa.org
Natural History Museum appeals to all ages. Two of the permanent collection highlights are "Dinosaurs in their Time" (third largest collection of dinosaur bones in the country) and the Hillman Hall of Minerals and Gems. Other fairly large exhibits rotate on a continuing basis. Due to the number of exhibits it is recommended to allow at least several hours here.
Be sure to check out the PaleoLab located just inside the main entrance to the dinosaur exhibits. From behind a long glass window you can watch experts prepare and clean dinosaur bones. A number of the current dinosaur exhibits on display were actually prepared in this lab. It is meticulous painstaking work. A number of perfectly preserved entire skeletons of dinosaurs are on display in several large rooms. The Sauropods are the largest dinosaurs on display and despite their very small heads they boast enormous bodies that extend out up to 80+ feet in length.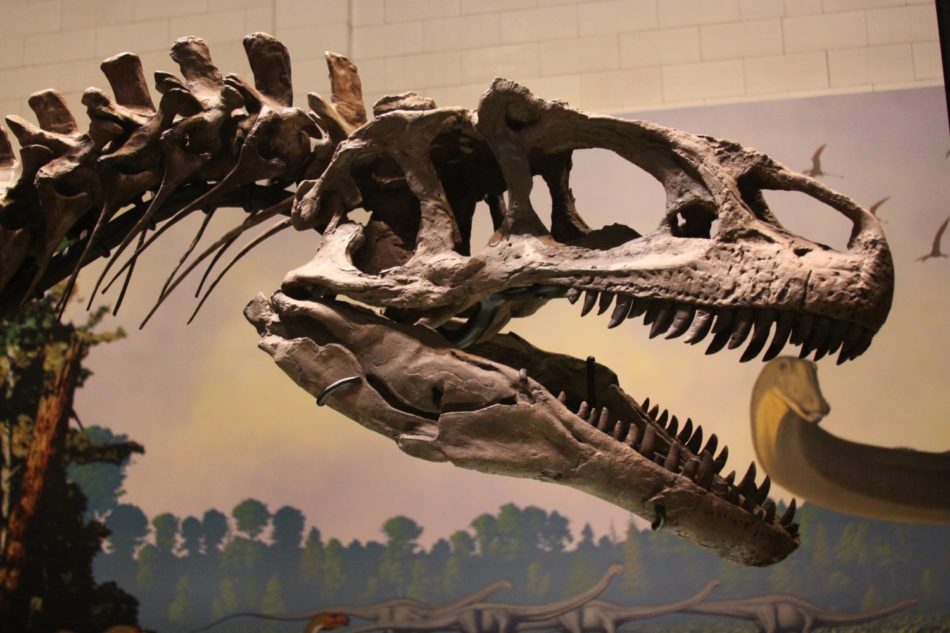 Hillman Hall of Minerals and Gems contains over 1300 specimens from around the world, some dazzling and stunning, some down right odd looking. There are nice crystalline pieces, a goid collection of rather large gold nuggets, lots of specimens from the former Soviet Union and an extensive collection of gems from around the world. One room allows you to see how certain minerals give off light when each display is darkened. Visit: www.carnegiemnh.org
Duquesne Incline is located at 1220 Grandview Ave and rises at a breath taking 30 degree angle from the bottom, 400 feet to the top. The views overlooking Pittsburgh keep improving as you rise towards the top. This is one of the last few remaining inclines in the USA; it has operated since 1877. While this is certainly an attraction for tourists, it is also a working incline and those who live at the top of the hill often use it for commuting to between their house and the bus system.
A museum is located at the top which contains dramatic photographs taken from the incline when much of Pittsburgh was under water during its worst flood in history in 1936. Be sure to visit the inner workings of this incline including the motor and big wheel that turns the two steel wire cables. There are excellent views from the outside viewing platform (both during the day and at night) of the "three rivers that converge near its base as well as downtown Pittsburgh.
Frick Art & Historical Center is an almost 6 acre estate located in the historical Point Breeze neighborhood (an area noted for its historical large mansions). Allow about 20 minutes to reach the grounds from downtown. Parking is on site and is free. This was the property of Henry Clay Frick, an industrialist and a prolific art collector. Tours of the well preserved Frick Mansion (built in 1870 and is where his family was raised) are guided and showcase the family's art, era technology including electricity (which at the time was rather new), stately furnishings and a sophisticated call center that could call the servants from most any room in the house. A treat at the end of your tour is the music of the still working Aeolian pipe organ.
The grounds also include a greenhouse where a fine collection of leafy greens are grown providing food for the cafe on site (open for visitors), the Frick Art Museum and exhibition center which rotates artwork and special exhibits (often featuring well known artists) and an excellent classic car museum. A wide range of historical cars and carriages are on display including several electric vehicles from the early 1900's to model T's to the more luxurious Rolls. Yes, all these vehicles still work. Tours of this museum are self guided.
For more information visit: www.frickart.org
Neighborhood Spotlights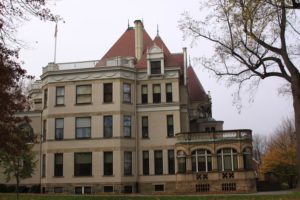 One of the highlights of visiting the the Strip District is the food and who better to tour with than with local Sylvia McCoy who runs Burgh Bits and Bites Food Tours. Throw on some comfortable walking shoes and forgo your lunch as you will be stopping at a variety of shops to sample a wide array of foods. Humus to sushi, biscotti to exotic cheeses, Sylvia has you covered. Her tours are affordably priced and you will receive an insiders look into this unique neighborhood which includes food markets, coffee shops, specialty stores, and a variety of restaurants. The Strip District takes its name from the narrow strip of land bordered by the Allegheny River to the north and Grant's Hill to the south.
During a recent tour we visited Wholey's Market – from the outside this might look like just another super market, but on the inside you will find a surprisingly large selection of fresh seafood, meat and poultry. A sushi chef whips together a number of rolls and sashimi for take away. This market is historic, it was founded in 1912. Visit: www.wholey.com
Step out of Wholey's and look across the street at the black and gold decorated Mike Feinberg Co store. They have sold Pittsburgh Steelers memorabilia for over 40 years and were the original "Terrible Towel Headquarters" of the Steelers. Nearby is the Labad Grocery specializing in Middle Eastern foods including some very nice home made hummus.
Looking for delicious bread or anything related to bread? Look no further than Mancini's Bakery – walk in their store and chances are you will succumb to the enticing aromas. Visit: www.mancinisbakery.com
Further down the street you will find Pennsylvania Macaroni Company (Italian deli) containing one of the finer selections of Italian and International cheeses we have seen. Talk to Carol Pascuzzi (or listen to her talk in our video below), otherwise known as "Dear Heart". She addresses everyone she meets by "dear heart" and she is the undisputed "cheese expert" here. www.pennmac.com
The Strip District is the original location of Primante Brothers which is open 24/7. They are known for their unique sandwiches. Initially this restaurant started out as a wagon selling sandwiches to workers. This is a hopping place when the Steeler's play. www.primantibrothers.com
Enrico's Biscotti is an Artisan Bakery with a wide variety of various Biscotti including seasonal selections.
At the time of this review Sylvia was voted as one of the "top 40 under 40" individuals. This is an annual program that recognizes 40 Pittsburgh individuals under the age of 40 who are making a difference in a positive way in their community. The Pittsburgh Steelers Quarterback was also among the 40 winners.
Sole City Tours focuses their tours in the Lawrenceville and the Shadyside neighborhoods. Ask for Sherris to be your tour guide. Lawrenceville is a neighborhood that has seen and is in the middle of a complete revitalization over the past few years. It is home to a number of interior design and home furnishing shops, art galleries, restaurants, a theater and a very popular bake shop to a name a few. The guides for Sole City Tours know the owners of these businesses.
Their tours are very reasonably priced. Allow several hours for the "Design Zone Roam" tour – you will have time inside the stores to shop as well.
A nice art gallery is Borelli-Edwards Galleries (www.begalleries.com) – one of the highlights in this gallery is the 18th-20th century Japanese landscape and nature prints and paintings. These are in the room in the back of the gallery.
Also check the boutique, Divertido Shop – (www.divertidoshop.com).
This is a unique neighborhood that is very pedestrian friendly and car friendly to – as there currently are no meters for street side parking. For more information about Lawrenceville visit: www.lowerlawrenceville.com
Eats
Fathead's Saloon from a glance might appear to be a typical hamburger joint or "beer garden" but nothing is typical about this place as evidenced from a recent Wednesday night visit with crowds just about flowing out the door. The food is cooked to order and a number of their dishes are regular award winners. We guarantee you will not leave this restaurant hungry, even their reasonably priced salads will put more than a dent in your appetite and you might find yourself requesting a take home box while the night is still young. We are not typically a fan of wings but with 13 different sauces to choose from including some that are so spicy you might find yourself gasping for air, under the table and reaching for the water which in these situations is really not the antidote. Don't worry, there are plenty of sauces that are not spicy and are quite tasty.
Think you've seen sandwiches before? Think again after you see one of their "Headwiches". If your appetite is somewhere in the vicinity of the size of your head you are welcome to order one of these. Normal appetites, or those who don't want to pack part of their headwich home with them, perhaps should consider ordering one of their "normal" sandwiches.
Did we mention the beer? Over 200 beers are available with 42 on tap. This is a veritable beer lovers paradise! Location 105 East Carson Street. Two floors of seating are available. Check out their wall of photos and the "wall of foam". Serious beer drinkers only achieve this stardom by consuming major quantities of beer over one year. For more information visit: www.fatheads.com
Point Brugge Cafe is located at 401 Hastings Street; this is a modern chic European styled Bistro Cafe open for lunch and dinner as well as a Sunday Brunch. The mood is upbeat, the service quick and the food is varied with a good selection of soups, salads and sandwiches. There has been a restaurant at this site since 1956 (different name, different owners). Visit: www.pointbrugge.com
Square Cafe is located at 1137 S. Braddock Ave and specializes in tasty breakfasts and lunches. This is not your typical ham and eggs breakfast spot. They offer a variety of dishes including a number of unique crepes and pancakes. Try their soy sausages for a different take on sausage and their wild mushroom tart. There is an excellent selection of coffees including our favorite, the Pumpkin latte. Yum!
More Information
General
www.visitpittsburgh.com– VisitPittsburgh
Museums
www.cmoa.org – Carnegie Museum of Art
www.carnegiemnh.org – Carnegie Museum of Natural History
www.warhol.org – The Andy Warhol Museum
Neighborhoods
www.lowerlawrenceville.com – Lower Lawrenceville neighborhood
Restaurants
www.mancinisbakery.com – Mancini's Bakery
www.pennmac.com – Pennsylvania Macaroni Company
www.pointbrugge.com – Point Brugge Cafe
www.primantibrothers.com – Primante Brothers
www.wholey.com – Wholey's Market
More Photographs