Japan features some of the finest dining experiences and quality food in the world. Scientists and researchers have discovered that Okinawa, an island off the coast of Japan, boasts the largest population of centenarians in the world. There must be something to the way the Japanese people eat.
Sushi was likely introduced to Japan in the 8th century, while the first mention of sushi in the United States eaten by non Japanese was in 1904 by the Los Angeles Herald. The earliest sushi restaurants in the country appeared in Los Angeles in the 1960s; the California Roll was also invented here. How appropriate then that some of the best sushi is still found in this bustling international hub. Today it has become a favorite cuisine among locals and visitors alike.
One can easily find a wide variety of sushi restaurants in every major city in the world, from low-budget to trendy sushi dining experiences that seem to be more focused on the scene than the actual quality of the food. To find a genuine sushi dining experience in the US, and in much of the world is more of a rare find.
With over 25 years of experience as a sushi chef, culinary master Hiroyuki Naruke has opened restaurants in Tokyo, followed by Honolulu and now Los Angeles. Step into Q Sushi in downtown Los Angeles for authentic, Edomae-style sushi. While unassuming from the outside, the interior ambiance is of an era steeped in the past.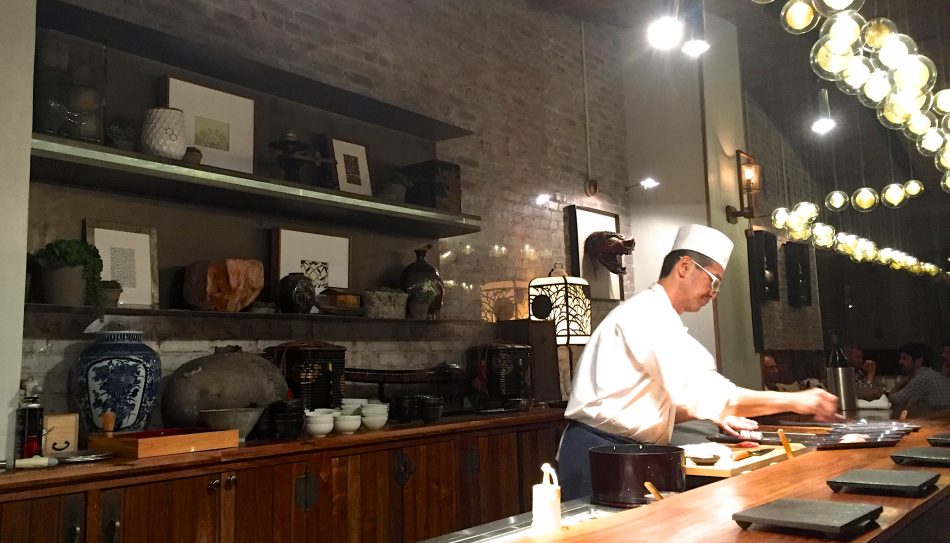 "Q Sushi features Chef Hiroyuki Naruke's expression of Edomae cuisine, a culinary preparation dating to the Edo-period of Japan; it was the first to combine raw sashimi-style fish with vinegar-seasoned rice." [Q Sushi website]
In 1606, a Japanese military dictator moved the capital of Japan from Kyoto to Edo (present day Tokyo). The "Edo period" in the 17th century was when Sushi was revolutionized and became even more popular with the rising merchant class as part of a thriving restaurant and nightlife scene at that time.
For a chef like Hiroyuki to still embrace and perfect this era in his style of preparing Sushi is extraordinary and noteworthy.
A Restaurant of Pure Elegance
While the simplicity of the architectural style and zen ambiance is noteworthy, there is no shortage in attention to detail in every nuance of the restaurant's design. The decor features glowing orbs seemingly "floating" above the sushi bar focusing their light directly onto Chef Hiro, his apprentice and their culinary artworks.
The setting is relaxed and intimate; guests sit on antique Japanese Zaisu chairs.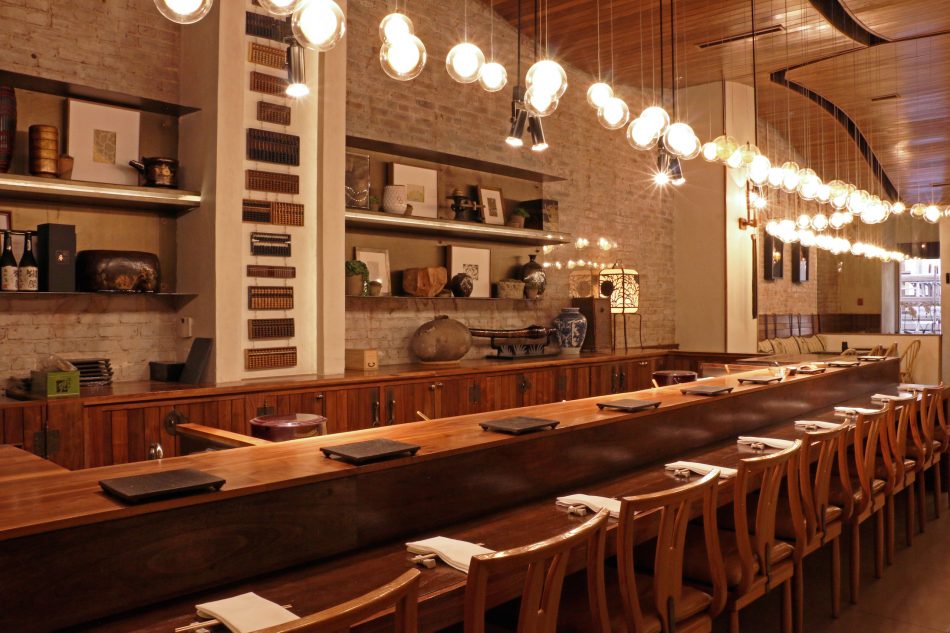 The restaurant is ideally located in historical downtown Los Angeles (on bustling 7th Street) – a part of town that has been gentrified to a great extent over the past 10 years. Along with the rapid rise of real estate there is also a prosperous culinary scene. Now downtown hosts some of the best restaurants in Los Angeles County.
The service is impeccable. From the moment you arrive you are immediately greeted by the host followed by a knowledgeable waiter/waitresses. To borrow from the French term, Q Sushi is the crème de la crème of a fine sushi dining experience.
19 Course Omakase
Guests are treated to a seasonal Edo-Style omakase dining experience in the 26-seat dining room; be sure to make a reservation before you go due to the limited seating. While I enjoyed a 19 course Omakase, the exact number of courses may range depending on what's in season and availability of the Chef's daily pick (presenting only the highest quality fish).
Put away your chopsticks, clean your fingers with the wet towel they provide, because the best way to taste sushi is with your fingers.
Chef Hiro begins with small appetizers "tsumami", then serves over 10 sashimi and Nigiri sushi plates. A truly trained sushi chef "itamae" considers their rice as important as the fish. This reflects in Hiro's sushi plates with a tangible balance between red vinegar and sea salt.
---
Curated Selection of Sake & Wine
To compliment your unique omakase experience, Q Sushi offers a curated selection of fine sakes (sake flights), wines and craft Japanese beers. The chef or servers will gladly help coordinate dishes to match their guests palates and preferences.
---
Hours of Operation:
Lunch: Tuesday through Friday from 12:00 – 2:00 p.m.
Dinner: Tuesday through Saturday from 6:00 p.m.
521 W. 7th Street Los Angeles, CA 90014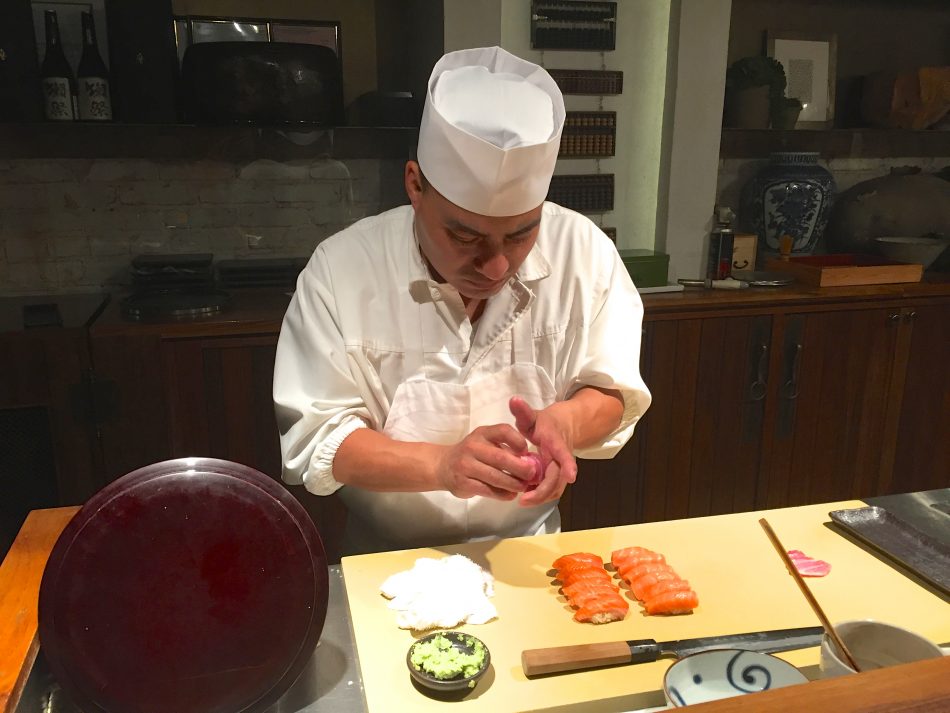 Price: $165 a person before tax and tip. Make your reservation now by contacting the restaurant directly at (213) 225-6285 or on Open Table.
"Q is connoisseur's Sushi, dazzling in it's simplicity."
Jonathan Gold, LA Weekly.