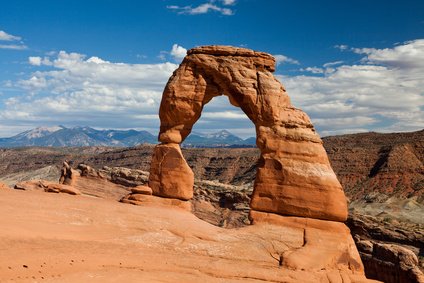 I was thankful for the break in the rain as I loaded my old Volvo station wagon and headed south towards the desert. My mind was heavy with questions about relationships, my job, my future. The car was packed to the roof with enough food for a small nation, and barely enough room for my two kids and a tent.
I drove without a real agenda, with only a general idea of places we wanted to see. I had no idea where we would stay, only that we would travel along a very vague circular route through the southwest, and that we would not be coming back for more than a month. The trip was a lot like my life- without any clear plan as to where I was going. I just needed to journey in a different direction to see what was out there. So, I drove.
I drove, and drove. I drove for weeks. I can't say how many miles because the odometer in my old car had stopped working long ago. But this trip wasn't about the car, even though we lived out of it and slept in it more than once. It wasn't about counting miles either, even though we covered many thousands. This trip was about exploring and being free. Enjoying the journey was as important to the experience as any destination. We stopped for everything from Wild West theme shows to giant statues of road runners made out of garbage. I rarely drove more than a few hours in a day, and spent a few days discovering each place before moving on. As I drove, we talked. We talked about everything from the splendid sights all around to our dreams and goals for the future. No one asked "Are we there yet?" because we rarely knew where there was.
We watched the landscape constantly change, and oohed and aahed over the scenery. There was a daily chorus of "wow" from every seat as we became enamored with all that is out there. But, it wasn't all about beauty and wonder either. Navigating strange cities and countrysides, and setting up camp in a new place every few days was a lot of work. We were like pioneers, growing more competent in our skills all the time.
At night, we were at home and cozy in our tent, playing cards and reading stories aloud by lamp light and talking even more in the dark. As we laughed at silly jokes and bickered over who ate the last cookie, I was so glad to be able to spend this time with these kids.
I was asked more than once what possesses a 39 year old woman with a college education and a seemingly stable life to head into the the unknown for 5 weeks of sleeping on an air mattress. Sometimes the questioners were people who admired the spirit of adventure, and just as often, it was by someone who questioned both the sanity and the safety of a woman alone on the road with children. I never really had a clear answer for any of them. I could only say that I wanted to see the world with my kids, and hotels every night were not in the budget.
Before I set off, there was a big part of me that thought this trip would give me time to contemplate all the things in my life that were slowly sucking away at my soul. I imagined staring out at the desert, pondering life and finding direction. It turned out that it wasn't that kind of trip.
Traveling without an itinerary does have the advantage of allowing spontaneity, but when children are involved, it requires a lot more thinking. If you are the only adult in charge, you not only have to find the way from point A to point B, but you also kind of have to make sure that they have a safe place to sleep each night and food to eat each day. It helps if that food is more than cookies and chips too, hence the overloaded Volvo.
When you are busy packing up your nylon fabric home into your car and making choices about where to move next several times each week, the journey becomes one that is more about external exploration than internal. Children also tend to make noise, which in turn makes quiet contemplation rather difficult. But, somehow, without any conscious effort or realization, the internal work happened too.
As I marveled at the giant 200 year old Saguaros and miles of sparkling White Sands, the seeds were being planted in my subconscious. Sitting in a 700 year old sacred Kiva at Bandelier and gazing over the marvelous Arches of rock, something sprouted in my heart. As I stared up in awe at the imposing cliffs of Zion and down in amazement at the pointed spires of Bryce Canyon, the seeds grew. By the time I watched the sun set over Death Valley, I somehow knew deep in my soul that I would be alright. We all would.
There was no logical plan or magical clear answers to any of the things I was supposed to be pondering, only a calm confidence that the same wonderful world that featured this incredible variety of magnificence, had fabulous things in store for me as well… if I would just give them the time and space to be. The rivers, the mountains, and the deserts- they all took time. No one forced the Grand Canyon or rushed the redwoods. Every place we went was different and marvelous in it's own way. They had grown, changed and evolved over time. To be honest, some of that process looked rather painful, but the results were just as they should be. The things didn't belong were eliminated, and they became their own unique wonders.
I came home not knowing exactly what my future would bring, but convinced that I needed to eliminate the things that didn't belong in my life. Change might be scary, but unlike the mountains, I don't have millions of years to grow into what I want to be. I have one short lifetime to find my unique beauty in.
We came back feeling in love with the world. I was inspired to keep going and seeing more, traveling more with my children. We are planning to hit the road again in a few months, this time heading north. The trip that started it all also ended up inspiring me to do more things the naysayers would fret over. I cut my hours at my job and eliminated the most draining components. Of course that also eliminated a huge portion of my income, but it opened up a well of time and energy for other creative endeavors. I feel as free and endangered as the Condors nesting over the Colorado River- hatched in captivity and released into the wilds. I am spreading my wings and ready to fly.