My friends call me "Wheels." My story begins in 1950, after polio left me 'confined" to a wheelchair but certainly not "by it." Inspired by the book Into A Desert Place by Graham Macintosh, my story unfolds into a road trip through Baja, California with my friend Jack. A quick adventure over 7 days and 2000 miles provides a lifetime of memories of a frontier land south of the border that in 1972 presented challenges to all travelers, especially the disabled.
Our agenda called for entering Mexico from the border city of Tijuana and driving Mexico Highway 1, the Transpeninsular Highway to La Paz, on the southern end of the Sea of Cortez. From La Paz, passage hopefully would be secured to Mazatlan via an ocean- going ferryboat for an overnight sea cruise and finally a quick run for the border through Nogales, Arizona, and home. The vehicle we used was a 1971 Ford Econoline van with hand controls and ramps for wheelchair access, but no driver's seat. No passports were necessary in those days. Mexican insurance was a must.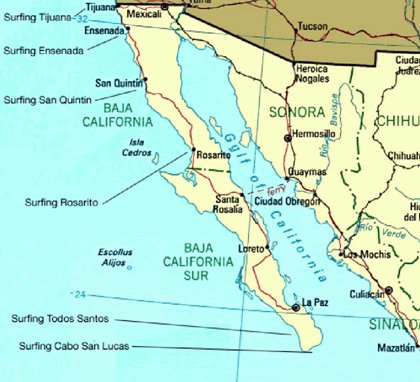 I had met Jack in 1968 when I first joined a local fire department as a volunteer dispatcher. He was an adventurous 38 year old Fire Captain. A man of few words and even less hair. He could usually be seen chewing on his signature toothpick. On his off duty days he was a dirt track motorcycle racer, an avid VW sand buggy enthusiast and overall "jack" of all trades(pun intended). Jack was close to his wife Marlene and his 3 children, Cathy, Jill and Tim. I was twenty-one years old when I met Jack and an only child from a middle class family, I was trying to begin a career in the fire department . By this time I had graduated from college and had been driving a specially outfitted van for 2 years. Our friendship was quick to start, and I was soon invited to various family outings at the Salton Sea, Colorado River and San Felipe in Baja California.
In the late 1960s and early 1970s, the Baja peninsula was a place where racing legends were born. Off road racing greats like A.J. Foyt, Parnelli Jones, Walker Evans, James Garner…yes the actor, and Malcolm Smith were competing in "1000 mile" endurance races from Ensenada to Cabo San Lucas. Mexico was pretty much wide open for tourists and the Federales were a force to be aware of. While there had always been some apprehension among tourists, fueled by the many stories, at the time, of border town adventures gone bad, there was still a freedom that was enjoyed by visitors to the region. After a little bit of discussion around the fire station, Jack and I both decided that we would like to try this trip-just to see if we could do it.
Planning? We didn't need much planning. All we figured we would need would be bread, bologna, canned pork and beans, t-shirts, spare car parts, tools, water, a map and an ice chest full of the beer of the day – Coors. Our work commitments only allowed us 7 days to complete this trip and we would need to not overestimate our arrival in La Paz, Baja to allow us to book passage on the only weekly ferry that took the locals, tourists, world travelers, cars, trucks, chickens, and goats across the Sea of Cortez to Mazatlan. If we were late and missed the boat, we would have to "quickly" drive the 1000 miles back to Tijuana and on home to keep our work obligations.
The vehicle that we were to use- a 2wd, 1971 Ford Econoline Van, was the second in a succession of 5 vans that I would build over my lifetime that were specifically designed for me to drive from the wheelchair. None of them had a driver's seat. Through the use of electrically powered ramps, I was able to gain access to the van and position my wheelchair underneath the steering wheel. I would then use custom built hand controls for the gas and brake functions. To allow Jack to drive, he would sit on a metal chair or milk crate and hang on to the steering wheel real tight. Peculiarities in this van would only allow certain experienced people to drive and Jack was one of them who adapted well.
In the fall of 1972, we were ready and anxious to give this little adventure a try. Coverage had been arranged at the fire department, family and friends had been notified of our intended route of travel and the bare necessities of supplies had been loaded into the van. A bunk arrangement had been built in the back of the van so I could transfer from my wheelchair and get some sleep. Jack had his sleeping bag and a few clothes. The warm weather we would likely encounter did not deter us, since both of us were quite used to these conditions and enjoyed the arid desert air. Our AM radio would allow us to listen to the scratchy sounds of "Wolfman" Jack on Mexican radio station XERV while we were finding our way south, down the peninsula. Water and beer on ice were both loaded at the last minute and we were off to the Baja for our journey into the desert.
I had arranged for Mexican Auto insurance through my Auto Club membership and anything else that we found lacking would be made up for by being creative and learning from the locals. We crossed into the Baja through Tijuana with me driving. We quickly set our sights on reaching the seaport city of Ensenada. Once we left Tijuana on Mexico Highway 1, the coastline provided a spectacular view of the Pacific Ocean. The abundance of "lobster" shack cafes at the end of mysterious and narrow dirt roads amazed us. The area in front of us, stretching south to Rosarito Beach, was known for its lobster fishing. Ensenada loomed as a large industrial town on the Pacific ocean with several large Mexican Navy ships guarding the port. In 1972, Ensenada could be smelled for miles around, depending on the direction of the wind, due to the fish processing plants operating in the area. We would be driving at least 10 hours that day with a very loose plan to stop for some sleep somewhere north of a driving nightmare known at the time as the infamous "Laguna Chapala." We were heading inland, through rich farming areas near San Quintin and the rising temperatures was making itself felt.
We stopped to eat that afternoon at one of the many small tortilla/taco stands that dotted the small settlements along our route. A small amount of meat and potatoes with occasional chilis, wrapped in a flour tortilla, was the food of choice, washed down with Fanta orange or grape sodas. Fish tacos had yet to be introduced to the masses but might have been available at the lesser known cafes near the coast. We never saw them offered anywhere in 1972. We spent a comfortable night in the van alongside of the highway, probably near the small community of Catavina. We knew the next day would be a test of our endurance, driving through the Chapala.
The Transpeninsular Highway would not be completed until 1973 with the last 60 miles to be carved out of the desert and mountains in the area we were now heading toward-Laguna Chapala. Jack agreed to let me drive as long as I felt comfortable. We started just after sunrise, with the air crisp and promising more heat within a few hours. Driving from a paved two lane road onto a dirt trail, we quickly realized that we would be facing quite a challenge. Within minutes a fine, dusty, chalky cloud of what appeared to me to be smoke enveloped the inside of the van, and I yelled, "Jack, the van is on fire." With a toothpick in his mouth and a slight smile on his lips, Jack assured me that it was silt being thrown up and drawn into the van from the dry lake bed. "Not to worry" he said. The particles covered everything, most of all us. Breathing was a struggle but we couldn't stop for fear of getting stuck, so we continued on, following the well worn dirt path into the mountains toward San Ignacio. We began driving up, out of the reaches of Laguna Chapala and into a rough and rocky terrain that jarred the van and us more as every minute went by. We passed what appeared to be prison crews working on the road, guarded by Federales with their automatic weapons in plain view. The prisoner/workers waved occasionally. We learned later that most of these workers were from mainland Mexico, far from their homes, and were serving their sentences by constructing the final portions of the soon to be completed Mexico Highway 1. I have always felt honored that Jack and I were privileged to drive this road before these men completed the final portion.
We stayed the next night on a yet to be completed segment of the roadway, sleeping again in the van with the door open and the stars providing our guard. The crying of coyotes was the only sound that night. We would pass through the town of San Ignacio the next day, but before that we would need fuel and food. As usual we started quite early and soon came upon a small house with numerous cargo trucks and other vehicles parked in the yard and along the roadway. Our minds flashed back to a previous encounter with a local family several months earlier near San Felipe. Stopping to assist them with car trouble that had left them marooned on a desolate desert highway. Several days later we had been rewarded by their unanticipated gift of a new fan belt, cold beers and a big smile just as we were leaving their pueblo on our way home, Comfortable and secure from this past experience and rather desperate for fuel by then, we stopped for assistance. Fuel was available and the family living there was offering travelers breakfast in their home. We ended up with several Mexican truck drivers and some locals eating a tasty breakfast of eggs, beans, chorizo and fresh hand made tortillas while sitting in the family's 2- room house on top of a low hill. Chickens, a goat and several cows wandered freely around the yard and gasoline was available from a 55 gallon barrel down by the road. No English was spoken, but we were able to communicate our needs and thanked them for their hospitality.
We passed the church in San Ignacio and the wonderful town square and continued east toward the Gulf and the town of Santa Rosalia. Nestled next to the blue of the Gulf of California, Santa Rosalia quickly shows off its mining history. Old conveyer belts and large machinery are grouped together and offer a glimpse into a past economic glory. The road was now paved again and the views presented to us were of sweeping, white beaches with a rare camper being the only signs of civilization. By afternoon we had reached Mulege. This town, dominated by distinctly French architecture, greeted us as we drove toward the sea, traveling alongside a substantial river that emptied into the Gulf. Lines of mangroves and palm trees followed the river, spilling out onto a beach of pebbles, later to drain into the Gulf. The hillside prison that was here allowed its population to go back to their homes at night. This exodus ritual was signaled by the mournful sound of a conch shell being blown at dusk and calling the prisoners to return to their cells at dawn by the same desolate method.
I was still in the driving mood and agreed to drive to our next stop, Loreto. Located again on the Gulf coast, this small town was famous in 1972 for its beautiful and ancient church. We had an evening meal in a little restaurant next to this famous church. We ate our first bowl of Mexican fish stew, large chunks of local fish including turtle, peppers and onions and washed down by cold Tres Equis beer. I remember only 4 brands of beer in those days; Dos Equis, Tres Equis, Tecate and a then little known brand, Corona. Most of these brands sold for less than a dollar per bottle and could only be purchased by the case at local beer warehouses.
The next day saw us making our way to La Paz, Baja del Sur, seeking our rendezvous with transportation to mainland Mexico. We were concerned that we would not be on time and would miss our weekly chance. We had been told that reservations were not possible and that boarding was on a first come, first serve basis. We reached LaPaz in mid-afternooon, stopped in an open air European type café for some lunch and inquired about passage on this ferry. After some difficulty in the language department, we learned that the ferry was set to leave around 6PM from the docks south of the main town. We needed ice and fuel and tickets, so we had to hurry with our arrangements. Our main difficulty was finding ice. Driving down a side street in an industrial part of town, I pulled up to a man walking down the street and asked him in my best Spanish," Donde esta la casa de hielo?" His reply, "Hell, I don't know, I'm from California and I'm lost too." So much for my attempt at bi-lingual communications. We finally found the Ice house, loaded up and rushed to get our van loaded for the trip across the Gulf to Mazatlan. Our plan called to load the van, keeping me in it , below decks, sleeping for the entire trip, since I believed the main portion of the ship to be inaccessible for a wheelchair. That was not to be the case. The van had now been loaded on the ferry and was the last of many vehicles, both large trucks and passenger cars.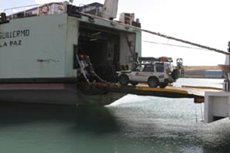 Federal troops, present at the loading, insisted that we were both to go topside for our passage. Past experience with Federales was frightening, to say the least. We had been stopped at a roadblock the year before where troops mistook our road flares for dynamite. They leveled their "locked and loaded" weapons at us, leaving us with a less than secure feeling. Concise communication was impossible because of the language differences, but they made it clear that relocation upstairs was our only option. We eventually convinced them that we would need their help to carry me in my wheelchair up the gang plank and onto the ship. In addition to the steep climb, the walkway was displaced by about 1 foot or just enough to stop the wheelchair half-way up, requiring the soldiers to lift me, in my wheelchair, up about 3 feet and over the off set ramp. This would all be done about 40 feet above the water, concerning me quite a bit. Hand signals were used, some Spanish and English phrases were loosely traded among the helping hands. Between Jack and the helpful Federales, and much to my delight, I was successfully deposited on the aft of the ship-ALL in one piece.
Departure time was just before sunset so we took some time to get settled in and comfortable with our surroundings. It became obvious rather quickly that my wheelchair would be confined to the aft of the ship due to the bulk heads located at each doorway throughout the vessel. Accessibility standards were unknown in Mexico at that time. I parked myself on the aft, so as to get a good view of the sights while Jack explored the rest of the ship and began looking for a place to sleep for the night. There was very little to do at this point. The van was hopefully well secured down below and I had procured a supply of Tecate beer to keep me company for a while. Although I would be alone for the crossing, I was far from lonely. Keeping me company were many locals who appeared to be farmers or merchants taking their crated chickens and other livestock to the mainland. One young man had his guitar, which he played quite well, allowing fellow passengers to listen to his songs of lost love while sailing across the darkened Gulf, 16 hours from the tropical resort of Mazatlan. The night was warm and dark. The seemingly endless blanket of stars overhead and the porpoises swimming alongside of the boat were wonderful and restful travel companions. About midnight , Jack brought me something to eat and more beer to keep me company. He had found a room with a bunk and would return at sunrise to check on me.
The only manmade light visible that night was from another ship going in the opposite direction. The sound of the waves was soothing and the notes from the young mans' guitar were gentle. Sleep soon came.
Soon after sunrise, the ship began entering the harbor at Mazatlan. Surrounded by a thinning mist from the jungles, the boat was edged into the dock, positioned to begin off -loading the many vehicles stored below deck. Getting me and my wheelchair off the ship proved to be much easier than loading me on the first time. The deck hands and soldiers seemed more than happy to help guide the wheelchair down the exit walkway. This time everything was aligned properly with no "high seas drama."
After surviving the challenge of the desert relatively unscathed and smiling, we were anxious to begin our journey back to the States. Jack re-boarded the ship, leaving me to watch him drive our van, with no driver's seat, off the ferry, hopefully in one piece. This process took several hours. Our van had been the last one loaded and because of the ships off- loading configuration, would be the last vehicle to be removed. This presented a problem for Jack, breathing. While he waited for colorfully decorated, cross country trucks and other vehicles to be off loaded, I could see him periodically moving from his milk crate to the ships portholes, trying to get fresh air. The exhaust coming from these motors was proving to be less than helpful to his breathing habits. Finally it was Jack's turn to drive over the dilapidated boards that connected the ship with the dock. Timing was everything here, and it would be necessary for Jack to match our van's exit with the harbor wave movement. A mis-judgement could cause the wheels of the van to miss the boards, dumping Jack and the van into the sea. Luckily this was not the case and solid ground was reached. After thanking our helpers, and with Jack still driving from the milk crate, we headed north via Mexico Highway 15D toward the States. Our next stop would be Ciudad Obregon, where we tried looking up some Mexican bomberos (firemen) that we had worked with during their recent trip to our fire department for training.
We reached Obregon late that afternoon but they were out doing what firemen do, fighting a fire, so we were not able to visit with them. We made a short stop in town for a malted at a local soda shop that seemed quite out of place, given the surrounding jungle in evidence during this part of our trip.
We camped that night on a deserted beach near the town of Guaymas. All I remember about this beach, other than my wheelchair getting stuck in the mud, were the hundreds of small crabs that seemed to happily chase us as we tried to move around the shore. Waking up the next morning, we were ready for a big breakfast since we had not eaten much for the past 2 days. At a small restaurant in Guaymas, we decided to take a chance on a breakfast of locally caught shrimp and frijoles. Satisfyingly full, we set out for the border but didn't make it too far. People in the States call it "Montezumas' Revenge." We had another name for it. Whatever you call it, quick action would be necessary. We were out of toilet paper (or maybe we even forgot to pack some,) so Jack, being the resourceful Fire Captain that he was, stopped the van and purposefully waded out into a field of unpicked cotton. He returned with heaping handfuls of "fresh from the field" cotton balls. These were put to good use over the next few hours as we slowly made our way toward Nogales Arizona.
Our return to the United States was greeted by our Border Patrol, taking apart the interior of my van, paneling and all, and checking for contraband. Finding nothing more than a few unopened bottles of Mexican beer, they invited us(not them, mind you!) to put everything back together and be on our way.
We got home late the next day- in time to make our next day's shifts.
Jack passed away in 1979 and I miss him still, but I have a happy ending to this story. In 2002, I married Jack's daughter, Cathy. Periodically I recount the details of this memorable trip to her, to keep the story alive, and show what the Baja was like for a wheelchair bound traveler in 1972.