John M. Edwards finds out that Costa Rican Artist Saul Bolaños's Medium Is Hot
Costa Rica, a coffee democracy in a sea of banana republics, is known more for its number-one export than its art. So perhaps it is only natural that Costa Rican photo-artist Saul Bolaños decided to fuse the two and extract art from the ubiquitous bean.
His CAFEGRAFIA®, sepia-color photo images made real by coffee, explore the offbeat flight paths of Central American visual art.
In front of the country's most iconic outdoor cafe, in San Jose's Plaza de la Cultura–a bustling marketplace of manic vendors flogging Guatemalan textiles and PC Costa Rican T-shirts–cafegrafia is sold to a passing tourist.
"To be an artist in Costa Rica is not easy," says Bolaños, a cup of lava-hot java steaming in one hand. "There are many art lovers, but very few art buyers. "
He displays what looks like an old photograph of a Marquezian nude, then rubs it, holding up a finger with lightly dusted coffee grinds. "My favorite is Costa Rican espresso, dark roast," he says by way of explanation to an amazed onlooker. "I drink five cups a day. I stop for a few weeks each year when it affects my nerves."
To Bolaños the photochemist, Costa Rica is coffee, and he has discovered many things to do with it other than drink it.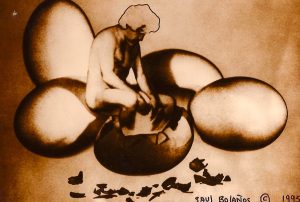 The staining properties of coffee are well known. The reaction of the psychic sludge with certain metallic oxides is not. Using both powdered and liquid coffee as a pigment to capture the many moods of his native land and people, he has developed special secret formulas to make images absolutely permanent.
No darkroom is needed: after treating the surface of a medium for imaging. Bolaños simply brushes on coffee,
and presto! The subject magically appears.
We might conclude Bolaños is some kind of alchemist since he reveals little of how he achieves his golden effect: "The coffee tones are warmer and richer than any process I know of, and I know many. "
In fact, Bolaños magical mystery tour into caffeine art is the result of a lifetime of research. But he never lost sight of the natural world just outside his laboratory door, a paradise of protected rainforests, virgin beaches, and smoking volcanoes. His photography, he says, tries to uncover the magic hidden by the visible world. "For an artist, leaving behind a lasting impression is ithe next best thing to eternal life. "
In 1988, he began his research into coffee photography. Since then Bolaños has developed five different photographic imaging techniques using coffee, as well as others utilizing gold, bronze, and quartz.
His Faustian laboratory in Escazu is a mecca of technology as well as a cafe of aesthetics. "In chemistry, the occult wonders of matter are revealed; in alchemy chemistry is extended to reveal the nature of the spirit and the self. Your average chemist is a technocrat used by the science which he serves, whereas, historically, the alchemist was adept in many crafts."
Bolaños' newest art, "vitrografia" ®, is related to high- temperature chemistry and the properties of quartz. "In this process, photo subjects on treated ceramic pieces are brought to life"—he curls his fingers into Spanish quotation marks—"by fire."
According to the artist, vitrografia subjects are not affected by the elements and will last for centuries in the open air. "This is only a small part of my research; what I have in my lab I can not publish at this time," he says with a smile. "It is all just a curiosity."
Luis Ferrero Acosta, Costa Rica's best-known art historian, has called Bolaños "a master." Others say he is a witch—an accusation that he does not deny.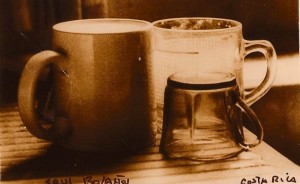 Since 1990 his work has received much attention in Latin America, but in the U.S. and abroad his work is still relatively unknown.
Two techniques were featured at the 1993 Photo & Image Expo in Seattle and the 1993 Coffee Show in Boston. Also, "orografia" ®, gold images on red crystals, were exhibited at the Costa Rican Museum of Art not that long ago, considering how difficult it is to attract public acceptance.
But slowly over time the International art community is beginning to wake up and smell the coffee. At the 1993 International Exhibition of Photography in Washington, for example, Bolaños won medals for two works, "The New Man" and "The Dreamer. " The anonymous entries were judged on artistic merit, not process; judges were unaware that Bolaños had maybe slipped them a little caffeine.
Most recently in the 21st Century, Bolaños helped found San José's novel "Museo de Café" (Coffee Art Museum)—of course featuring much of his own work.
Refusing countless lucrative offers to mass-produce other artist's work using his coffee art techniques, Bolaños instead stays focused in the new millennium on his own vision, be it a rural scene of children picking coffee beans or a still life of the traditional coffee-making apparatus.
Other coffee artworks range from tranquil beach and rural scenes to espresso-rich portraits of magical realistic clowns and dreamlike nudes. Their sepia coffee tones and textures drive home the fact that Costa Rican life, outside the tourist districts, has not changed much in the last century. Nor has Bolaños' simple advice to skeptics: "Take art not with a grain of salt, but with a little cream and sugar. "