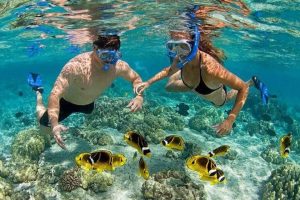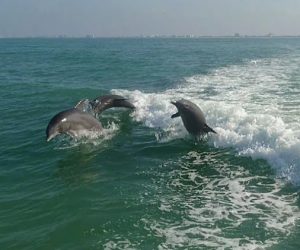 Florida's Gulf coast offers among the best outdoor activities for adventure lovers. As a Charter captain offering private cruises in the Tampa Bay area I have chosen my Top 5 adventures for travelers visiting the area. There are outings for all ages and you'll be sure to want to return every year for more.
Dolphin Tours! The top attraction the area is our resident population of bottlenose dolphin. These creatures capture the imagination of visitors with their playful spirit and intelligence. The best way to meet and interact with these creatures is by booking a private dolphin tour. For a first class dolphin tour I highly recommend Florida Adventure Cruise. Aboard the beautiful Sea Ray cruisers you interact and get great photo opportunities.
Snorkeling Great opportunities to snorkel along our barrier islands and interact with the gulf wildlife are another popular adventure. The shallow tide pools around our barrier islands offer a chance to swim with dolphin, manatees, sea turtles and rays. Kids love gathering shells and sand dollars. There are always plenty of horseshoe crabs and hermit crabs for them as well. Be sure to take time and plan for this.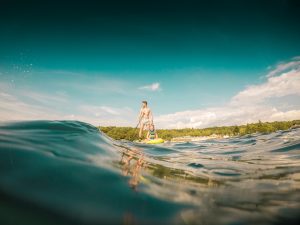 Paddle Boarding. If you are the physical type the best way to explore all the mangrove forests and back bays is by paddle board. Many outfitters including myself offer tours to our most popular spots. Traveling this way really puts you up close with nature as well as covering ground rather quickly. This is really the sport for the person who loves to exercise stay in shape while on vacation.And don't worry if you haven't used one before, you'll catch on quick and be exploring like a pro in no time.
Food cruise. For foodies like me I love to get to know an area by experiencing its food and beer. Every place I travel has a unique identity that can be traced right to the type of food they eat and the gulf coast is no different. The salty and fish flare of the south leads to wonderful dishes centered around Grouper, Shrimp and Mullet. Bring your appetite for sea food and book at tasting cruise with Florida Adventure Cruise where they take you from dock to dock visiting seaside eateries.
Our beer scene has grown to offer Florida's largest community of local breweries and wineries. So we of course mix in some of the area's best local beers to pair with our food tastings. It's an experience you will never forget!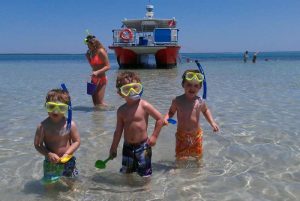 Island Beach Adventure. Spend the day on one of our barrier islands that you can only reach by boat. There you can lay on beautiful white sand free from crowds and truly relax. Your family can snorkel and paddleboard all day long in private bliss. We offer a daily trip to Egmont key. If you need a restroom or get to hot just hop back on our cruiser for some air conditioning or the restroom. There are many outfitters offering island outings and they all have fine packages.
Some other great ideas are jet ski tours, parasailing and sunset cruises so bring your sense of adventure and appetite and I'll see you on the water!