HEARTY BREAKFASTS & MIMOSA BRUNCHES AT: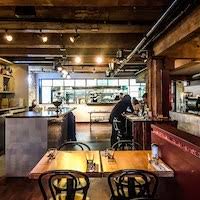 Located in the Exchange District, Clementine Café is one of the most popular brunch/lunch spots in all of Winnipeg. It is a vibrant gathering space for friends to meet, catch up on gossip and enjoy local cuisine. While there are plenty of excellent restaurants in Winnipeg, Clementine Café is clearly a favorite among locals and tourists alike.
Whether you're in the mood for a healthy breakfast complemented with green juice or a boozy mimosa brunch with fun-loving friends, Clementine Café has something for everyone. Serving dishes ranging from Turkish eggs to smoked chicken chilaquiles to smoked arctic char, one simply can't go wrong with anything on the menu. And the lively energy of the space is also an integral part of any dining experience here.
Address: 123 Princess Street, Winnipeg, Manitoba
Open: Monday to Friday 7am-3pm / Saturday to Sunday 8am-4pm
Website: http://clementinewinnipeg.com
TASTE TRADITIONAL FIRST NATIONS FOOD:
There is no better place to experience and taste the centuries of Manitoba's culinary traditions than at Feast Café Bistro. This restaurant harvests and prepares locally grown plants and farm-raised animals. The owner, Christa, a proud member of the Peguis First Nation tribe has over 15+ years of cooking experience. Her passion for culinary excellence is clearly evident. And her daughter also works here.
*Order the Shredded Bison Dip at Feast Café Bistro for an authentic taste of Winnipeg. View their menu for a wide selection of tasty Manitoban cuisine.
"As we eat together, we honor our connections,preserve our history, and share our stories.
We are fed in mind, body, and spirit." 
Address: 587 Ellice Avenue, Winnipeg, Manitoba
Open: Monday to Tuesday 9am-4pm / Wednesday to Saturday 9am-9pm (closed Sunday)
Website: http://www.feastcafebistro.com
WHERE TO EAT & DRINK ANY TIME OF THE DAY
The most popular public gathering place in Winnipeg is at The Forks (open 7am-11pm) located on the junction of Assiniboine and Red River. This has been a primary meeting area for aboriginals for over 6000 years. Indigenous peoples traded at The Forks, followed by European fur traders, Scottish settlers, railway pioneers and later, tens of thousands of immigrants.
In the 1900s, The Forks was two adjacent stables for competing rail companies. Today, these historic horse stalls have been joined together with a courtyard and bridges to create The Forks Market, Winnipeg's incomparable shopping experience.
Several stand-alone restaurants are located within The Forks, as well as open grassy areas to picnic with friends. Take a 30 minute Riverboat cruise with a friendly local guide to learn more about the history of the area.
The main attraction at The Forks, is over 300 International small shops and stands ranging from wine bars, craft shops, food stalls, baked goods, meats & cheese and more. The Common (in the Forks Market) is one of Winnipeg's favorite spots to grab craft brews and good wine.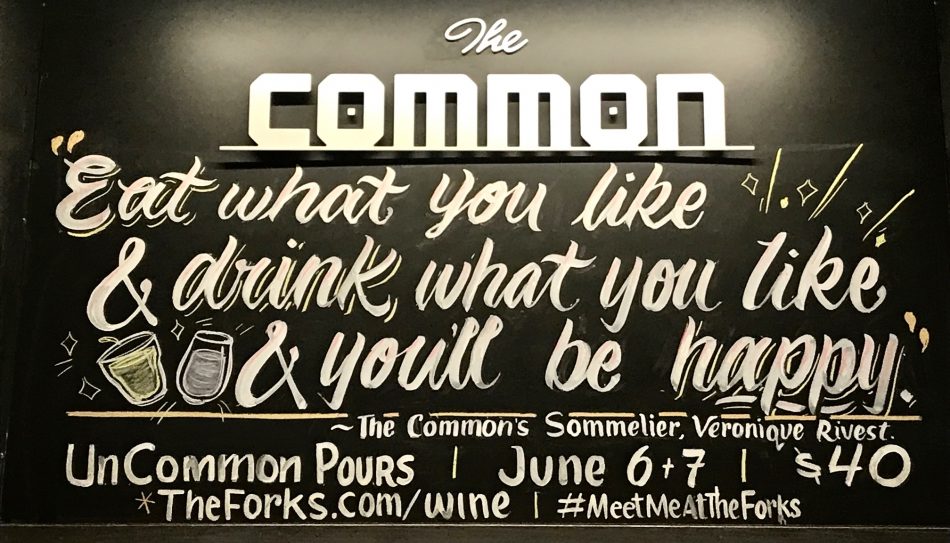 Address: 1 Forks Market Road, Winnipeg, Manitoba
Open: 7am to 11pm daily
Website: https://www.theforks.com
DINNER & SPA EXPERIENCE IN WINNIPEG
After you've enjoyed a whole afternoon at Thermëa Spa, one of Canada's most special Nordik Spas, dine at Restö. Open all day for food, dine and sip wine in your robe as you gaze out at the stars. Farm fresh appetizers and entrees are served with a fine selection of local wines. Guests can opt to sit in the main dining area near a cozy fireplace accompanied by lounge music. Or weather permitting, relax on the patio while enjoying fresh air and the ambient atmosphere.
Address: 775 Crescent Drive, Winnipeg, Manitoba
Restö menu – Available from 11 a.m. to 10 p.m.
Cocktails menu – Order cocktails or fine wine from the restaurant and enjoy it in one of the many spas!
UNIQUE ONCE A YEAR DINING EXPERIENCE: TABLE FOR 1200 MORE
Plan to visit Winnipeg around late Spring; in my opinion this is the BEST time to go (the weather is usually good) and this is when one of Winnipeg's most intriguing annual events is hosted. Table for 1200 More is the city's largest dinner event of the year. This unique pop-up experience features one of the longest dinner tables in the world (approximately 1200 feet long) – honoring Winnipeg's emerging Design Scene. Architects, designers and chefs combine their respective talents to create this unique dining experience. And locals as well as international visitors come together to enjoy delicious food and stimulating conversation.
A portion of the proceeds from ticket sales benefit locals charities. Guests always wear all white. Internationally renowned DJ's are flown in; they play an elective compilation of music throughout the evening. And, the Table Design Competition keeps the night exciting; each table in the long chain of tables (consists of 8 people) collectively decides on a theme for their group. Towards the end of the evening, the winners of this competition are announced.
For more information and to plan a visit for the 2019 event date, view http://www.tablefor1200more.ca.