Just a few decades ago, sleepy Paso Robles, California, hosted no distilleries or craft breweries and only a few dozen pioneering wineries. Rodeos and pickup trucks were more pervasive than limos chauffeuring wine enthusiasts around this beautiful area in northern San Luis Obispo County. Today, vineyards abound in all directions and the overall "agriculture culture" remains strong in the fabric of this increasingly diverse community.
When winemakers discovered that the soils around this friendly cow town with reasonable land prices could produce some exceptional wines including Rhônes and Zinfandels, the number of Paso wineries and vineyards began to swell. Brewers and distillers followed the winemakers' lead to round out the intoxicating collective in this warm-ish wine region south of cooler Monterey County and north of cooler Edna and Arroyo Grande Valleys in southern SLO County. More exceptional food options soon opened in Paso as befits wine country living.
Having lived in this coastal California county for over a decade, we've witnessed the exciting growth of our local foodie landscape in the central Central Coast and especially in Paso. So much has changed in a dramatic and delicious way from five years ago when we began exploring the region on our stomachs for our sustainable food & drink insider's field guide, Central Coast Foodie. We've lately enjoyed the opening of craft distilleries and comfy wine lounges as well as impressive infrastructure expansion projects at favorite breweries and wineries.
Whether by bicycle or vehicle, we always enjoy traveling across Paso Robles: it's just so darn pretty. The extensive boundaries of the Paso Robles American Viticulture Area (AVA) include oak-lined itinerant creeks and rolling grasslands on the east side of Highway 101. On the westside, oak-canopied hobbit byways snake through this hillier region closer to the cooling influence of the Pacific Ocean. To reflect the wide diversity of microclimates across this region, in October 2014 the Paso Robles AVA further separated into 11 Sub-AVAs. Diversity is delicious.
Looking Forward and Looking Back at Halter Ranch Vineyard
In 2009, early on in our Central Coast Foodie project, we visited Halter Ranch Vineyard for a winter solstice tour of this newly SIP Certified 280+ acre vineyard amidst the 1,600 acre ranch in what is now the Adelaida Sub-AVA. At the western end of Vineyard Drive, Halter Ranch contains the largest area of contiguous vineyards on Paso's west side. Their original tasting room operated out of a small outbuilding proximal to the gingerbready Victorian historical home at the entrance to the ranch. The charm of the built resources at the ranch's entrance doesn't quite prepare the visitor for the vast expanse of cultivated and uncultivated ground that stretches to the horizon once the tour begins.
We were intrigued by tales of this land hosting an eclectic mix of wildlife that travel the vineyards via wildlife corridors as well as one of the largest coast live oaks in the world: the Ancestor Oak, a championship tree. Clearly, history and the environment are equally important to owner Hansjörg Wyss, the Swiss entrepreneur who's long term vision strives for harmony between nature and winemaking craft as well as the agricultural past and future.
Upon returning to Halter Ranch five years later for another tour, we once again visited the old Ancestor Oak that presides over these vineyard blocks. It's still growing larger and more grand with every year. On a warm October afternoon, we cruised the various sustainable wine growing features on the property and learned about how they integrate water conservation, alternative energy sources, and best practices in expanding their winery and hospitality operations in a resource-minded and responsible way.
The integration of the latest enological technology with one of the original winemaking tools—gravity—further demonstrates how this winery reaches back while stepping forward. The development of new facilities including a cool wine cave, enhanced production space, and comfortable hospitality center signals a commitment of this winery to develop Halter Ranch Vineyard by looking toward a sustainable foodie future.
Halter Ranch remains connected to the rich past through the land and the wines that grow from it. At the same time, their clear commitment to sustainable practices helps focus this business on advancing and keeping in balance environmental concerns, economic concerns, and human concerns. Well done Halter Ranch!
The Biggest Little Craft Brewery in the West
In September 2011, Mr. Spice and I donned some stylish protective eyewear and joined Brewmaster Matt Brynildson for a tour of the Firestone Walker Brewing Company facility on the south side of Paso Robles. Firestone has been brewing craft beer in SLO County at the junction of Highway 46 west and the 101 since 2001 and in Santa Barbara County in Buellton since 1996.
Today, this popular brewery produces some of our favorites including their flavorful Double Barrel Ale and interesting seasonal releases. A cold Velvet Merkin bourbon barrel-aged oatmeal stout poured over vanilla ice cream makes a great dessert for grownups. We're pleased that Firestone tops the charts as the most frequently ordered beer in SLO County rather than some cheap corporate brew.
Brewmaster Matt showed us around their science lab for beer geeks and explained their obsession with getting it right from the barrel to the bottle. We all benefit from the quality control perfectionism and dedication they bring to the creation of these beers, including working to connect food and brews, both as ingredients and pairings."When I make a beer," explained Matt, I try to think of food." The addition of a house restaurant across the street from their brewery certainly makes the creative pairing of beer and food that much more intuitive for the beer foodies in the Taproom kitchen as well as the beer geek clubhouse.
The huge stainless tanks, extensive network of tubes, and mad-scientist tech on the brewery floor in that first tour indicated this brewery's plans to increase production while still crafting fresh beers with good flavor profiles. On our most recent brewery tour, we experienced a much busier brewery with even more tanks, equipment, and staff for making craft beer on a larger scale. The great challenge for any foodie producer as their business grows: ensuring high quality standards in the face of increased production. In our opinion, the beer geeks at Firestone have kept the quality high even during expansion projects.
Incorporating sustainable practices as a business evolves helps the organization grow in a healthy, stable way. We appreciate how Firestone directs the spent fermented grains to a local rancher for cattle feed and works to ensure the non-toxicicity of their brewery's outputs into our local environment.
Some early craft beer technology graces the wall of Paso's Taproom as this brewery also remembers its foodie past. Inspired by the Burton Union fermentation system, the Firestone Union allowed for circulation and increased surface exposure to the barrel walls among several fermenting barrels of beer without having to expose the beer to oxygen and contamination. Also, the bourbon-steeped barrel walls impart complex flavors and aromas to the portion of the brew processed via this system which is then blended with the remaining batch fermenting in stainless steel. Fast forward to our 2014 tour of this brewery for so much more advanced brewing technology that still incorporates bourbon barrels in certain recipes and remains focused on producing fresh beer that pairs well with good food. Gratitude for foodie beer geeks!
A Toast with Distilled Wine Country Spirits and Tequila
The Paso Robles foodie scene has definitely come into its own in recent years. Visitors and locals can now choose from a growing diversity of cuisine options with truly unique offerings. We particularly enjoyed rounding out our first evening of this #ExperiencePaso tour with a chance to sample some choice spirits at Fish Gaucho in downtown Paso, including Tequilas born in Mexico's Mescal country as well as some locally-distilled Re:Find spirits taking center stage in a creative cocktail. Re:Find uses free run juice from high end grape harvests and transforms what was once a waste product into an amazing collection of spirits for cocktails or on their own. We toast the foodie success of Paso Robles and encourage the use of sustainable practices in these burgeoning businesses so the region can grow in a way that lasts. Cheers!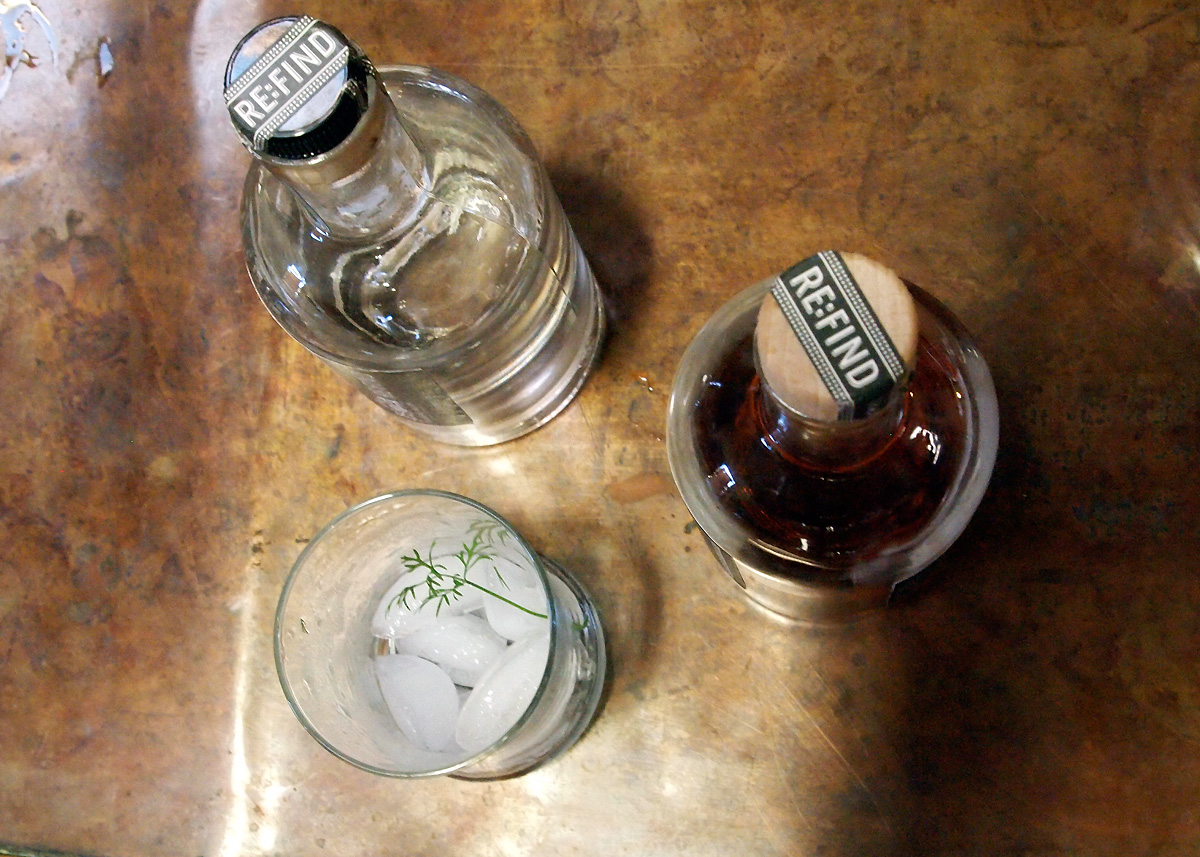 disclosure: This experience was supported by Travel Paso but I'm under no obligation to produce anything from this trip. I always write about what I like and appreciate the chance to experience cool foodie opportunities in the Central Coast and beyond.