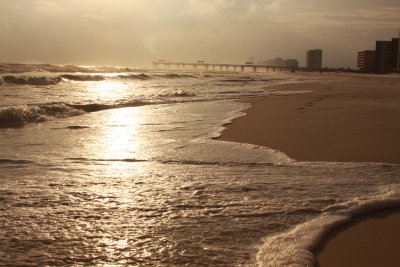 My love of the Mississippi Gulf Coast is unwavering. But every now and then I venture farther east to Alabama and Florida to enjoy their beautiful beaches. A few days with friends at Orange Beach's Perdido Beach Resort was the perfect summer starter. New food finds took it to a near-heavenly level.
Reality was left behind as we drove up the resort's palm-tree-lined hill and entered terracotta stone walls. Ensconced in a glamorous cocoon of comfortable suites, pools, live music and the nearby beach, everyday life seemed an ocean away. Intermingled with fun were fresh seafood meals, innovative dishes from top chefs and creative desserts to be recreated back home.
Introducing my friends to Tacky Jack's, a lively casual-style restaurant overlooking a marina, seemed appropriate for our first lunch. The response to a mammoth platter of "Mexican Garbage" nachos, fried green tomato sticks, blackened fish tacos and firecracker shrimp po' boys confirmed my decision.
The next day we ventured to Fisher's on the other side of the marina. Upstairs is a fine dining evening restaurant with an impressive menu. We settled downstairs for lunch in a breezy, elegant curtained space known as Fisher's Dockside. Both restaurants are driven by a New Orleans-trained chef who's added sophisticated Southern twists to regular dishes.
We didn't expect Cajun-spiced boiled peanuts as an appetizer. Finding sautéed shrimp with homemade tasso over charred corn rice in Alabama was a surprise. Regular shrimp and grits were transformed by red-eye gravy, stone-ground yellow grits and shitake mushrooms. Stuffed flounder filled with shrimp and cornbread dressing was a rare find.
I usually find bread pudding too soggy. I was converted after tasting the chef's crunchy, coconut-based bread with a light, flavorful sauce
Other highlights were the daily breakfast omelets prepared by Miss Glinda, Perdido Beach Resort's "omelet artist." With a ringside seat at Latitude's breakfast buffet, she's made omelets-to-order for 18 years.
Our most memorable culinary experience was at Voyagers, Orange Beach's only oceanfront restaurant. It is located inside the resort, and watching the sun set over the water from the glass-encased eatery is breathtaking. A
Voyagers has a seafood-centric menu, but there's no scarcity of beef, including Chef John Hamme's signature Primeaux Wellington. It's a masterpiece of prime beef, mushroom duxelles, sauce béarnaise, foie gras, carrot puree and asparagus.
Equally inspiring was the filet mignon with buttermilk mashed potatoes, oven-dried tomatoes, horseradish cream and curried bananas.
Other favorites were the pecan and herb-crusted Gulf snapper with corn and crab maque choux, along with charred ribeye with caramelized shallots, maître d' butter and hand-cut fries.
Fruits of the Sea combined my favorite foods, seafood and pasta. My selection was an veritable work of art courtesy of Maine lobster, scallops, shrimp, mushrooms and sauce Americaine over homemade fettuccine.
A single poached tomato surrounded by goat cheese and puff pastry, grilled oysters and jumbo lump crab cakes were perfect accompaniments to our meal. A selection of homemade desserts, including buttermilk pie with homemade peach ice cream, blackberry buckle and the chef's signature coconut layer cake was the crowning touch to an outstanding meal and an unforgettable trip.
Orange Beach Orange-Cranberry-Coconut Muffins
1/3 cup unsweetened applesauce
2 large eggs
1 cup white cranberry juice
1 orange – extract 1 teaspoon fresh juice, 1 teaspoon orange zest
1 cup white cranberry juice (can use frozen concentrate, thawed and mixed according to directions
20 ounces of cranberry-orange muffin mix (can combine smaller packages if large box is not available)
1 cup shredded sweetened coconut, toasted
Preheat oven to 375 degrees. Line a standard muffin tin with papers. In a large bowl, stir together applesauce, eggs, cranberry juice and orange zest. Add muffin mix and coconut and stir just until combined.
Fill prepared muffin cups two-thirds full with batter. Bake for 18-22 minutes, or until wooden toothpick inserted in the center comes out clean. Let cool for five minutes in pan. Transfer muffins to wire rack.