With only a limited amount of gulf coastline in the entire state, this part of Alabama really delivers in regards to long white sand beaches, bright blue sunshine and clean air, world class southern cuisine, but most of all, the genuine Southern hospitality. The area certainly becomes crowded in the summer. This is a true family destination with a wide range of visitors coming from the Midwest and the East Coast. Visitors come year after year; this is the kind of place where family traditions and long lasting memories are made.
If you talk to the locals you will soon discover the media affected their tourism far greater than the British Petroleum (BP) oil spill of April 2010 ever did. There was one day on the coast where smells were noticed from the results of the oil spill and the beaches at no time were ever "covered" in oil or even closed. Rather, random locations saw tar balls come ashore.
BP has invested significant amounts of money in this cleanup (as they should) and people have literally been working around the clock to detect any oil that penetrated into the shoreline (below the surface). Visually the beaches look cleaner than they ever have. Fine grained white sand stretches for miles (32 miles to be exact) along Gulf Shores and Orange Beach.
Some tourism focused beach towns have the reputation of having "so so" food and or being inundated with National franchises. Not so with Gulf Shores and Orange Beach. Of course you will find a few National chains but local restaurants far outnumber these. With the proximity of Gulf Shores and Orange Beach to the Gulf of Mexico and the inner coastal waterways and bays it should be no surprise that seafood is one of the hot items on the menus at the local restaurants.
There are several noteworthy worthwhile annual events. The Frank Brown International Songwriters Festival is held in November and involves a number of songwriters (many from Nashville) who come into town for 10 days and play different venues every night. Songwriters don't always get their time in the limelight like the actual singers they write for. This is a great opportunity to hear them perform live – including a number of their songs which are very well known and have been recorded by names such as Willie Nelson, Alan Jackson, Jerry Lee Lewis, BJ Thomas, etc. Visit: www.frankbrownsongwriters.com
Another event is the 4-day Shrimp Festival held every year in October. Depending on who you talk to, this is an arts festival, shrimp festival or music festival – it has lots of all three (over 300 exhibitors). The culminating event is the Chef's Challenge cook-off.
Lodging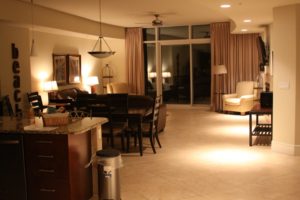 Without a doubt one of the premier properties to stay in Orange Beach is Turquoise Place. This is upscale spacious vacation living at its best. The condominium rentals start at 2700 square feet (3 bedrooms, including balcony) ranging up to 5900 square feet for the penthouse on the 24th floor. This property is nearly 14 acres and encompasses a gorgeous white beach (accessed by a short boardwalk). Other amenities include an outdoor man-made river (sit and float along), both an indoor and a huge outdoor pool, the "Tiki" bar and a gym. However the highlight of a stay here are decidedly the luxurious rooms.
You can tell Turquoise did not cut corners in the cost of the construction. Everything is very well built and the rooms are well insulated from outside sound. With 2 big flat screens, plush beds that put you right to sleep, a huge refrigerator, a wine cooler, a personal laundry room, several bathrooms, a large hot bath and a spacious deck complete with a private Jacuzzi and Gas Grill/Sink – it can be hard at times to leave these comfy confines. Pricing is extremely reasonable in the off season or shoulder seasons especially when you consider the cost/person of splitting the condo's among a number of people.
For more information visit: www.turquoiseplace.com
For those looking for a historical, quiet, intimate, personable and certainly romantic stay consider Magnolia Springs B&B in the small town of Magnolia Springs (Population 1300) about 9 miles north of Gulf Shores. The B&B is situated in the quintessential sleepy southern neighborhood with the wide streets lined with oak trees that drip with Spanish moss and beautiful homes complete with large porches and porch swings overlooking quiet streets.
Each room is unique – there are only 5 rooms in the B&B. Magnolia Springs was built in 1897 out of locally hand milled wood. The innkeepers are David Worthington and Eric Bigelow, both of whom are veterans of the hospitality industry; together they also restored the B&B. You know this building is solidly built just by walking in; the floor doesn't even squeak or move an inch. After 15 years of running the B&B David says, "if there is anything you request and we don't have it then you don't need it"!
You've had southern grits and then you've really had southern grits after trying the ones at Magnolia Springs. Their grits are soft and creamy and take 90 minutes to 2 hours to prepare. David likes to sprinkle gems of advice around and notes that, "good grits are not supposed to be gritty." True. Three course breakfasts are served every morning using local fresh low fat ingredients. David is not formally trained in the kitchen but he can sure cook! Visit: www.magnoliasprings.com
Activities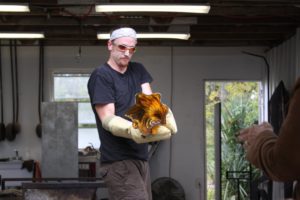 One perhaps doesn't think of glass blowing as an activity to enjoy when coming to a beach town. This is a rare treat indeed; the Hot Shop at the Orange Beach Art Center is Alabama's only public access glass studio. You come to the "hot shop" to learn about glass blowing from experts. Not only is it a rich visual educational experience but the shop also offers hands on glass blowing – even novices can create simple but beautiful works of art. Glass blowers work with ovens at temperatures above 2000 degrees Fahrenheit. The process to create one piece of artwork can take several hours and once finished they have only seconds to put the piece in a special cooling oven (a process called Annealing) for a period of 24 hours. At the final stage in the process the hot glass is so fragile that if left in open air it may quickly shatter.
An artist of note is the talented Sam Cornman. Sam grew up in upstate New York near a town you may have heard of…Corning. He remembers his grandparents taking him to the Corning Museum of Glass, and falling in love with the glass works of art – even at an early age. His passion for art is clearly evident when speaking to him as well as watching him create. His artwork along with other artists' works are for sale in the gallery next door. With close proximity to the Gulf, its not surprising that a number of the pieces are of marine life – Sam's colored glass fish sold in the gallery are truly works of art. For more information visit: www.orangebeachartcenter.com
Captain Bill and his wife Sheryl run Cetacean Cruises in Orange Beach. Both Bill and Cheryl are extremely passionate about the local marine life and have worked with dolphins for many years. Bill offers two boats, a Hawaiian Catamaran for scenic trips and a sailboat for educational and eco tours. Their trips are very affordably priced. As Bill says, "its almost guaranteed you will see the dolphins," – the only time he has not seen dolphins was with a group who insisted on going out in the middle of a storm. Perhaps they had a little too much to drink.
There are 20+ dolphin charters in this part of the bay but Cetacean Cruises is somewhat unique. Of all the charters in the area they are the only NOA (National Oceanic Atmosphere) certified Dolphin Smart organization (regulations for healthy viewing of wild dolphins) and in fact were the first charter outside of Key West to earn this. Visit: www.cetaceancruises.com
Fort Morgan is an easy 30 minute drive from central Gulf Shores and is a must visit for any military buff especially those interested in Civil War battles. Aside from being historically significant the fort is built in a very picturesque area and is surrounded by water on three sides. Construction actually began here in 1819 but it wasn't until the Civil War that it played an important military role – during the Battle of Mobile Bay in 1864. The Confederates had placed torpedoes in the the bay, one of which destroyed the Union ship, Tecumseh but then Admiral Farragut drove the rest of his ships through safely and eventually captured Fort Morgan. The fort was also active during the Spanish American War and World War I and II. A small museum is on site which really "comes alive" when you are in the company of one of the docents.
The Hughs S. Branyon Backcountry Trail is one of the outdoor highlights of visiting Orange Beach. For 2+ hours at $15/person you enjoy a guided leisurely ride along the paved paths in a 6-person golf cart. This land was given to Alabama by the Federal Government before Alabama even had a State Parks system. As a result this land (now Gulf State Park) was the first state park within Alabama. The tour is guided and driven by Larry Ellis who holds a forestry degree from Auburn University and works for the City of Orange Beach. Larry is a wealth of information not only in regards to the plants and wildlife but also the cultural and historical significance of the area. He gives these tours day after day but his unbridled enthusiasm for the area is clearly evident and has not been tempered by the repetitiveness of driving the cart along the same paths.
The tour winds through some swampy areas and if lucky you will see any of a number of Alligators which live here. During our tour we were lucky to see a jumping Armadillo (yes they do actually jump into the air!), and a pygmy rattlesnake. There are a number of rattlesnakes that live in the area, coyotes, wild boar, Bobcat and Gopher Tortoise. The highest point on the island is a whopping 32 feet above sea level; chances are you will not get altitude sickness as you drive up here! There is also the "rattlesnake ridge trail" – which in any other place would evoke images of timberline, not so here – its merely several feet above sea level. To reserve a tour call Larry at: 251-981-6979 or email: www.lellis@cityoforangebeach.com
Restaurants
While often tourist influenced beach towns lack the culinary flavor and experiences, not so with Orange Beach and Gulf Shores. With a wide variety of cuisine including as expected, seafood one can easily enjoy a number of restaurants in the area. We talked to all the chefs at the restaurants listed below; they all became chefs for any number of reasons, but the unifying ties that bind them are their genuine passion for food, Southern cuisine and Southern hospitality.
Cobalt, The Restaurant. Owner Brian Harsany certainly has his hands full in the restaurant business – not only does he own and manage this restaurant but he also owns Cosmo's (see directly below). Cobalt is located under the Perdido Beach Pass Bridge. Nothing is small here; with expansive views of the bay in front of the restaurant Cobalt spared no expense ensuring their windows were built large enough to capture this scenery. If the weather is nice forgo the windowed indoor dining experience and jump straight out to their large terrace which runs the length of the restaurant.
Interested in Champagne Sparklers, Frozen Drinks or Margaritas? Cobalt offers their own twists on each of these, Cobaltini, Cobalt Hurricane and the Cobalt Margarita. The Lobster Salad is elegantly prepared (house salad with Champagne citrus vinaigrette). The lobster comes flash fried but you can request it be sautéed. Your not in the south unless there are oysters on the menu – choose from raw, Rockefeller, Orleans and others.
As with a number of restaurants in the area diners can reach the restaurant by boat. Family friendly, great views, and a wide selection of items on the menu makes this a must visit the next time you are in Gulf Shores.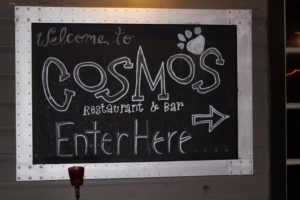 Cosmo's Restaurant & Bar. A tasty specialty dish that will make your mouth water is the Firecracker Shrimp. Several dishes that will make your mouth water because of flavor rather than spiciness are the Duck & Andouille Sausage Gumbo and when in season, the Pecan Redfish entree. Keep the cocktails coming at Cosmo's – that was the motto of our recent dinner here! There's no shortage of these and with a extensive red and white wine list as well as beer list no evening here should wind up too early.
When you walk into the restaurant it will become obvious that owner Brian Harsany and his wife Jodi adore dogs (paw prints and decor). In fact this restaurant is named after their rescue dog, "Cosmo." When weather permits the open deck that surrounds the restaurant is available for dining and there is often live music. The atmosphere is here lively and welcoming. Visit: www.cosmosrestaurantandbar.com
If there ever was a roadhouse institution, Flora-Bama is the poster child. Not satisfied with being in just one state it actually straddles two states (the bar is in Alabama and their outside seating area is in Florida). This bar as they like to say, "has been "doing it on the line" since 1964″. Doing what? Serving up music and Bushwacker drinks by volumes. Their wildly popular Bushwacker drink is a blended mix of Coffee, Kalua, Rum and Cacao mix and has won awards as the best Bushwacker on the Gulf. Its like a chocolate milkshake but with alcohol!

Besides the drinkin', one comes here for the live music (every night including Monday which is Open Mic Night); an especially prime time to visit is during the annual Frank Brown music festival in November. Jimmy Buffet's presence is felt at times all along the gulf and Caribbean and he even sings about this bar in his song, "Ragtop Day." A number of special events are held here including the eclectic but huge party for the "Mullet Toss" during the last weekend in April. The focus of this event is a competition where participants throw the Mullet fish and are awarded distance prizes. Visit: www.florabama.com
Jesse's restaurant serves a wide variety of Southern style comfort food including salads, seafood and steak but we stopped here entirely to sample their rich flavorful deserts! How many restaurants do you stop at just for the dessert? The restaurant is located in a former post office in the small community of Magnolia Springs (every pier has their own mailbox and mail is still delivered by boat). Dinner is a popular affair specializing in steak and southern prepared seafood. A number of chefs remain in their kitchens but Executive Chef Gannon Leary often walks among the customers. You wonder sometimes how the Wine Enthusiast and the Wine Spectator find the "out of the way" restaurants like this one – but both have found this restaurant, awarding Jesse's several wine awards for their wine list.
Shay and Nicole Houser are the current owners (the restaurant has been in their family since 1997). Nicole's father was the original owner and mayor (yes its a small town). The brains behind their desserts are Jennifer Haffner, the Bakery Manager. She truly loves baking and arrives very early each day to start the process. She makes all the deserts from scratch which is a very time consuming process. The restaurant is located right next to the "The Cold Hole", a good place to sit down and order a beer or wine. The Moore Bros. Village Market is next to the Cold Hole and specializes in coffee, baked goods, specialty groceries, wine, and meats. The Housers own all three establishments.
Recycling and environmental friendliness have come to Jesse's in a big way. Packaging and plastics are recycled weekly, steam from the kitchen is collected and then used to mop the floors and water tanks on the roof are heated by solar and supplies the majority of the water needed for the restaurant. Visit: www.jessesrestaurant.com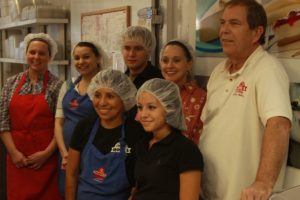 Have a hankering to nurture your sweet tooth? Look no further than Hope's Cheescake. This small family owned and operated business is all about quality rather than quantity. Fresh whole eggs, pure cane sugar, fresh lemon juice, and a select group of liqueurs are used to make small batches of cheesecakes. This stop is a "hit" with a number of people from the Midwest and Southern states as evidenced by all the pins pushed into the map (showing where you live) near the entrance.
The owner Jeanne Donald and her husband had vacationed in Gulf Shores for several years. They moved from Alaska to be closer to family; after the move Jeanne decided she needed something to occupy her time. Never having baked a cheesecake in her life she purchased and opened Hope's Cheesecake. Fortunately the original owner left the recipes and Jeanne has added her own "twists" over time. Visit: www.hopescheesecake.com
Lulu's at Homeport Marina is a restaurant but is also more than this; it is a must visit destination for both locals and out of towners alike. With a great selection of items on the menu, a fantastic margarita selection, a lively gift shop, a boat up waterway (along the Intercoastal Waterway), a host of live music and volleyball courts this is truly a place to spend a very long meal!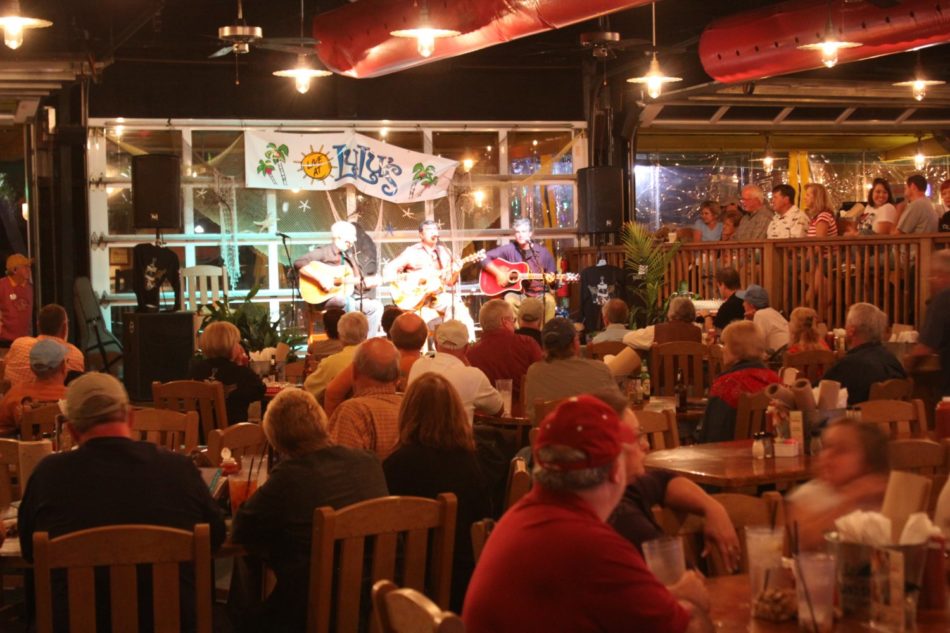 The Buffets know how to have a good time; you are probably familiar with Jimmy Buffet's "fun empire" centered in the Caribbean with a focus on songs, cheeseburgers, and Margaritaville but you may not be familiar with his younger sister, Lucy 'Lulu". Like Jimmy, Lucy was born in LA (lower Alabama) and spent some time in the other LA which left her yearning for her home LA. She returned in 1999 and started this restaurant. Over 750,000 guests are served each year (we said it was popular!) and reflecting on how much garbage is created from this Lucy has turned this operation into a "green" one. Chairs are made from recycled plastic milk containers, plastic cups have been abolished in favor of corn cups which decompose faster and a wind turbine runs in their outdoor bar. In addition they source locally whenever possible.
Like her brother Jimmy, Lucy is also a published author. Check out "Crazy Sista Cooking" a collection of Lucy's favorite recipes sprinkled with her "food philosophy" and stories about how the recipes were created. Visit: www.lulubuffett.com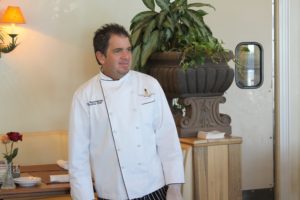 Stop in at the Southbeach Bar & Grill for the Sunday brunch at the Beach Club Resort in Orange Beach. Executive Chef Greg Bushmohle lives, breathes and eats the culinary arts. He started early, at age 10 at a catering house where he grew up in Michigan and by the age of 15 he was able to cook everything on their menu. After his parents questioned if a career in the kitchen would really pay off they encouraged him to pursue an engineering degree. After a less then stellar grade point average, he convinced his parents to change their minds and he graduated with honors with a degree in Hotel & Restaurant Management.
He has raced vintage cars for many years and at one point after winning a pro-celebrity race had offers to become a professional race car driver. Lucky for the restaurant industry he followed his true passion of food. He focuses on local, tropical and regional cuisine. Hungry? Go for the Cowboy Steak, a 22-ounce rib eye! Thirsty? Your on the beach – check out their margaritas and specialty drinks including the "Southbeach" Pina Colada made with real ice cream and the Belini (served during their Sunday brunch only – sparkling wine with peach puree). Visit: www.beachclubal.com
Tacky Jacks certainly has staying power; they first opened their doors in 1980. Breakfast is extremely popular here and for those big eaters, the Wheelhouse Pancake more than delivers, often falling over the edges of the plate. As they say here, you can drive up, boat up or come in by plane. The waterway lies right in front of their restaurant and they've even had a few sea planes pull in. During the summer this place gets crazy in a fun way – boats are lined up along the waterway outside and the restaurant is packed especially for breakfast. With 3 islands located nearby, people often take food with them on their boats. Indoor and outdoor dining is available but there's no reason to dine indoors if the weather is decent. From the wooden deck you have views across the waterway and of the three islands nearby.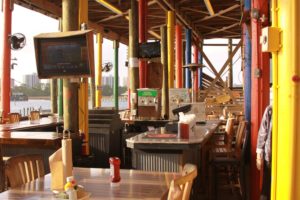 A Tacky Jacks local specialty are the Royal Red Shrimp – these particular type of shrimp not farmed and are only caught in the wild – in sections of the Gulf of Mexico where the shelf drops off dramatically. These shrimp are slightly larger than your typical shrimp and have a slight sweetness, almost reminiscent of lobster.
President Obama stopped by at the last minute for lunch in mid 2010 during his tour of the oil spill. Visit: www.tackyjacks.com
The Hangout is not what you think it is at first glance. It looks like a party spot and it certainly is this especially in the summer and during their very popular live concerts. However this restaurant is a destination and an experience in and of itself. The food is far superior to what you would associate as a "bar restaurant beach hangout", there are a number of activities (foosball, table tennis), a beach oriented gift shop and a killer bar overlooking the beach. Hold that thought, there are actually 4 other bars located outside including a children's only bar (only non alcoholic drinks served there).
This is not a small restaurant; during the peak of the summer season over 350 people are employed here. Interaction among families is encouraged – there are no video games on site and mobile video games are discouraged. During busy times, magicians even come to the tables to entertain.
We've never been to a lunch before where our party just gets up and walks around for about 30 minutes. That's the type of place this is! Unique decorations adorn the walls (check out the large metal lunch box collection) along with cute quotes and sayings. There is an outdoor area which is a great place to relax in the sand while soaking up the sun as well as a few drinks. Once the food arrived we all stayed in our seats. The owner, Shaul Zislin, is from Israel and who knew some of the best raw oysters prepared "Thai style" would be served at a restaurant like this. Fresh garlic, mint, lemon, Thai chili and fish sauce – perfect! The south fries most everything including here where they serve "frickles" – kosher fried pickles. Their excellent selection of local seafood all comes from the Gulf. An hour lunch quickly becomes three hours. For more information visit: www.thehangout.com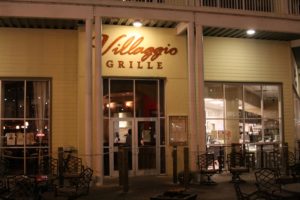 Villaggio Grille is under the direction of the brilliant chef Brody Olive. His Mediterranean styled cuisine also includes a southern influence and style (its where he grew up) and his dishes are prepared elegantly and flavorfully. Upon entering the first thing you see is the open kitchen with its wood burning oven and next to this is the extensive bar. From Ostrich Carpaccio sprinkled with baby arugula in a homemade vinaigrette sauce, to Mussels in White Wine to Tomato braised Short Ribs his dishes deliver mouth watering flavors. Their wine lists boasts a healthy International selection of both red and white wines.
Cooking has been in Brody's blood for many years; he first entered the industry as a dishwasher. He's one of the most personable and genuine people you will meet. As he will tell you, he will work on anything that needs to be done at the restaurant. It is nice to see success come to someone like this.
Look for the Intracoastal Bread & Bottle Company next door – a go to place especially for a picnic lunch with their selection of artisan breads, meats, cheeses, pastries, muffins and a wide variety of wines. This is under the same ownership as Villaggio Grille. Visit: www.villaggiogrille.com
More Information
We visited the following establishments during our stay in Gulf Shores and Orange Beach.
Hotels
Magnolia Springs B&B, Magnolia Springs: www.magnoliasprings.com
The Beach Club: www.beachclubal.com
Turquoise Place, Orange Beach: www.turquoiseplace.com
Restaurants
Cosmos Restaurant & Bar: www.cosmosrestaurantandbar.com
Florabama: Visit: www.florabama.com
Hope's Cheesecake: www.hopescheesecake.com
Jesse's: www.jessesrestaurant.com
Lulu's at Homeport: www.lulubuffett.com
Southbeach Bar and Grill: www.beachclubal.com
Tacky Jacks: www.tackyjacks.com
The Hangout: www.thehangoutal.com
Activities
Orange Beach Art Center, Glass blowing: www.orangebeachartcenter.com
Annual Events
Frank Brown Songwriters Festival: www.frankbrownsongwriters.com
Other
City of Orange Beach: www.cityoforangebeach.com
Gulf Shores Convention Bureau: www.gulfshores.com
Other Photographs