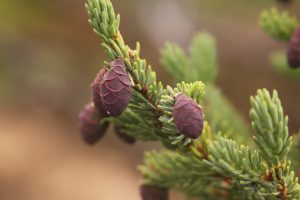 Since visiting Chena Hot Springs (pronounced Cheena) several years ago, I've recently had the urge to revisit this neat little part of Alaska – merely a 90 minute drive from Fairbanks. And sunlight nearly all night in these northern latitudes was also appealing. It is almost 11pm as I type this outdoors, swatting nats and the occasional mosquito and there is bright light still! Sunset is around 1am and sunrise around 3am but it never really gets dark at all. After doing an Arctic Circle run yesterday on the Dalton Highway in heavy rain and limited visibility, I was ready for some R&R.
I immediately swam out in the super hot waters and parked it on one of the rocks that surround the hot springs. I listened to conversations from people who were visiting from around the world. I opened my eyes and watched the large sea clam clouds open and close together with the sun shining through from time to time. With temps approaching 75 degrees today I alternated between taking icy cold showers and then jumping into the hot springs.
After several hours at the springs, I then walked into the Chena Hot Springs Restaurant and ordered an Angry Orchard Cider. I'm not sure why the orchard is angry that produces this particular cider, but it tasted great so I didn't ask any questions. Then a chipmunk raced into the Bar and jumped up onto the empty stool next to me and then immediately jumped up onto the bar counter and tried for a sip of my cider. According to the bartender this little animal is a noted alcoholic at this establishment. A little kid caught sight of the chipmunk and raced after him and then loudly questioned to all the patrons, "will he go poo here?". His embarrassed mother then jumped out of her chair and quickly scooped him up.
I took the photos below on a 3 mile round trip hike to Angel Rocks – a series of volcanic rocks that prominently protrude from the surrounding hills. I focused on the super macro level – reaching the rocks and spotting a number of seed pods, and little flowers blooming among the lichen. One micro flower would release small clouds of super tiny brown spores every time you touched it. Those are the little round ones in the photos below.