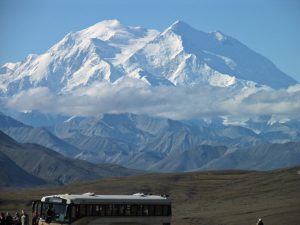 Alaska and Canada Bicycle Trip First Leg — Anchorage, Alaska July 3, 2001
I finally found a computer that I can use to send an update from Alaska. We just arrived in Anchorage after riding a four hundred mile loop through Alaska's Kenai Peninsula. So far, the riding has been absolutely epic with vast expanses of spruce and hemlock forest, fast flowing rivers, snowcapped mountains, hug ice fields, and glaciers. Surprisingly, the weather has been consistently sunny and warm for the past ten days. They locals say that is very unusual for the Kenai area. We even rode through a forest fire with a blaze only a mile from the road and ash raining down on us. With thick smoke everywhere, it wasn't easy to breathe and we were happy when the winds shifted and blew the smoke away from us. Although the riding is incredible, towns become far and few between and we frequently ended up carrying two to three days worth of food with us. Water just gets filtered from snow melt and it tastes so damn good. Yeah, the bike gets heavy, but I'm used to it now. My partner Nicki, who is doing a bicycle trip for the first time in her life, is holding up great. Although suffering form sore legs and butt, she can handle sixty to seventy mile days now, whereas in the beginning she topped out at thirty five to forty miles. Unfortunately this is the end of the trip for her, because she has to return to California for summer school. That's why we're in Anchorage today and tomorrow. There have been forecasts of rain for tomorrow, so I may stick around and wait it out before I continue on to Denali, the next major stop about two hundred and fifty miles north.
Nicki and I have been getting along really well, considering that she likes to sleep in and I rise early, etc, etc. She has been taking all the climbs and the large distances in stride and rides at a much faster and even pace now than in the first few days. I bet my constant teasing spurs her on quite a bit.
Now about the daylight: it just doesn't get dark here at all! The sun sets just after midnight but the sky remains light until three in the morning or so, when it rises again. It's awesome. Virtually every day we ride until eleven or even midnight. That means that we don't get going until eleven in the morning or so. That's the best part about the Alaskan summer, but I don't know if I could handle the winters here. As far as animal life, we have seen a huge variety, from moose hanging out next to us on the road side to colonies of puffins and cormorants by the glaciers. Some places, the bald eagles circled overhead by the dozen and even followed us. In the water we have spotted sea otters, Steller sea lions, porpoises, humpback whales, and high in the mountains we have seen mountain goat, big horn Dall sheep, beavers, and some huge porcupines. The only animal eluding us so far have been the brown bears. But I am confident that I will spot plenty of them sooner or later. This is, after all, their land. Seeing wolves would also make my day, although that's unlikely as they are very shy animals and don't like to be seen at all.
This is it for now and will keep in touch as much as I can. Further north and in Yukon, towns get even more sparse and so will internet access. It might be a while, but I'll give you glances into this ride how it unfolds.
Solomon
Alaska and Canada Bicycle Trip Second Leg
Fairbanks, Alaska July 13, 2001
This is yet another update on my bicycle trip through the North Country. One thing I must say is that I don't even notice the weight of all the gear anymore. In fact, the other day I ford without anything attached to the bicycle and found the handling too squirrely. Go figure. Now I am in Fairbanks, staying at Eric and Kyla Hartunian's place, whom I am very grateful for their hospitality. Fairbanks, as it turns out, is a very friendly city: upon spotting my bike, complete strangers walked up me and offered a place to stay. I have seen this all over Alaska and must say that its people are excellent.
It took four days to ride from Anchorage to Denali National Park, the first two of which were rainy and cold. The next two days brought the most hellish winds from the north that I have ever seen. Trying to get over Broad Pass in the Alaskan Range with thirty to forty mile an hour headwinds really tested my will to continue. It was made possible because I teamed up with Bernhard, a cyclist from Germany, and we switched drafting off each other. By the time we arrived in Denali I had a gnarly cold and cough going. Not good. Again, to prove people's hospitality up here, I met some park employees and they not only sheltered me in their dorm room, but also provided hot meals from the employee kitchen. I rested there for four days to recuperate. Needless to say that I am very thankful to Steve Mitchell, Will Dunaway, and Dave Robinson. Excellent guys. While there, I hopped on a camper bus and headed into Denali's back country for a day hike and to search for grizzly. Sure enough, I spotted not just one but about five of them, including a mother with two yearling cubs. They were a good distance away, but easily visible in the treeless tundra and they didn't seem to give a hoot about my existence. They didn't even care about some caribou grazing nearby. I finally got my bear fix! Other interesting animals that I was able to see and identify were red foxes, bald eagles, golden eagles, porcupines (first one I saw that was not road kill), moose, caribou, arctic ground squirrel, and Dall sheep. What a profusion of wild life in a seemingly barren land. Of course, there was the wait to see Denali itself, North America's highest peak at 20320 feet (6194 meters). Rising twenty thousand feet from the near sea level tundra makes the mountain the most imposing feature for hundreds of miles. Rising to such lofty heights, it creates its own weather system, draining moisture from the air passing over it and creating storm clouds when elsewhere they sky is blue. The mountain is rarely visible from the tundra.
Leaving Denali, I still didn't feel that great and decided to try my luck hitchhiking. Of course, being in Alaska, not even fifteen minutes of thumbs up and a rough and tough looking local picked me and bike up in his truck and off we went. Under that gnarled exterior, the guy was an angel. After I jumped off in Fairbanks, it took a minute to get moving. I was absolutely stupefied that we just covered a hundred and forty miles in two and a half hours. That would have taken me two freakin' days to ride! I mean it when I say that foot and bicycle make the world a whole lot bigger. Plus, you can look down and spot cool rocks, blooms, road kill, and the like.
So here I am in Fairbanks, resting some more at Eric and Kyla's place after the doctor, whom I visited today, prescribed some antibiotics and a few more days off. That doesn't bother me because the weather is quite nice for tooling around town and there is plenty of reading to catch up on. The next section will be from Fairbanks to Tok on the Alaska Highway and then from Tok to Dawson City, Yukon along the Taylor Highway. But – must – rest – now. I get so antsy. Until next time, rediscover your world by foot or bike. You'll be amazed.
Thanks to all who have helped me, I won't forget
Alaska and Canada Bicycle Trip Third Leg
Prince George, British Columbia
August 03, 2001
It gets dark now! I can't believe it, after weeks of no more than twilight at two in the morning, I have to get batteries for my flashlight. Now I find myself at the public library in Prince George, British Columbia. After leaving Whitehorse I made my way to Skagway, Alaska through terrible headwinds and rain, where I embarked on an eight hundred kilometer ferry trip that lasted three nights and two days. I got off in Prince Rupert in the central coast of British Columbia. Some of the thickest rain forest I have ever seen was right in that area. Nothing tropical these latitudes, but it wasn't any less dense and wet. Did I mention rain? It was a seven hundred kilometer ride from the coast to where I am now and it rained every day. Nothing but rain. Then add some wind and the whole experience can be right out miserable. More than a few times I questioned myself why I was even out here doing this. I could get to the next town and catch a Greyhound bus to the lower forty eight, where it's bound to be drier and warmer. But then I would meet and talk with some Canadian and realize what a cool bunch of people they are, funny accents notwithstanding. Many a night I ended up with a beer and dinner handed to me by someone camping next to me. On a couple of occasions I spent the nights in some barn sleeping on hay and next to tractors, because it was too wet and I didn't feel like pitching the tent one more time in the rain. A roof is a nice thing up here. Once past the rainforest the land turned from a mixed forest to more pasture and grazing country with rolling hills and plenty of cattle who became my spectators as I made my way past them. They were all looking at me, probably because not too many cyclists pass through, but I couldn't tell what they were thinking. Too bad I can't understand them.
My next plan is to continue on to Jasper, Alberta in the Canadian Rockies, then on to Banff and the outskirts of Calgary. Although Jasper and Banff are famed for their spectacular beauty, some cyclist I met who rode north from Montana told me stories of unending rain, wind, and snow in the passes and everything being muffled by clouds. Now I have doubts, because the city where I am is at a crossroads. I can choose a southerly route and ride toward the more arid, warmer Fraser Plateau toward the Washington State border and then turn west toward Vancouver. That's a much faster and more convenient way to get to Seattle, but I can't come so close to Jasper and Banff and then skip them because of weather. At worst I will have to hitchhike again and it will only whet my appetite to come back some other time. Hmmm, seems like I made my decision and we'll see what results. You never know.
Actually, yesterday, on my way to the library, I accidentally made a wrong turn in the down town area and entered a shopping center to turn around. In front of a grocery store there I noticed four bikes loaded with months worth of travel gear. I stopped and ended up meeting a Dutch couple who are on a world tour and Canada is their sixty fifth country over the past two years on the road! The other two were a German couple who are "only" riding to the southern tip of South America. I felt like a kid out riding his neighborhood on his BMX compared with these travelers. Needless to say, we hung out together for the rest of the day and night and had a good time together. Unfortunately, each one of us is headed a different direction and I will be by myself again (booboo lips). The Dutch are at the tail end of their trip and will be home in less than a month. The Germans will be riding through California, where I hope to hook up with them and ride along to the Mexican border with them.
Life on the road, as lonely and grueling as it might get, is just "like a box of chocolate". You seriously never know what or who you find around the next corner or the next kilometer down the road. I will sign off now because the sun just popped through the clouds and I have to take advantage of that. Until next time.
Solomon
Alaska and Canada Bicycle Trip Fourth Leg
Victoria, British Columbia
August 12, 2001
If I remember correctly, last time you received a quite vocal complaint about how rainy my ride had become. That was in Prince George, in central British Columbia. Well, I saw a ray of light (literally) as the sun burst through the clouds, but that day I felt too lazy to ride and spent most of the day sprawled out on the grass in a city park. Many other people had the same idea, as it got quite crowded there. Later that day, with renewed hope, I made my way out of town to a provincial park nearby. I was riding blissfully along, cranking up some hills, keeping careful track of wind direction and speed. The change in wind direction and speed was my first clue that something is changing and sure enough, less than ten minutes later I found myself fully engulfed in a thunderstorm. I barely had time to throw on raingear and got my booties on completely backwards in the frenzy to beat the thunder clouds. That's how quick the weather changed. Oh well, nothing new, so I just rode on. The rain continued until I got near the Yellowhead pass within a hundred kilometers of Jasper, where it turned into sleet (icy rain) and snow in elevations over two thousand meters. As yet another evening announced a rain drenched night in the tent, I had enough. I just dropped the bike on the shoulder of the highway and stood there for a long time, for a while debating about what to do next, then just standing there, but getting hypothermic nevertheless. By the minute I was losing hope and I just didn't feel like pitching that wet tent in the bush somewhere. I was hoping some angel would show up along the empty highway and take me to Baja California or somewhere warm like that. That angel took the shape of a joint smoking logger who stopped his truck as he was headed the opposite direction that I was. "Need a lift?" he asked me.
Initially I stuck around because the cab of the truck was nice and warm and dry, but later I developed a sympathy for this guy and we got along well. Funny how different our lives were, but yet we were driving around together. He kept telling me that the area around Kamloops (south of Prince George, between the Coast and Rocky Mountains) was dry and warm. He knew because that's where he lived (actually, that's where he kept his wife while he was doing his logging and other ill shit up north). Oh, I didn't mention that I spent the two nights in a school bus retrofitted for living in the bush. He kept it in the logging camp where he worked during the week and left completely up to me and his dog while he was out at the local ranch, pleasuring the rich wife. Finally, we parted in Kamloops, where, for the first time in weeks I experienced warm temperatures and sunny skies. It took half a day to let my stuff dry out and clean the bike of all the mud and grime. From there it was back to the life of regular bicycle traveler: eat, ride, enjoy the scenery, eat, ride, eat more, ride more, take a crap, ride, sleep. Not that it's boring, but definitely not as exciting as draining water from the fuel/water separator as a cop pulls up to lend a helping hand, all while our hero successfully hides the joint he was puffing on just before the officer pulled up.
From Kamloops I really had no clue where to ride, but I knew one thing: forget Jasper and Banff. Too much bad weather. I'll ride that area on some other trip; surely this won't be my last time in Canada. The locals recommended that I make my way down the Okanogan Valley along the Okanogan Lake. What a wise recommendation: I found this area to be spectacularly beautiful and scenic. The thick and huge coastal hemlock, spruce, and cedars had given way to lodge pole and ponderosa pine and sage. This part of the country is very similar to eastern Washington and Oregon. Definitely more arid (yess!!), this land is perfect for fruit orchards and wineries. The riding was a constant change between forests, pasture land, mountains, fruit trees, lakes, and wineries. Rarely have I seen such varying terrain during a bike ride. The route took me through the Okanogan Valley to Vernon, Kelowna (with a little canoeing thrown in for a change), Peachland, Summerland, then along the Kettle Valley Railroad Trail (an epic mountain bike ride on a railroad with the tracks removed) to the foothills of the Canadian Cascade Mountains, just north of Washington State. Then there were two days of huge climbs that seemed endless. But how can I complain about that, now that the sun is out and it's summerly warm. After blasting downhill for fifty kilometers I ended up at the mouth of the Fraser Canyon and followed the Fraser River downstream for two hundred kilometers until I ended up in Vancouver. Now that was hectic. After having whole highways for myself I found the San Francisco like city riding nearly choking. At least I'm seasoned enough by now that if a car comes within an inch of my elbow but doesn't actually make contact, I won't even flinch. Soon enough I escaped the city, only after a day there, to retrace a route I had ridden north of Vancouver a couple of years ago. Then I hopped on a ferry to Vancouver Island where I have some friends in the city of Victoria. That will be the first time I'll sleep on a bed and not on the ground in
Let's see, where next.