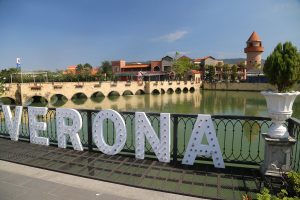 A holiday gives you the opportunity to escape from it all and relax without any of the concerns associated with everyday life back at home. The hotel you decide to stay in will of course play a hugely important role in your overall enjoyment of the break, so you need to be sure that the accommodation you have your eye on offers all that you need it to offer; and more!
To help you out with this and ensure that you find a top hotel for your forthcoming holiday, detailed below are seven things to consider and look out for to be certain that your accommodation will have the positive impact you expect it to have on your trip;
#1- Location
The location of your hotel depends very much on what you want to get out of your holiday. For instance, a hotel for a business trip, whereby a convenient location for quick and easy travel is imperative, certainly won't be the same as a hotel for a couple looking to see the sights of the local area, where a central location will be more necessary.
Consider location very carefully, as if you want to be near the hustle and bustle of the bars and restaurants you will want a city or town centre hotel, however if you want a quiet, peaceful and relaxing getaway, a hotel in a more secluded or remote location will undoubtedly suit you more.
#2- Star Rating
The star rating is one of the most common ways of determining how good a hotel is, with five stars obviously being a hotel that is the cream of the crop. During your hotel search, you can compare them on their star rating, looking at what falls within your price bracket, offers the facilities you require and then what star hotels of this kind have been awarded.
#3- Facilities
The facilities on offer from your hotel will again depend on your individual needs, however you may want to look into whether the hotel has an onsite swimming pool, bar or restaurant areas, a gym, laundry rooms and room service to ensure you enjoy the best holiday possible! It does ultimately depend on the facilities you deem as necessary from your chosen hotel though.
#4- Big Chain or Private Local
This is a very big decision you will have to make when choosing a hotel; do you go for a recognised name in the form of a chain of hotels or a locally owned hotel? Whilst the reliability and knowing exactly what you can expect will be there for you with a big chain, you may not get the same experience of the locals and surrounding area as you would if you went for privately owned accommodation.
#5- Optional Extras
Take a close look at the optional extras available with the hotel and whether any of these are included within the room rate or how much you will have to pay if not. For instance, in some hotels you may find that there is free wifi available so you can connect with friends and family back at home whilst in others it won't be, so you need to determine how much a priority extras such as this are and incorporate them into your decision making process.
#6- Reviews
Don't be afraid to search the internet and read reviews of the hotel you have in mind from those who have stayed there previously. One important thing to remember is that you can't please everyone all of the time so there will be some negative reviews on there, however don't let one or two negatives outweigh the positive reviews if there are many. On the other hand, if the negatives far outweigh the positives, it may be worth looking a little closer or elsewhere altogether!
#7- Price
The final and arguably most common deciding factor is price, so the importance of setting a budget for the cost of accommodation can't be stressed enough. Always look carefully at what you get for your money, the size of the room and the included meal options for example, before then making a decision on whether the hotel you'd like to stay in falls within your available budget.
By taking the seven points detailed above into consideration, there is a far greater chance that you will choose a hotel that ticks all of the required boxes and provides a strong base for an enjoyable holiday that lasts long in the memory.
This post was written by blogger and seasoned traveller Oliver Kyle who regularly stays in a variety of hotels in a range of different locations but always makes sure to invest in Debenhams Travel Insurance to stay protected no matter where he is travelling.