When it comes to creating a bucket-list of holiday experiences you simply have to try, having a yacht or catamaran holiday features on almost everybody's. Just imagine sitting on your own catamaran in a private bay, which you've gently bobbed and sailed across to, and that is miles away from anyone else. Your favourite music is playing, the smell of the barbecue being cooked drifts across, and you have your closest friends or family right there next to you. You're picking where to stop, and it really is the adventure of a lifetime!
So, what do you need to know to make the perfect sailing holiday? Firstly you need to choose between a yacht and a catamaran. A catamaran is basically twice as wide as a yacht, as it has twice as many hulls. The experience is much more comfortable, as there is more space, more areas to socialize, and more spots to sunbathe! (A yacht holiday is still fantastic though, and it really gives you a feeling of the wind in your hair when sailing, which isn't quite possible on a catamaran).
With most other holidays the time can be limited but when you are out in the sea, anything less than a week is simply not sufficient to have the complete experience. It takes some time to settle in and start blending in the ambient surrounding, the sea, the waves, the sunny sky, and the breeze. From gazing at the starry skies to sunbathing, the experience is simply not enough for a weekend.
Next up, is where to sail – we've picked out two of the highlights…
The Mediterranean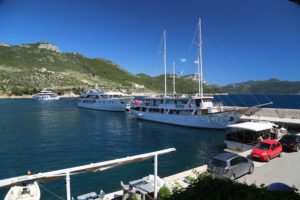 PlainSailing.com will allow you to sail from over 40 different bases in the Mediterranean including, Croatia – do a search, pick a boat, and get ready for a life-changing holiday experience. There are week-long holiday packages or you can customize one for yourself – with the guys at the company able to help you come up with your own itinerary, customized for you for 7 to 14 days (or even longer).
In the Mediterranean, packages usually start around on the Saturday evening and then you return the boat on a Friday evening. You stay overnight on the boat in the marina, and fully disembark on the Saturday morning.
The sailing season is from April to October, with peak season being in July and August. You can get some great prices in late September, when the weather is still great but the kids have all gone back to school, and the marinas are a little emptier.
The classic cruising grounds are in Croatia, Greece and Italy.
The Indian Ocean
The Indian Ocean is another amazing destination for a week of cruising and many operators provide good holiday packages, which (of course) can be customized beforehand for overall comfort.
The Seychelles is probably the most popular starting destination, with the nation made up of over 100 different islands, each with it's own reputation and charm. It is a renowned spot for sailing lovers. This archipelago is called an exclusive paradise with everything from luxury to affordable resorts, beach houses, restaurants, stays and it's a great starting point and you can then head towards Mauritius and enjoy the splendid journey on the clear blue waters, before arriving at the Maldives, another quite famous spot, with over 1000 separate tiny islands to sail around – you'll never make it to them all!
You shall find lots of operators with an absolute yachting paradise, with many offering a crew including the captain, hostess to look after you and do the cleaning, and a professional chef.
It really is the holiday of a life-time – hopefully we've inspired you to head out to the open water, and plan the perfect holiday!