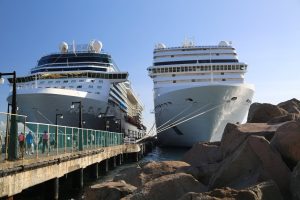 One of my favorite destinations for cruising is in the Caribbean – with island nations typically 60 to 100 miles apart, one can visit a different country nearly every day. It is a destination where one can just as easily opt for a short cruise or a longer one and still be exposed to different countries and cultures. And with plenty of beaches and year round warm weather, I've found myself in the Caribbean every November or December the past few years – usually escaping the cooler weather up north.
In my Caribbean travels, I often see cruise ships in port. One of the most well-known cruise companies, Celebrity Cruises offers cruises to over 300 destinations around the planet; check out some of the Celebrity's great cruise deals here. They also feature a wide selection of cruises in the Caribbean ranging from 3 to 14 days.
After experiencing a number of both ocean and river cruises, here are some of my favorite reasons for cruising.
Ease of Trip
One of my most important reasons for taking a cruise is ease of travel and eliminating the logistical hassles and challenges of traveling on one's own. To some extent I build itineraries for a living and I am often on solo trips where it is my sole responsibility for the trip logistics and experiences.
In contrast, when cruising, there is a peace of mind and comfort in knowing you are not responsible from getting from point A to point B, dealing with public transportation, renting a vehicle or the hassles and time involved with the logistics of setting up experiences.
Cost
Cruising can be relatively affordable, especially in the Caribbean when one considers the cost of visiting multiple countries on one's own. Cruising combines the cost of airfare, accommodation and transportation into one package – often cheaper then if one were to piece all these individual parts of the trip together.
On Board Activities
Depending on the cruise, the amount of activities can be extremely diverse. I've been on cruises where sommeliers are on board leading wines classes focusing on wines of the world or on-board chefs lead a variety of culinary classes. And with cruises focusing on outdoor activities guests have access to pools, the Jacuzzi, and even sometimes water slides, rock climbing walls or outdoor games including bocce ball and or miniature golf, among others.
Or perhaps you just want to relax with a cocktail and a good book. Or hit one of the upper decks for fresh air.
Shore Activities
Want to explore a destination beyond the cruise ship terminals? Cruising offers a wide variety of shore excursions ranging from group tours and in the case of Celebrity Cruises, an option for customized and personalized experiences.
And in some countries in the Caribbean (specifically the non English speaking islands), sometimes I have been short on time so I walked down to the cruise terminals and paid to join one of the cruise shore excursions – the benefit of immediately signing up for a tour and being among English speakers with an English speaking guide in a non English speaking country.
Plenty of Food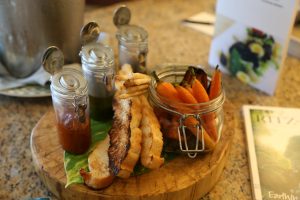 One of the perks of an all inclusive cruise is access to food – and lots of it! And Celebrity Cruises builds their menus around local cuisine including sourcing ingredients from the destinations visited. In places such as the Caribbean the chefs at Celebrity Cruises in part tailor the cuisine based on access to plenty of local seafood and fresh tropical fruits.
One of the advantages of dining on cruise ships is also the variety of cuisine – want to dress up and go upscale or dress down and be casual – there are plenty of options. And the menus at Celebrity Cruises are created by a Michelin-starred chef.
—
Cruising can be ideal for those seeking a relaxing escape from the 'real life' with time to rejuvenate and refresh – time spent on your own schedule. One can opt for a cruise vacation involving a variety of activities or the simply choose to do as little a possible.
Comments? Let us know below.