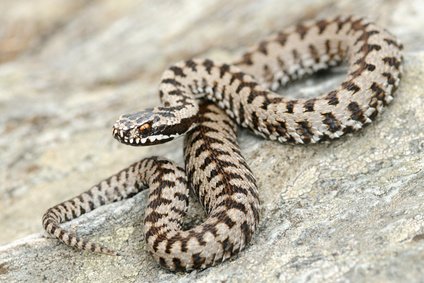 You plan on some things, and others just happen. Usually you don't plan on getting bitten by a rattlesnake for example. It's just one of those things when you're out in desolate country; alone, weather beaten and emotionally off guard. Of course you could argue that inserting yourself into desolate and dangerous country is, in a way, inviting an encounter with an ill-tempered reptile. True I didn't know when setting out on my two-month canoe trip that I had a date with a Prairie Rattler a thousand miles downriver, but in a way I sort of planned for it.
Here's the setup: Dakotas, Summer 2008. Dangerous country conjures visions of the outback, or stormy seas, or war torn Middle-Eastern streets. Usually states like Kansas and Nebraska are an inconvenient desert between you and your ski-trip, but nothing you'd consider dangerous. But when you're seeing the land from the rear seat of a canoe at four or five miles per hour, your perspective can be different. Anyone who's ever spent time in the Dakotas knows that fierce winds can come up and blow for days. Winds that make 30 mph gusts feel like a gentle breeze. One of those winds caught me in the middle channel of The Missouri River in North Dakota and drove me to the nearest beach.
The Missouri was meant to be a salvation of sorts. A long anticipated adventure to drive a wedge between two opposing chapters of my life. Two months paddling from Three Forks, Montana to St. Louis Missouri. But after a month, having been stuck on a forsaken rocky beach with nothing but the sun and the interminable wind, I began to loathe my 'salvation.' The point of land I found myself stranded on was barren and treeless, empty save for the broken shale rocks and the smell of rotting fish. Sitting in the sun, tense from the wind, was almost as draining as a full day of paddling. The wind awoke my survival instinct, which kept me constantly on edge, though my body was physically exhausted.
Walking from the river's edge toward my camp on the second afternoon I froze, hearing a rattle from amongst the rocks that penetrated my body like a hand buzzer. Scanning the rocks with darting eyes I found the source, mostly coiled and half hidden amongst the rocks. The snake's neck and upper body flexed and hovered above the ground. My heart throbbed with a beat that tickled the back of my throat. The air in my lungs escaped in a measured but unavoidable gasp. I was breathless with fear and the suddenness of the encounter. All was silent except for the sound of the rattle. The serpent licked at the empty air.
This was a rattlesnake eyeing me; moderately aggressive when threatened and in possession of a very potent poison according to the books I had read. What the books hadn't explained is how to navigate the inner philosophical debate that occurs after surprising one of these dangerous animals – to run, or not to run – and the emotional gibberish that quickly follows. This fellow was agitated because of his helplessness. I was agitated by mine. Together, we were both in a kill-or-be-killed dance on the edge of the dusty plains.
Seeing its black and khaki banding tucked in amongst the gray rocks and dark shadows of the late day sun, and though frozen by fear, my mind disgorged a tangle of conglomerate of all the little factoids I'd learned about wilderness survival before my trip.
* Avoid places where snakes are likely to congregate,
* Never look a gift-snake in the mouth
* Stop Drop and Roll
* The family that prays together, stays together
* Don't suck the poison
* Always let sleeping dogs lie
All of this was, of course, complete nonsense; a mental and emotional hemorrhage.
Finding my body unable or unwilling to run away from this situation, my mind reaching back to college. I thought about Hamlet's famous "to be or not to be" soliloquy from my undergrad thesis.
…thus the native hue of resolution
is sicklied o'er with the pale cast of thought,
And enterprises of great pitch and moment
With this regard their currents turn awry,
And lose the name of action.
In preparing for the trip I had studied and read how to negotiate the outdoors. I had read about first aid and snakebite treatment and how to avoid the places where snakes are likely to reside. But that was in another place, before starting at Three Forks, and weeks ago. Confronted by an ill-tempered rattlesnake, all that research went out the door.
Time ticked away as the two of us watched one another. Minutes, hours, days, weeks maybe. I had no way to measure time. Upriver five hundred miles, in the Upper Missouri Breaks, I had unceremoniously buried my watch in the bank of the river. Thinking about time no longer fit with my life on the river. But facing this coiled reptile I wished my watch were on my arm where it belonged. Then I could mark how long it would take for the snake to strike. How long for the poison to do its work. Even an insignificant measure of time would've relieved some of that uncontrollable situation.
My phones, too, had been useless up to that point. My cell phone was on the bottom of the river near Williston. My satellite phone had never been activated. And there were no people nearby to rescue me. If I were bitten, there could be only one outcome. No social infrastructure existed on that beach. Unlike in the civilized world, I wasn't in calling distance of an ambulance, fire department or police. No social safety net to clean up after my mess or reduce life-or-death responsibility for poor planning.
Williston, North Dakota lay upstream on the opposite side of the river. Garrison Dam was about eighty miles downstream. New Town Marina was a few miles downstream and across – well within paddling distance – but the waves on the water were still rolling and boiling. Far out in the channel the swells crested at four, five or maybe even six feet and the west wind sent them cascading onto the beach in succession like one car crash after another. The day before, I had tried to cross to New Town, but swamped in the high surf yards from shore. No escape. For a second the realization came to me that if bitten, I would likely die.
The snake and I continued to watch each other. The rattle grew more intense, and I knew we were only seconds from resolution. Bite or be bitten. Maybe jump or be bitten. I would have to jump. That was the answer.
The animal and I held our locked gaze. The snake's neck tightened as I turned the ball of my foot in the sand to find traction. Then it happened. The snake twitched, and in one motion as the serpent lunged I kicked back with one foot and reached with the other in a kind of reverse long jump; out of range of the coiled, rattling animal I hoped. Things went from slow to fast in an instant as sound and motion of the outside world returned. The wind returned, howling around the brush. The waves began again to smash into the beach. And then came the stinging pain on the back of my heel as I landed, and the sensation of needles sliding into my heel. My mind reeled with surprise at what must have been a second snake behind me; my legs trembled as if detached from my hips, twisted and then folded backward dropping my body toward the rocky, sandy ground.
My face tightened and winced at the stinging feeling as mind and body separated and body sank. I fell back to a sudden shock and a bright light, like a camera's flash, as my head hit the side of the boat. Coming to rest on the ground, my head and shoulders propped against the side of my canoe, I felt a great breath of air explode from my lungs.
As my consciousness began to filter out the sound of the wind and the water a voice in my mind, one that had followed me from Three Forks, suddenly became audible.
"You did this you know," it said. "You started on this river, and you knew this serpent would be waiting for you somewhere along the way. You knew you would have to pay for this trip with your life. You knew this was going to happen."
The heat drained out of my body. Blackness rose as the ringing in my ears died away. For a moment I was content not to think about the serpent, or the river, or the fact that I was in the middle of a lonely and foreign adventure. The world grew quiet as I drifted away. The sharp pain on the back of my foot ebbed and faded. Darkness. Redemption.
When I came to, either minutes or hours later, I considered my fate. Imagining the bite wound already becoming black and necrotic – the poison slowly rising upward in my body like the rising mercury of a thermometer.
But sitting up I felt first my head; throbbing from the impact but not bleeding as I had expected. Then I noticed normal feeling in my fingers, and in my unbitten leg contracted to my chest precisely as it had been commanded to do. The only pains were in my head, and the back of my foot. Not wanting to look, I first reached toward the bite only to feel a rough patch of barbs on the heel. I paused and my lips pursed. I thumbed the barbs and felt electricity bolt upward into my hips. My bitten leg bent in a hurdle stretch, I opened one eye, then the other, slowly extending my gaze toward my foot.
There, a small patch of blood welled, surrounded by four or five pins sticking out from the back of my heel. Thumbing the cactus barbs, my eyes wincing and welling with tears, I laughed out loud.
I had stepped on a cactus & probably sent the scared serpent into hiding with my wild jumps and crashes.
Peggy Lee began to sing Is That All There Is in my head.
I stood up slowly and carefully; like a newborn fawn.
Is that all there is, my friends?
Lighting my last cigarette, I sat leaning against edge of the canoe and breathed deeply.
Is that all there is, my friends? Then lets keep dancing. Let's break out the booze.
Biography
Ryan O'Reilly, the grandson of the O'Reilly Auto Parts founder, is also the author of 2 novels, and a free-lance contributor to various newspapers and periodicals throughout the country. He studied English Literature at Westminster College in Fulton, Missouri and is a member of the National Writers Association and the Writers League of Texas. O'Reilly divides his time between his business in Austin, Texas and a small farm in Clever, Missouri.