What could 53 days buy you? Think of it. What if you had 53 days? What could you do in that time? That length of time could buy you half a summer vacation. Or maybe you would look at it as two months salary minus the interfering weekends.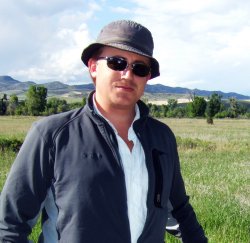 Not long ago I exchanged 53 days for 2,341 miles. I then took those miles and exchanged them for an experience that I think changed my life forever. I was between jobs, you see, and so I took a Canoe and some camping gear and spent 53 days paddling 2,341 miles from Three Forks, Montana to St. Louis, Missouri on the Missouri River. I was single, jobless, between towns and still young enough to think that paddling a distance equivalent to driving from Florida to LA might be fun.
Before dipping my paddle into the river I had never committed to anything long-term. Not like that kind of expedition, anyway. I hadn't ever undertaken any profound time or distance alone, either. My experience with river trips to that point was limited to a few sunny days on lazy mid-western rivers with my friends. A week if I was feeling adventurous. Short flings. Mere flirtations. In my mid twenties I was all about flirtation without commitment. Flings without contract.
Through those flirtations, paddling rivers had become a romantic pursuit. A sanitized adventure with a beginning and an end, but no middle. No real middle where a person's endurance and ability is thoroughly tested. No breaking down and becoming something else. No transformation. The difference between a brief outing and an adventure is that forces beyond our control – dangerous animals, ferocious storms, cold, hunger, wet clothes or no firewood – are novelties on a short trip. They are limiting, but only temporarily inconvenient. After a few days, when the traveler is home again and back in a more controlled environment, memories of the journey are fun and exotic. If it rains or storms during your weekend trip you are only a day or so from a dryer and clean clothes. But taking a long journey is something different.
That's where the Missouri River came in.
The irony was that as I planned the Missouri River trip my assumption was that the experience would be similar to other river journeys, just a few thousand miles longer. After all, the Missouri River as it is today runs through a relatively safe and familiar environment. I wouldn't be in a foreign country. I would be on a river that has been travelled and tamed. I would be heading west-to-east rather than venturing toward the mythical West of our American forefathers. I would be heading toward home. But the reality of the journey was that though I was physically heading toward home, the river led me spiritually away from it.
This was a simple and easy trap to fall into. As I look back, I remember how I planned even the psychological impact of the journey based on the direction of travel. How easily those plans had come together in my mind, and how black and white it all felt. Throughout the preparation the whole thing felt quaint and controlled. The phrase "I'm going to paddle the Missouri" trickled off my tongue sweetly and casually as I explained my plan to friends and family.
But though the planning felt easy and new, the original idea of the journey wasn't. Paddling a long distance had been a life-long dream. The idea of paddling the Missouri had festered for nearly a decade. I had stumbled over the first notions of the adventure during college. Late one night near a bonfire on the bank of the river near Jefferson City, Missouri, a group of friends and I decided that paddling all the way from Kansas City to St. Louis would be a hell of an adventure.
As we stared across the river, the firelight reflecting off of the dark water, the beer from the evening began to work its magic. I began seeing Daniel Boone type film clips. Me struggling to pull my battered craft onto the beach at the St. Louis Arch. A crowd gathering as I climb stiff-legged up the stairs to the base of the monument. People would stare at my patchwork beard, my starved frame and my ragged clothes. Amidst the muffled voices I would raise my hand, …
Biography
Ryan O'Reilly, the grandson of the O'Reilly Auto Parts founder, is also the author of 2 novels, and a free-lance contributor to various newspapers and periodicals throughout the country. He studied English Literature at Westminster College in Fulton, Missouri and is a member of the National Writers Association and the Writers League of Texas. O'Reilly divides his time between his business in Austin, Texas and a small farm in Clever, Missouri