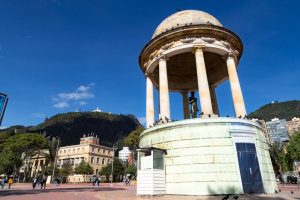 Paris and Florence: art destinations. Sure. But Bogota, Colombia? Absolutely! Lisa was fascinated to discover so many artist hot spots in Bogota. Don't miss these on your trip!
Graffiti Street Art Tour– Graffiti art is allowed in Bogota and can be seen all over the city. Tour Guide Federico Ruiz explains that the city provides blank canvases for many street artists with large, plain walls. The Kiss is a piece of graffiti art from 2013 that is 10 stories high, a can't miss stop on the art tour! The Kiss was painted by 5 artists, one of whom was a tour guide for Lisa! His name is Juan Garcia. Another particularly widespread mural is called "Meeting of the Styles" and features artists from Argentina, Barcelona, and various local artists.
El Museo Del Oro– Lisa loved El Museo del Oro (Museum of Gold). It was filled with thousands of historical, gold artifacts. The Poporo is a must-see piece, and the symbol of El Museo del Oro. It was the first piece collected for the museum. For a museum with 'gold' in the title, it might be surprising that every piece is not dripping in the shiny stuff. El Museo del Oro boasts the largest collection of pre-Hispanic gold found anywhere in the world, but also features beautifully crafted, ancient pottery.
Artesanias de Colombia– Bogota hosts numerous talented artists and craftsmen, however Lisa was fascinated by one, in particular. Local artist Maria Iris has an amazing talent for basket weaving. It is tradition that men harvest the palm and the women weave it into baskets. However, basket weaving itself is a tradition in patience, taking a month to create a small (absolutely perfect) basket. Many of these artists have studios in the T Zone, a popular shopping district.
Bogota is a truly unique destination. Don't forget to check out the Unexpected Gems of Bogota for more must-see spots!