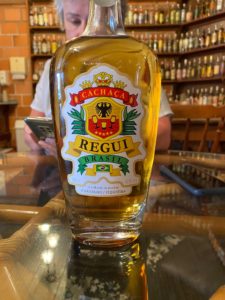 When visiting Curitiba, any individual or group that has an interest in cachaça must visit Orlando Regis. It just so happened that while I was in Morretes, Bruna Gomes of Porto Morretes had suggested that I go visit Orlando, since I had time on my last day before my trip back to Brasilia. Thanks to her, I was able to set up some time with him.
Orlando Regis and his wife have one of the largest collections of cachaça in the country. At over 7,000 bottles, they certainly have the largest collection that the public can visit.
Orlando greeted me warmly when I arrived and immediately took me on a tour of his cachaça compound. Upstairs in the facility he has already started preparing his cachaça museum, where visitors will be able to explore not only part of his collection, but the uncertain history of cachaça. He was also in the process of creating a learning space for people who are interested in cachaça.
Orlando isn't just a collector and advocate of cachaça, however, he's also a producer. While not for sale, his own product has won a major national award, making it one of, if not the only, cachaça to not be on the market and take home such an honor.
For Orlando, cachaça is much more than a product. It's very much at the center of his life, an important part of Brazilian culture, and the vehicle that brings him together with friends and family. He doesn't admit to being a technical expert. However, his nose and tastebuds are quite refined, at least compared to someone like me who can't identify anything.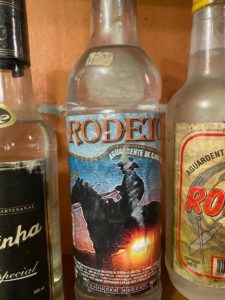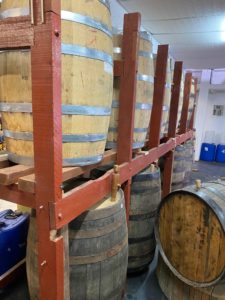 Downstairs at the facility is what I would call the clubhouse. Part collection and part store, Orlando holds court down there with groups of people from all over the country and all over the world. Walking into that space, covered in dark wood, it's easy to feel like one is walking into a bar.
His collection started when he used to travel a for work. He'd pick up a bottle here and there. Quickly, it turned into something that his wife bought him when she would travel. And then suddenly, there they were, in their house, with thousands of bottles of cachaça.
After retiring, he decided to transfer his collection to a more suitable place, namely the location where he had a business for decades. It has become a clubhouse and home away from home, and he's all too happy to share with his friends. We tasted a number of cachaças, including his own, which is quite good. Every day, he receives dozens of bottles in the mail from all over Brazil.
While we sat, I learned a bit about how to taste cachaça, and how Orlando helped bring about the introduction of what many consider an official cachaça glass.
We went to get some lunch at a nearby churrascaria.
To sit with Orlando and talk about cachaça, one gets a sense of his impatience with the entire enterprise. First, he knows that the future of distilled spirits generally is in cocktails. Every distillery must consider that consumers will use their pure spirit for mixing drinks.
But, Orlando insists, we need not invent new drinks. Brazilians have to be willing to use cachaça in regular mixed drinks, whether simple ones that include tonic or cola, or more complex cocktails that normally include rum. Only then will it be more successful. Any other approach, he insisted, is a waste of time.
We finished our meal and I took Orlando back to his clubhouse and dropped him off. It was my last day. I was tired. I was homesick. I was ready to get home. After dropping my rental car off, I sat at the airport for several hours writing notes. My plane couldn't come soon enough. I made it home at 8pm, my wife and kids picking me up.
I'll have more to say on my early learnings. But for now, I continue, like all of us do, to reflect on that moment of freedom, and can't wait to get back on the road, next time with my family.