I bounded out of bed on that second day. It was after 7, later than I'd expected to sleep. I opened the curtains in my room to let in the bright sun. A bright blue, cloudless sky greeted me.
Breakfast at the pousada was traditional: a range of cakes, breads, and sandwich makings, as well as fresh fruit, juice, and coffee. With an urge to get on the road, knowing that it would take me almost two hours to reach Casa Bucco, I ate with urgency.
On the road, listening to a podcast, I took the tight curves relatively slowly. I'd given in to the fact that I would never drive these roads as the locals did and let them pass me. That morning I allowed myself moments to appreciate where I was, amidst the green mountains, peppered with small towns filled with colorful, elegant houses. I stopped several times along the side of the road just to take in the views.
Casa Bucco is alongside a relatively major road. Located on a hillside, perched over the Antas River, the views from the parking lot were breathtaking.
As soon as I stepped out of the car, a young woman appeared, wearing a Casa Bucco shirt. She greeted me and immediately offered a tour of the facilities. But before we got too far into the tour, another gentleman approached. He greeted me and assumed responsibility. His name was Mateus and, it turned out, he and his father ran the distillery.
Italian immigrants to Rio Grande do Sul founded Casa Bucco in the 1890s. During that time, Brazil and Uruguay engaged in a tense stand-off over the region. There were still many indigenous people on the land who had no allegiance to either country, and in order to ensure that the land remained in Brazilian hands, the government seized that land and offered it, for free, to immigrants, including those that went on to found the distillery.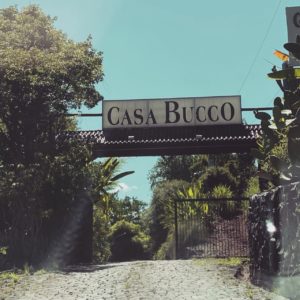 The entrance to Casa Bucco distillery.[/caption] The microclimate around the distillery is unusual in that it remains rather warm and humid. This means that Casa Bucco can grow sugarcane and harvest it throughout the year, which is unusual compared to other parts of the state.
For about 100 years, the distillery was, like many others, a clandestine operation. It was only in 2000 that the operation went legit. Since then, the company has been on an upward trajectory, producing roughly 80,000 liters of cachaça per year.
The facility was rustic, but with a strong sense of history. The still was quiet while I was there, but I managed to get into the aging area where barrels of various types surrounded me—oak, balsam, and amburana. The smell was amazing.
We moved from the tour of the facility to tasting. I managed to get at least a small amount of a number of cachaças; all except the extra-premium. All of them were excellent. Next to me, in the tasting area a few people set up tables. Besides being a distillery, there is also an on-site pousada (at which, apparently, one can drink as much Casa Bucco as one cares to). I assumed these tables were for those guests. No, Mateus told me, the tables were being set up for the employees of the distillery. Every day, the distillery provides lunch to all employees and they all eat lunch together!
After sampling, I moved to the store, where I purchased a prata and a chocolate liqueur for my wife. In addition to that, Mateus was gracious enough to give me a book about cachaça and distilleries in rural areas.
Rushing toward noon, I realized that they would soon be eating lunch and that I should be on my way. Having spent more than two hours with me, I thanked Mateus for his time and bid him farewell.
I had nothing scheduled for the afternoon and so it was with a bit of trepidation that I left Casa Bucco. I didn't just want to drive aimlessly. I needed direction. In that moment, heading down the rocky driveway toward the highway, I decided to return to Nova Petropolis. It was, after all, my home base, and I thought it might be worth getting to know it a bit better.
When I got to Nova Petropolis, not more than a block off of the highway, I pulled to the side of the road and looked for a place to eat and relax. There was only one place open at the time that seemed worthwhile. I drove a couple of blocks and pulled into Refugio, which was on the edge of the city amidst a canopy of trees.
I was the only patron at the bar and got myself a caipirinha (because, again, no cachaça) and a hamburger, because that was the only thing that they currently had.
I passed much of the afternoon writing my notes and eating my meal on the porch outside. It was warm that day, and in spite of being in the shade, I was sweating.
When I was done with my meal and my note-taking, I paid my bill and left. It was mid-afternoon and I wanted to see what the city had to offer. Google told me about a labyrinth, which seemed mildly interesting. But in all honesty, what I wanted to do was sit and people watch. So, instead, I went to the praça das flores. I paid my 12 reais to get in and walked around a bit. The park was quiet. It was a Wednesday and there weren't many tourists, nor were there many locals. Most of the shops were closed.
I found a bench and planted myself there. It was a beautiful day, and I just wanted to sit.
I meandered back to the pousada for an afternoon nap, and when I awoke, the sun was going down. I found myself hungry again and this time decided to hit up a lively spot a few blocks away. La Birra was, as the name portends, a beer garden. While it obviously did not serve cachaça, the beer was quite good. I stuck with the IPA and got myself a pizza. The place was lively for the couple of hours I was there, with lots of young people and families, all locals, enjoying a mid-day dinner out.
I got back to the inn a bit after eight in the evening. It was early, but I wanted to read and maybe watch some Netflix. I hopped in the elevator with a family of four. I'm not sure how it came up that I was American, but it's normal for people to ask me where I'm from given my accent in Portuguese.
The husband was eager to practice his English with me. When we got out on the same floor he and I stood out in the hall talking while the rest of his family went to their room. Soon into the conversation, the husband made an off-hand political comment, which I ignored. But I couldn't ignore him when he made reference to dark-skinned people being inferior. It was then that I immediately bid him good night.
It was a tough way to end the day. That conversation bothered me for a while. But as I went to bed, I knew that I couldn't let such bigotry completely derail my time in Rio Grande do Sul.