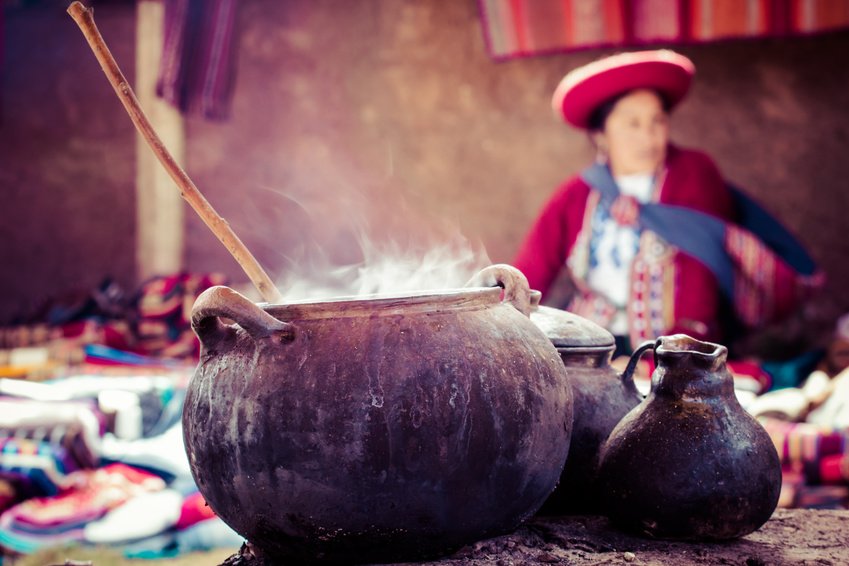 When I arrived in Cuzco, a city of 350,000 people known as the Inca Capital of Peru, I had near-zero knowledge about the place. All I knew is that it is home to a famous tourist attraction which most of my friends have kept on their Bucket Lists – forever!
Stepping out of the airport, I wore that moronic look tourists wear when they arrive at a place where the primary language is something they cannot fluently speak. I did a little chicken dance in my mind and silently screamed, as if to remind myself that it's all real:
"I'm in Peru!"
Eight days following that arrival, I was at Cuzco's airport – again – wearing a Bobcat grin while repeatedly doing my little victory dance (when nobody's watching, of course).
Within me a storyteller was dying to share stories…. of awesome Peruvian adventures, and wholesome misadventures…. of dreams-come-true…. of conquered fears… of lessons learned while living life fully and truly on my own terms. Most of these lessons are best kept private, some are better shared, and others are just good to know.
Here are fun things I've learned during my eight-day visit in Cuzco, Peru:
ON DRIVING
No, I have not learned how to drive in Peru. Don't think I'd ever dare to, even if the fate of this planet depended on it! Driving in Peruvian traffic is like inducing a heart attack…. or a brain aneurysm rupture…. or both! Yes, Cuzco's traffic scene was that awful.
I did learn something about driving in Peruvian traffic: Drivers may honk as much as they want, as often as they want. It is totally acceptable, even when passing through a "No Honking" zone.
In Cuzco, watching Peruvian motorists honking to and fro is free live entertainment.
Wickedly amusing!
THE GUINEA PIG
In Peru, the guinea pig is not a pet.
Stuffed with herbs/seasonings and roasted whole, it is a traditional Andean delicacy reserved for special occasions. Someone said it is an excellent aphrodisiac, but I don't know that for sure. All I know is that it tastes yummy…. just like the Philippine lechon!
ALPACA
A domesticated species of the South American camelid, alpacas have been around for over 5,000 years. An alpaca looks like a baby llama except, the former has short spear-shaped ears while the latter has long, banana-shaped ears.
Alpacas are valued for the excellent fiber derived from their fur. Often referred to as Andean Gold, alpaca is not just something you'd like to wear — it's something you'd like to eat, too! Alpaca meat is an important source of protein in Peruvian cuisine. It tastes like beef….
COCA LEAVES
Coca, the plant source for medicinal cocaine hydrochloride and the recreational drug cocaine, is a cash crop native to Peru.
A popular Andean remedy for altitude sickness, coca leaves are served free in most, if not all, hotel lobbies in Cuzco! You may steep some in a cup of hot water and drink it as a tea or, better yet, grab a handful (or at least ten leaves) and chew it like a pro.
Interested in learning more about the 3,000-year-old tradition of coca-leaf chewing? Visit the Museo de la Coca in Cuzco, and feel free to try the coca cookies while you're there…. It tastes like sweet coca leaves!
Note: In the United States, coca leaf is classified as a Schedule II narcotic drug, making it illegal to buy, sell, or possess without a DEA license or medical prescription.
THE FACILITIES
The locals in Peru do not call it "restrooms." They use the term "facilities."
When using the facilities, never.ever.throw.toilet.paper.in.the.commode! Doing so would be a cardinal sin…. and, trust me, it would make you feel like you're the most horrendous traveler to have set foot in the Andes.
Pee smart, poo smarter: Toilet paper is thrown, not flushed — that's what those little buckets are for.
BABY LLAMA
While exploring Plaza de Armas, or any other tourist-infested areas, beware of traditionally-dressed senioras & senioritas strolling on the streets with their cute baby llama! Petting and/or cradling those adorable little creatures would cost you "dos soles, o mas."
"YAPA!"
While buying baked goods and fresh produce at Mercado Central de San Pedro, it would behoove you to say, "yapa." Say it with an ounce of persuasion and a gob of a smile, then let the power of words play its own magic! A Quechua word, yapa means "a little something extra, given as a bonus; a gratuity, a lagniappe."
When it comes to shopping on the streets and/or souvenir shops in Cuzco, bargaining is the norm. Most items have no price tag! You may willingly pay the verbalized price of any item, of course; but for me, it's more fun to see how low can I go….
CORN
Peru grows more than 55 varieties of corn; they've got the largest corn kernels I've ever seen, and the yummiest corn I've ever tasted. Peruvian corn comes in just about any color; but the ones I've frequently seen at the farmers' market in San Pedro were yellow, orange, purple, white, and black.
When in downtown Cusco, stop by El Meson de Don Tomas and try chicha morada, a colorful non-alcoholic beverage made from purple corn. Delicious!
POTATOES
Did you know the potato is native to Peru?
Peruvian farmers grow over 3,800 different types of potatoes. Each year, on the 30th day of May, the entire country observes the Day of Native Potatoes. This nation-wide festivity aims to promote awareness and recognition of this humble crop's nutritional value.
Potato is an Andean staple; so is Quinoa, another super-food crop native to Peru (and Bolivia).
MACHU PICCHU
Often mistakenly called "The Lost City of the Incas," and frequently misspelled by omitting the second "c" in the second word, Machu Picchu is a mystical citadel at the pinnacle of the Urubamba River valley.
This UNESCO World Heritage Site is home of intriguing buildings that play on astronomical alignments. Its panoramic views are spectacularly spectacular – a worthy add-on to any savvy traveler's Bucket List.
The term Machu Picchu, translated to English, means "Old Peak" or "Old Mountain" and its correct pronunciation is MATCH-oo PEAK-choo…. Pronouncing it MATCH-oo PEA-choo is tantamount to saying "Old Penis."