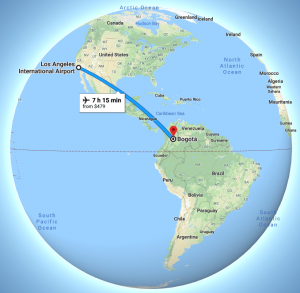 Yup, you read the headline right. I made a day trip to Bogota, Colombia from Los Angeles, USA. I'm probably not the first one to do it, but I bet not many people have done it before.
So how'd it happen? Mostly through my opportunism: I managed to squeeze in a stop in Bogota while on my way to Santiago, Chile. It wasn't really on my original plans but I had a choice of two flights – one with a 4-hour layover in Lima, Peru and one with a 16-hour layover in Bogota. Any normal person would choose the shorter trip. But I've had good luck with layovers in the past – after all, I met my future wife during a layover in Iceland in 2002… Anyways, what did I do on my one day in the city? Read on, friends….
About Bogota
Bogota, Colombia's capital city of about 8 million people, sits at 2,640 meters (8,660 ft) elevation. The Bogota plateau can be found in the middle of the Andes mountains and the city abuts directly against the jagged peaks and verdant jungle that surrounds it on virtually all sides. Flying into the city is a breathtaking sight to behold.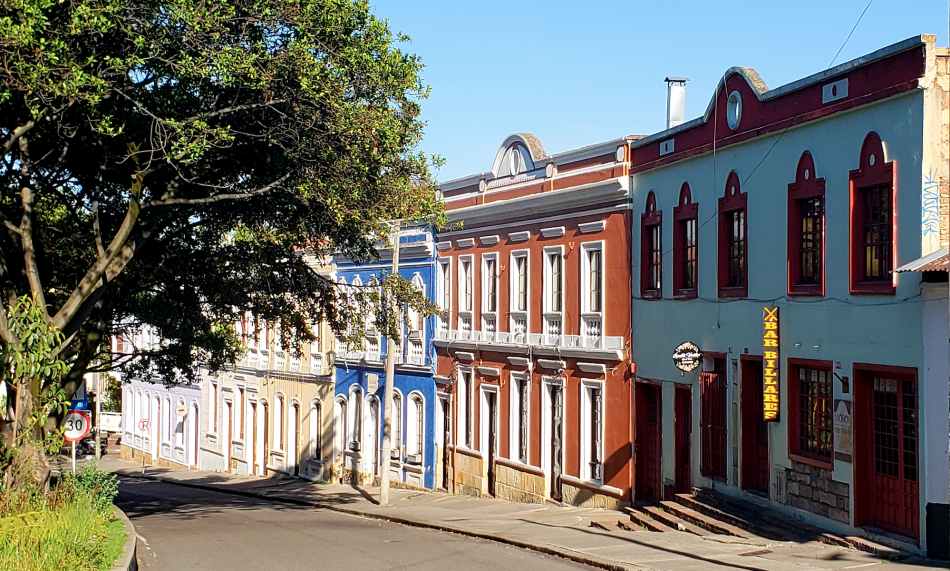 While there are plenty of travel guides that will give you extensive ideas about what to do in Bogota, I will confine my suggestions to my day trip itinerary that I followed on my day-long layover.
Getting into the city
For many travelers, tourist visas are not required if you are staying less than 90 days. There are also no customs fees for most nationalities (unless you're Canadian, for some reason.) The immigration officer was confused about my stay of just one day but didn't put up much of an inquiry. The taxi ride was straightforward, costing only about 22,000 pesos (~8 USD) and the ride to Plaza de Bolivar took about 30 minutes. (It's even cheaper on Uber.) Note, I flew in on a quiet Sunday morning. Both price and driving time are dependent upon traffic conditions.
A sample day trip itinerary
I had approximately 16 hours from the time I landed and the time I left. Considering immigration both entering and leaving the country, traffic into the city, and checking in again with ample time, I decided to focus on only a few things to get a flavor of the city.
The government quarter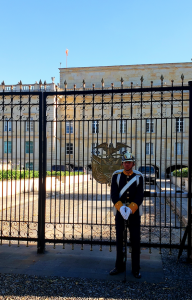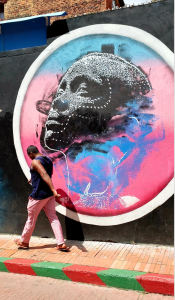 My flight arrived early in the morning and by the time the taxi dropped me off at Plaza de Bolivar (the center of the government), it was barely 7:00 am. The city was quiet, save for the dozens of members of the Guardia Presidencial, the elite army unit assigned to protect the government center. Though they patrol the streets with machine guns slung around their shoulders, they are extremely polite and approachable. Walk within a few meters of them and you are sure to be greeted with a professional "Buenas Dias." The buildings here are in the classic colonial Spanish style, with streets designed in the traditional square and grid layout. I strolled through the government quarter for a while, reading about the history and the buildings (interpretive signs are found throughout the quarter in both Spanish and English.) It was surprisingly quiet. I was the only person walking around and enjoying the early morning. Save for the soldiers standing guard on every corner, of course!
I should note that Bogota's high elevation can be a challenge for people who are not accustomed to the thin air. To make it even more difficult, there are lots of rather steep hills that cut through parts of the city. Definitely take it easy when you walk the town.
The graffiti walking tour of La Candelaria
Subsequently, I charged my batteries at Café "Distrito Chocolate," where I sampled some of the most amazing hot chocolate as well as their own line of artisan chocolates. These absolutely exquisite chocolates are made from fruits found in the local jungle, including guava, strawberry, mango, a local type of grape, and something called "lulu." I tried to inquire as to what type of fruit it was, but apparently, there is no English translation – it's just "lulu."
At 10:00 am every day, the Bogota Graffiti Tour meets at Parque de Los Periodistas just steps from the café (look for the people in blue hats and umbrellas.) This 2.5-hour, English-language walking tour of the beautiful La Candelaria district introduced me not only to one of the world's most thriving street art cultures but also to the most colorful and historic part of the city. La Candelaria is where Bogota originally began and the beautiful colonial buildings here are decorated in all kinds of fun pastels. The tour covers history, art and modern social tensions – you'll learn plenty about what makes today's Colombia tick, I guarantee it. (I'll write up another post dedicated specifically to the tour.)
Hiking Monserrate
After working up quite an appetite from walking throughout Bogota's historic areas, I decided to make my way up to the restaurant at the top of Monserrate, one of the numerous peaks that tower over downtown. This is the beauty of Bogota. You can go from downtown to wild jungle in practically no time at all! Monserrate is an old monastery that has been atop this peak for over three centuries. It is very accessible from La Candeleria – a mere 5-minute walk leads to the entrance gates at the bottom of the mountain – and a favorite activity for locals on weekends.
The monastery, radiating high above in bright white as it glistens in the sun, is at an elevation of 3,152 meters (10,341 feet) and accessible via a funicular, a gondola or by foot. The hike is steep and intense, and given the elevation, I would not recommend it for all but the fittest traveler. I was tempted to hike up but due to my time constraints, I ended up taking the gondola. The views from up here were simply amazing – wild jungle on one side and massive city on the other. The restaurant turned out to be a bit of a disappointment – long wait for mediocre food, though I'm told there is also a high-end French restaurant here at the peak also.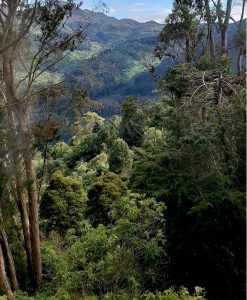 After eating and resting, I decided to hike back down instead of taking the gondola again. The path is paved with smooth cobblestones with lots of gaps between them. With a bit of caution, it shouldn't be all too bad to make your way back down safely. I was hoping the way down would be a semi-isolated hike through the vegetated mountainside but was sorely disappointed by the many street merchants along the way competing to blast the loudest dance music.
Museo de Oro (Gold Museum)
My final activity for the day was to swing by the Museo de Oro in downtown. The museum houses an impressive array of pre-contact (i.e. contact with Europeans) gold art created by indigenous cultures over centuries and millennia. Some of the art is quite breath-taking in its beauty. The size of the collection is also impressive – I didn't think so much of the gold had survived the plundering by conquistadors. Educational signs are available in both English and Spanish next to most displays.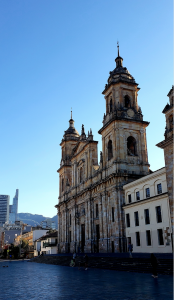 It was 4:00 pm by the time I made it there, giving me an hour to stroll the exhibits before the facility closed. This was the perfect length of time for me. I decided to stop by a bar before heading back to the airport. Wouldn't you know it; the Bogota Beer Company brews its own local microbrews. And they are quite good at it. The brewery supposedly has its roots in a group of Germans who settled in Bogota during the 1940s and introduced fine German beer to Colombia. It's been a local favorite since.
Alas, it was time for me to depart. My plane was waiting and I didn't want to tempt fate, so I hopped into a cab and checked back in at the airport.
Is there much more to see to Bogota? Absolutely. Was the day trip worth it? Definitely. It was a blast and, while exhausted, I feel the approximately 12 hours I spent in town gave me a very good feeling of what the city is all about. I really do think the graffiti walking tour had a lot to do with it. I highly recommend it to learn more about the Bogotan zeitgeist.