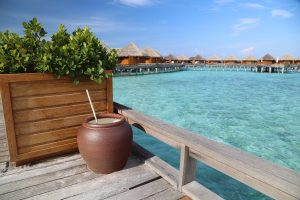 Luxury boltholes are perfect options to have some wonderful experience away from busy and noisy city life. If you want a change of scene and a break from the hustle and bustle atmosphere, consider spending some wonderful moments in some of the following luxurious boltholes around the world and escape your daily life:
Water Villas in the Maldives
The Maldives is always among one of the most popular luxury travel destinations in the world for its wonderful natural beauty and great infrastructure. Staying in a water villa in the Maldives is like a dream come true as these villas are set in stunningly beautiful natural surroundings. These water villas are equipped with all the amenities you can ask for in a luxury hotel room.
Luxury Ski Chalets in the Alps
France is a destination with plenty of unique accommodation options and luxury ski chalets, the latter being the most preferred one for someone looking to escape from their busy day-to-day life and experience skiing in a strikingly beautiful location with very high levels of snow.
Luxury Villa in Tuscany
Tuscany is a destination with stunning natural beauty and beholding the Tuscan natural beauty is simply a treat to your eyes. The luxury farmhouses and villas are the most popular form of accommodation travelers visiting Tuscany love the most. The Italian cuisine, renaissance art, ancient towns, verdant vineyards and rolling hills dotted with quaint villages, all add to your enjoyment and refreshing experience in a luxury Tuscan villa.
Log Cabins in the Cotswolds
If you are looking to see some stunning limestone villages, medieval castles, gardens, parks, and rolling hills in UK, there is no better place than the Cotswolds. And staying in a log cabin can be the most luxurious way you can experience all these natural features of the Cotswolds. The unique designs and wonderful luxury amenities in these Cotswolds log cabins will blow your mind and ensure you make some unforgettable memories.
Moroccan Riads
Morocco is a travel destination with rich history and a wonderful culture. One of the most traditional luxury accommodation options in Morocco is a Riad. A riad is a traditional Moroccan luxury accommodation with a unique structure. The rooms in a Moroccan Riad face a central garden with fountains and citrus plants. You can expect to have a completely calm and collected ambience in a riad.
Japanese Luxury Ryokans
Ryokans are the Japanese traditional luxury accommodations with great implementation of Japanese art and architecture. These Ryokans are made and maintained with the Japanese sprit of hospitality. The designs, locations, levels of hospitality, collections of Japanese cuisines of these wonderful inns will blow your mind.
Bora Bora Water Villas
The island of Bora Bora is renowned as a luxury travel destination for its unique luxury accommodation over the crystal clear water. These water villas are of great interest to renowned celebrities such as Justin Bieber.
Choose from the above-mentioned luxurious boltholes around the world and make highly relaxing and unforgettable luxury experiences.