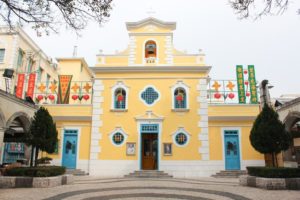 Macau, a self-governing region on the south coast of China and close to Hong Kong, is known in the west as gambling hub, bigger even than Vegas and as noisy and sinful as Nevada's famous city. But what few people know is that Macau has other tourist attractions off the beaten gambler's track. There are museums, zoos, great food, exciting rides and lots of outdoor activities that mean you don't actually have to put it all on red to enjoy this teeming metropolis. If you're packing your bags this summer with a plan to seek out the exotic, weird and wonderful, here are seven reasons to be lured to Macau.
Did You Know? Interesting Facts About Macau
Before we get started, by way of an introduction, here are some top facts about Macau we bet you don't yet know.
– The name Macau comes from a mispronunciation of the name of sea goddess Matsu who locals believed guarded over the harbour
– Macau is the most densely populated area of land anywhere in the world
– Macau was under Portugese rule until 1999 when it became a special administrative region of China
– Its gambling industry is SEVEN times the size of Las Vegas
– In summer – July – the temperatures top out in the high 30s
Here Are Seven Things To Do When You Are in Macau
Check out the Gambling Mecca
We had to start here – it's what Macau is known for. The city has attained the title of the second richest country in the world, surpassing the likes of the UAE, Kuwait and Singapore to achieve this ranking and much of that money has been generated from by the casino industry that dominates the economy (50% in fact). Since outstripping Vegas in 2007, Macau is now referred to as "the gambling capital of the world" with 41 casinos in a 118km2 area, attracting around 40 million visitors each year.
With 41 to choose from, how do you know where to start testing your luck on the slots and the tables? Well, if you like to go big, you should know that Macau is home to five of the largest casinos in the world with the Venetian Macau being the creme de la creme of the casino resorts. The Venetian is stunning. It has been designed to mimic the real Italian Venice experience with lapping waters, gondolas and beautiful architecture. In size the casino is over 550,000 square feet, possessing 3,400 slot machines, 800 tables and even a 15,000 capacity arena for special events.
Just like Vegas, Macau offers a wide choice of gambling including blackjack, roulette, baccarat, Sic Bo, Keno and of course, Slots. You can easily get lost in these casinos and lose a lot – so tread carefully. We find expert guides with the best payout online casinos to be useful when looking for games with good odds of winning. It pays to be clued-up and know what you're getting into before laying any bets. You might feel like 007 when you walk through the doors but you can quickly walk out broke again if you're not careful!
The Macau Museum
Away from the bustling gambling scene you might be surprised to know that there is in fact a lot more to this city than gambling. For example, if you want to soak up the history of Macau, then look no further than the Macau Museum.
As we know, Macau was once a Portuguese colony, leased by the Ming Dynasty to Portugal from 1557 up until 1999 when it was transferred back to China. Though since then it has retained a degree of independence.
That jarring cultural history, mixing European colonial and far Eastern lifestyles, makes for fascinating blends of architectural styles and commercial interests. You can see new exhibitions here each year, including a recent journey through the history of silk production from the region and its export to Europe.
You'll find Macau Museum located in the famous Portuguese Monte Fortress where it hosts ancient and early historical relics, art pieces and displays or domestic life that lift the lid on what life was like under Portuguese rule.
Try Macau Food
Macau food is special too and reason enough on its own to visit the city. The melting pot of Chinese and Portuguese culture has created a truly unique cuisine that is not found anywhere else in the world.
Traditional Chinese food such as dim sum and noodle based dishes can be found via street vendors and restaurants as well as Portuguese dishes like cod recipes and egg tarts, but thanks to the convergence of cultures, Macanese food, which is primarily a combination of Portuguese, Chinese, African and Indian cuisine makes for a unbelievably tasty culinary experience.
Or if you want a more high-class dining experience and to taste some of the best and most luscious dishes of Macau, then there are two world class Michelin starred restaurants in the region – The Eight and Roubchon au Dome.
Visit the Hac Sa Black Sand Beach
If you are looking to get away from the hustle and bustle of the city, situated south of Macau on the island of Coloane is where you will find the stunning black beaches of Hac Sa, a result of minerals from the seabed that have washed ashore.
Just near Hac Sa beach lies the Coloane Village which hosts a unique mix of both Chinese and colonial architecture from the time of the Portuguese occupation. It also has a chapel devoted to St. Francis Xavier.
Visit Macau Tower and take a bungee jump
Soaring 338 metres into the skyline, the Macau Tower is one of the most popular attractions for tourists in Macau.
While the tower is mainly used for broadcasting, it also features a range of restaurants, shops and an observation deck which overlooks the city.
Get an even more amazing view by taking a walk on the outside of the observation deck, or if you truly want to get the adrenaline flowing, partake in the world's highest bungee jump
from 233 metres up.
Try the Figure 8 Ferris Wheel
The Studio City resort is perhaps the most distinctive resort in all of Macau, mainly because it features a colossal eight-figure golden ferris wheel in the centre of the resort.
Named the "Golden Wheel", it is the very first of its kind in the world and is situated 130 metres above the ground.
The wheel has seventeen cabins which can hold up to ten passengers.
Go to the Giant Panda Pavilion
And after all that hustle and bustle, our final recommendation would be to enjoy some time with everyone's favourite cuddly animal …
Located on the side of a hill on the island of Coloane in a translucent building in the shape of a fan is and here you will find the loveable Giant Pandas of Macau!
In this massive nature park you can also find red pandas, monkeys, koi ponds and beautiful gardens. This is a great family day out and shows that Macau has more to offer than you might at first expect.