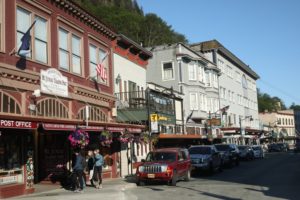 Juneau, the state capital of Alaska, is a gorgeous destination in its own right, but its principal attraction is its position as a gateway to some of the most breathtaking natural landscapes in the world. The city itself offers a wealth of attractions – you could spend days exploring the cafes and restaurants, kayaking in the Gastineau Channel, or hiking in the hills that surround it – but venturing out of the city on day trips opens up some of Alaska's most joyful experiences.
The wilderness surrounding Juneau is some of the best and most picturesque in the state, and many of Alaska's most prominent and popular vacation spots are within easy reach of the city. So whether you are on a premium Alaska cruise or on a cross-country road trip, here is a selection of amazing day trips from Juneau that will take you to majestic glaciers, picturesque fjords, and charming coastal towns.
Mendenhall Glacier
No trip to Juneau is complete without a visit to the magnificent Mendenhall Glacier. Located just 12 miles from downtown, this awe-inspiring glacier is truly a sight to behold. One of the most exciting ways to experience the majesty of this natural wonder is to hike to the face of the glacier and get up close and personal with a wall of shimmering blue ice and towering frozen formations. The excellent Mendenhall Glacier Visitor Center provides exhibits and interactive displays that offer insights into the glacier's formation and ecological importance, ensuring that your visit is educational as well as adventurous.
Tracy Arm Fjord
Jump on a boat from Junea and head out to Tracy Arm Fjord for a vista that matches anything that Norway has to offer. This narrow fjord will captivate you with its sheer grandeur from the moment you set eyes one it. Flanked by towering cliffs, cascading waterfalls, and massive glaciers, it is a remarkable sight and one that you'll remember forever. A boat tour ensures the most extraordinary of experiences as you sail amidst floating icebergs and past the breathtaking Sawyer Glaciers. You'll also have the chance to spot a few of Alaska's native creatures, including seals, whales, and mountain goats clinging improbably to the side of cliffs, making this trip a paradise for nature lovers and photographers.
Glacier Bay National Park
One of the most famous of all of Alaska's natural attractions, Glacier Bay is a slightly longer day trip, but well worth it nonetheless for the grand, immersive experience it delivers. Hop on a light aircraft for a scenic flight over vast icy landscapes, snow-capped mountains, and stunning glacial valleys, before a few hours of sailing through the park's pristine waters and untouched natural beauty. You'll have the chance to see humpback whales and sea lions before you have to head back to the city, making it an incredible day out.
Skagway
Steeped in gold rush history, Skagway offers a captivating glimpse into Alaska's past and a rather different experience than much of the wilderness-focused tourism that the state is famous for. Reachable by ferry or seaplane from Juneau, this charming town boasts well-preserved buildings from the late 19th century, taking you back in time to the days of the Klondike Gold Rush. Explore the historic district, visit the Klondike Gold Rush National Historical Park, and take a scenic railway journey along the White Pass and Yukon Route.
Petersburg
Finally, try an authentic taste of Alaskan fishing culture in Petersburg on Mitkof Island. A short ferry ride from Juneau, this small town is known as "Little Norway" due to its strong Norwegian heritage. Stroll along the waterfront, admire the colorful fishing boats, and sample fresh seafood at local eateries. It's a great spot to get acquainted with some of the more day-to-day traditions of this great state.