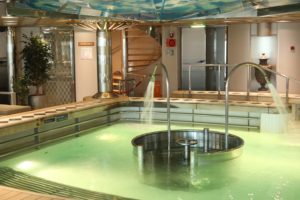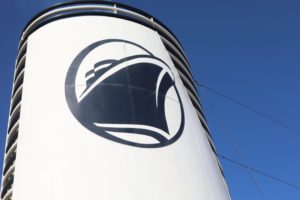 One of the great things about cruising is leaving the logistics to others. Certain destinations are ideally suited to cruises including Alaska, due to its vast geographical distances, remote landscapes and rugged coastal beauty. Our Alaskan Inside Passage cruise was on the Holland America Eurodam, a ship whose inaugural sail was in 2008. We first cruised on this particular ship in 2015 in the Caribbean.
One certainly becomes spoiled, merely after a day or two of dining on board. With multiple options including buffet, a main dining area and several private restaurants, one's next meal is never very far from their stateroom. Or, guests may even order room service. And there are several bars and more intimate spaces where one can enjoy a drink. One of the drawbacks of ending a cruise is having to think about cooking again!
With numerous activities on board, one can stay busy all day without having to ever leave the ship. And this is certainly one of the more enjoyable aspects of cruising; life on board becomes a community with guests meeting over shared interests at events and activities. On board one can enjoy live performances including dance and music, comedy, private talks from experts in particular fields, art shows and a variety of fitness opportunities. All cruises we have been on feature a captain's talk towards the end of the route; these are highly educational – the captain will also take questions from the audience.
Worth the extra money is a spa pass, granting one admission to the Greenhouse Spa and access to the Hydrotherapy Pool and steam rooms. A separate room liberally surrounded with windows features reclining tile covered thermal beds. This is a coveted place to be on the morning that the cruise ship enters Disenchantment Bay. This is pure bliss anytime, but especially so while treated to a visual feast of passing icebergs and snow covered mountains.
There are beautiful vistas along much of the cruise, since the route follows both islands and offshore mainland, but a stop in Disenchantment Bay to see the edge of Hubbard Glacier is arguably the highlight of this seven-day adventure… but especially so on a clear day. And one does not need to get off the ship to enjoy intimate views as it pulls in fairly close to the glacier fields.
After the ship enters the bay, one will soon see icebergs floating in the water. A visit here culminates in the ship slowing and creeping close to one of the glaciers with passengers packed two to three deep on forward decks. The ship will navigate as close as possible with safety in mind as a calving glacier is an impressive site but with huge chunks of ice falling off of its leading edge, one doesn't want to be right next to them.
In 2022 Holland America celebrated a milestone of 75 years providing cruise trips in Alaska, longer than any other cruise line and even longer than Alaska has been a state (1959). Over the years, Holland America has earned an impressive number of awards for cruising in Alaska including the top pick for Alaska in the Porthole Cruise Magazine Editor-in-Chief Awards, AFAR Travelers' Choice Awards, Cruise Critic Cruisers' Choice Destination Awards and TravelAge West Wave Awards Editor's Pick.
This seven day cruise featured:
– Day 1, departure from Seattle
– Day 2, day at sea
– Day 3, Juneau
– Day 4, visit to Hubbard Glacier
– Day 5, Sitka
– Day 6, Ketchikan
– Day 7, Victoria, British Columbia
– Day 8, return to Seattle
One can enjoy this Alaska Inside Passage cruise without ever joining one of the on-shore excursions. But one would certainly miss out on some memorable highlights by doing so. Holland America partners with numerous on shore tourism operators in ports of call; the offered activities are not generic in nature. In our experience they delve into local businesses, culture and attractions with energetic and often entertaining guides. And for those who want to experience Alaska's adventure, numerous excursions are also offered. And more often than not, it is locals leading the tours.
Certain ports of call offer more time than others. In Juneau (Alaska's capital city) we had time to participate in both an on-shore excursion with extra time left over to explore the city. One of the more memorable experiences offered in this city is a helicopter ride over the Juneau Icefields, landing on Norris Glacier – followed by a short dog mushing ride on top of the glacier. The views are stunning for the duration of this experience.
Juneau is a cute town that is easily walkable. A highlight is a visit and a drink at the iconic Red Dog Saloon, located within a very short walk of the cruise terminal and a stop at Deckhand Dave's for a variety of fish tacos (located in a cute outdoor dining space with several other food vendors).
Sitka is a very small town on a large island that features only 14 miles of paved roads. Mt Edgecumbe, a prominent volcano is easily seen from downtown. Visitors can take a provided complimentary shuttle from the cruise ship to downtown (about a 10 minute drive). When pulling into town, one will see Swan Lake. When Alaska was sold to the United States in 1867, this lake added $200,000 to the final price tag of 7.2 million.
While not known as a foodie destination, we discovered Ludvig's Chowder Cart, featuring tasty and filling freshly made bowls of clam chowder. It is easy to get off the beaten path in Sitka; one hike we recommend is the approximately 3 mile Beaver Lake/Herring Cove Trail Loop. The trail circles this small but picturesque lake and passes through several muskeg parts of the forest. Start and end at the Blue Lake Campground.
Ketchikan is well known for receiving more than 160 inches of rain a year and sometimes more than 200 inches in a season. The last few times we have been here, remarkably the weather has been warm and surprisingly clear! This cute town is well known for its plethora of bars – most are within easy walking distance of the cruise ship terminal. Another highlight of a visit to Ketchikan is taking a sea plane ride. During our cruise stop we enjoyed a visit to the family owned and operated Hump Island Oyster Farm. A visit here is personalized and highly educational; this is South East Alaska's largest oyster farm.
Victoria is one of the most charming cities in all of North America and visually its core looks extremely European. It is a romantic city and couples should not miss getting off the ship for the few hours available during its stop. A shuttle van will bring passengers to the downtown and then back to the ship; one way is less than 10 minutes. One of its highlights is visiting the iconic Empress Hotel including the adjoining indoor shops.
On Board

On Shore