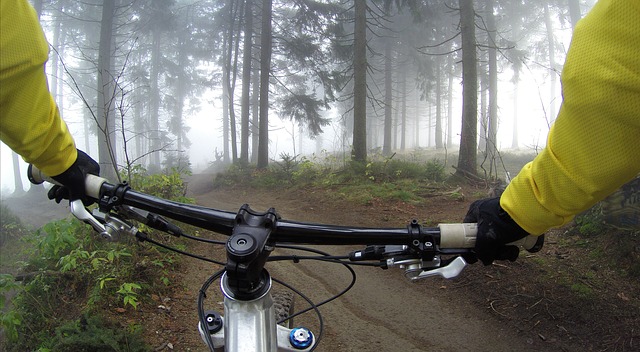 Inspired by the Tour of France of 1978, some fella called Freddie Mercury used to chant on how much he wanted to ride his "bicycle, bicycle, bicycle". The truth is you do not have to be an expert for riding a bicycle, to go from one place to another on two wheels, you do not have to be a scholar; everything is learned on the way. The route strengthens us as people and even sometimes shows us facets that we did not believe we had. In any case, riding a bicycle gives us one of the best possible feelings, one which many people seek for their entire life: freedom.
Whether you want to take a trip having already some experience on it, or just for fans who want to go a little further on the wonderful routes and trails that we have for riding our bicycles, make sure to pedal through this article.
In the same way that sometimes we take the bull by the horns or the reins of the fastest racehorses, we will firmly grasp the handlebars of our bicycle and we will go out to roll. Always be prepared for any mishap, we will try to have everything as close as possible, get your protection to feel safe as we move forward.
Having a two-wheeled vehicle, however old it may be, can always help us get to our destination if we make sure we keep some basic things in mind before we go out to pedal. For example; what will we use the bicycle for, what kind of route we will take, if the conditions are given to go on the road, etc.
Bear in mind that cycling is a sport of both recreation and competition in which different types of bicycles are used. So here are a list of ideas and suggestions at the top of all from the best cities for cycling to the most adventurous and fearless trials.
1. Ashton, Idaho – The Path from Ashton to Tetonia: With a route of approximately 30 miles and open to the public since 2010, it used to be an old railway. It crosses beautiful wooden bridges, different walks, and views, ideal for mountain bikers.
2. Winter Park, Colorado – Creekside Trail/Flume Loop: With almost 6 miles, it is one of the best bike routes for the ones that already have some experience. It goes through poplar forests, mountain views and from the top you can see St. Louis Creek.
3. Cleveland – The towpath of the Ohio and Erie Canal: National heritage, this is one of the best options for taking a cross-country bike ride. 202 miles of travel through small towns, protected parks, and forests. This route is a little away from the main roads. Create a good itinerary since on average you can manage 50 miles a day.
4. Greater Niagara Circle Bike Trip: This emblematic circuit has 24,000 km of travel, linking 15,000 communities, passing through immeasurable landscapes with views of the lake, rivers and counties to reach the most famous waterfalls in the world. Without a doubt, it is a path to take into account in your holidays on wheels.
5. Pacific Coast Highway: To face this 1577 km route through one of the mythical routes of the United States, we have to be prepared. This route links Seattle with San Francisco along the Pacific coast. While you can find many stops, campsites, areas to rest, etc. It also has significant unevenness. Long asphalt roads and other rugged roads. Ideal for summer or autumn.6. Portland, Oregon: This city is known worldwide for its great infrastructure that covers 106 km of cycle paths, approximately. 283K of exclusive lanes for bicycles, 48 km of avenues adapted for this purpose, where most people say that the bicycle is their first or second means of transport. Undoubtedly a place that points to a way of living more ecological and sustainable.
7. San Francisco, California: A city where you can practically find anything; also has many bike paths throughout the city. It is expected that by 2020, 20% of transport will be by bicycle. The use of this mean is strongly encouraged and increasingly it is the first option for discovering this city.
8. Chicago, Illinois: It is another of the emblematic cities of the United States that has 188K of lanes exclusively for bicycles. In total, the road network for cyclists is approximately 560K. Nothing bad to know the city doing sport and discovering its twists and turns. It should be noted that there is an organization dedicated to teaching motorists to interact with cyclists in the city.
9. Boulder, Colorado: A place not to forget if you are a cyclist. It is said that in this city you can do everything on a bicycle. According to some calculations, more than 90% of the city has routes for cyclists. Around 600 km of routes for this practice. At the same time, you can meet the Velmont Bike Park. It has 182,000 square meters of bicycle paths among other attractions. If you are a fan of this sport, you cannot miss it.
10. Minneapolis, Minnesota: A few years ago, a magazine dedicated to the practice of cycling, published in 2010 that this city had dropped from the podium to Portland as the most bike-friendly city. Still, if you want to enjoy its topography and its ideal climate, at least in the warm seasons, do not miss it.
Bonus: If you want to cross the whole country on two wheels and you are prepared and eager to cross kilometers of forests, deserts, lakes, etc, the emblematic Route 66 must be an option. It is also known as "The Mother Road" or "The Main Street of America". It has a unique route of 2448 miles and dozens of stops, towns, and cities.
Put on your helmet; check the brakes, the cables and especially the road and part. Ride your bike. Good route and good life!