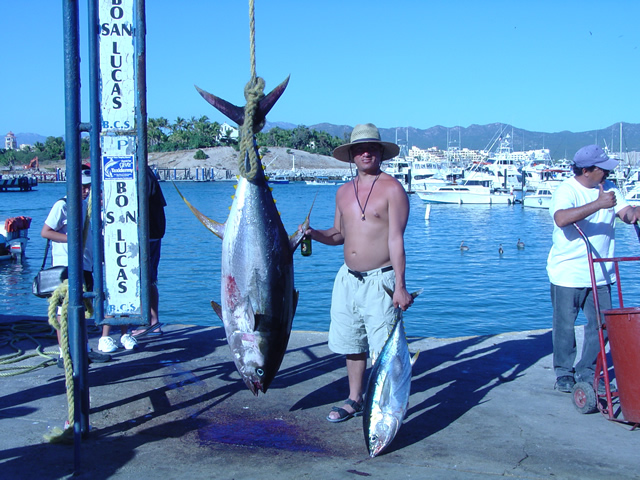 La Paz, Baja California Sur, Mexico
January 06, 2003
Baja 1000 and more
Finally!! The Tropic of Cancer (23.5 degrees north latitude, the start of the tropics) is almost upon us after a twelve hundred mile chase down the spine of Baja California, Mexico. From Orange County, California I joined my German pal Bernhard Koch, whom I had met while cycling in Alaska in 2001, to ride our bicycles down the 'Carreterra Transpeninsular', the Mexican version of the Pacific Coast Highway. Except, this highway crossed over to the Sea of Cortez, which lies between mainland Mexico and Baja California, a total of three times before reaching Cabo San Lucas, our final destination.
Getting through San Diego was relatively easy and a non event but Bernie insisted on riding past the junk yards of El Cajon, where he hoped to score one of the old blue and yellow California license plates as a souvenir. Didn't happen. Everybody suspected him of trying to smuggle some stolen car across the border while displaying one of those plates. That mission unaccomplished, we continued through one of the fiercer El Nino rains of this last year over the Laguna Mountains to the border town of Tecate, home of its namesake brewery. We crossed the border and it was still cold; somehow this didn't feel like Mexico where warm weather and sunshine are supposed to be the norm. I don't know what we expected from an inland town at two thousand feet elevation in the middle of December. The people were very warm, though. And the aroma of tacos de pescados y camarones (fish and shrimp) from the street corner stands grabbed all our attention. So, in Tecate we got our first glimpse into the new culinary world we were about to enter (and the infamous diarrheas, should one pesky taco not sit very well).
From there the road continued through the mountains and valleys of inland Baja to the coastal town of Ensenada. Oh, some mention must be made about the roads here: absolutely no shoulder, no guard rails, dead live stock, and lots of trash, of which the countless shards of glass posed the biggest threat to our tires. However, the notorious potholes have mostly been repaired all over Baja. Another threat, which I considered minor, were the street dogs who would quite often chase us a ways down the road. To Bernie, however, the dogs, which ranged from rat size Chihuahua breeds to Rottweiler-Shepherd types, posed a threat of much larger proportions than all the grizzly bears he encountered on the Alaska Highway. I mean this boy would freak out, swerve all over the road, and cuss like hell. It was good for me, because that would divert all the dogs' attention from me to him. Then he would pull out his can of pepper spray and let loose. That would take care of most dogs, except the most persistent ones. Then he would cuss some more in German and resort to spraying those mutts with his water bottle. Great entertainment. His anti-dog rantings and swollen neck veins would provide some residual laughter long after the attacks passed. Not just I, but the locals, too, chuckled each time the dogs ran loose and Bernie exploded.
As we continued south from one agricultural valley to the next, the weather improved but the living conditions of many people got noticeably worse. Farm towns like San Tomas, San Quintin, Vicente Guerrero and a host of others were populated by some of the poorest migrants from other parts of Mexico, who lived in some really shabby conditions. Sad. I'm not surprised why so many make a run for the border to cross into El Norte, as the US is commonly known. After Lazaro Cardenas (and the world's largest tomato producing region), the last agricultural area of Northern Baja, the road hugged the coast and I could see some of the Pacific that Californian surfers so long for soul surfing. After a stop in El Rosario, "the last outpost of civilization" the town's billboard proclaims, where we filled up with food and a few gallons of water, the Desierto Central began in earnest. From here on it was a spectacular landscape of barren mountain ranges, verdant arroyos (dry creek beds lined with green brush) and, of course, the cardon cactus. Like the Arizona Saguaro, this is the classic western movie cactus with large side branches shooting up from the main trunk. The continued presence of vultures circling in the dazzling blue sky above worried the German bred Bernie a little bit. He wondered (actually I did, too, at times) if they would descend on our carcasses after we died a miserable and lonely death from thirst. Since there were no dogs in the desert, I guess he needed something else to think about besides food. After a while the Desierto Central became even more interesting as the flora became more varied. Ocotillo, barrel cacti, cholla, yucca, mesquite, and boojum joined cardon in decorating the landscape. I found the boojum fascinating because it looks like a giant carrot placed upside down into the soil, with tiny green leaves growing from numerous miniscule branches. Very otherworldly.
The next leg was through the low, flat, desolate Desierto de Vizcaino until we reached the oasis of San Ignacio. The densely vegetated and date palm lined arroyo and lagoon were a heaven sent after days in the desert. The Laurel tree shaded plaza in front of the old Mision de San Ignacio invited a long siesta. Definitely one of the coolest (well, neatest) towns in Baja to visit. Even the street dogs were in a siesta mood, to Bernie's relief. Here, as in a couple of places before, we were able to pitch our tent at a local rancho with access to water. More fierce headwinds, a fierce 10% grade downhill, and we finally reached the shores of the Sea of Cortez. That was a first real milestone, we were now more than halfway down. The next stretch was a visual feast as we rode from Santa Rosalia through the date palm oasis of Mulege and the sport fishing paradise of Loreto. The 'cabeza y madre mision de las bajas y altas Californias' was also founded in Loreto in 1697 by Jesuit missionaries. This was the mother mission which gave rise to the long string of missions throughout the Californias all the way to Mission Dolores in San Francisco. Besides Bahia de Los Angeles (not the LA of Hollywood fame) a bit further to the north, the Bahia Concepcion near Loreto was a heavenly destination for all the kayak laden vehicles from the US and Canada. The shoreline became even more spectacular along the Bahia Loreto Parque Nacional de Marine and Puerto Escondido. The semiarid western flank of the Sierra de la Giganta provided the back drop for mangrove lined bays and crystal clear waters with frolicking dolphins. Next time with a kayak'.
We climbed over the Sierra de la Giganta in mid day with temperatures well in the nineties' in January! This is what Bernie and I were seeking: heat. And man, did we get a dose of it here. All well. Back on the Pacific side we blasted through the arrow straight roads of the agricultural Ciudad Insurgentes y Ciudad Constitucion to climb the central plateau one more time before the final descent into Baja California Sur's capital city of La Paz. Another milestone completed. Though not as bustling as Tijuana, La Paz is a much more amiable city located on the pleasant and calm Bahia de La Paz. Again we pigged out on cheap and tasty Mexican food until we looked visibly pregnant. This lively town deserved some more exploration and we dumped our stuff in a hostel and set out on foot for more culinary discoveries. This email update also originates from La Paz. From here we are planning to continue on the Carreterra Transpeninsular across the Sierra de Laguna to Todos Santos, then to San Jose del Cabo and, finally, Cabo San Lucas. A few days off and then I'll have to figure out a way to get back. Although riding south was blast, I don't think I'll ride north (too much head wind) and my German engineering reliable partner will be flying from Cabo back to cold ol' Germany.
A word must be said about Mexican drivers: besides the few usual jackasses (bus drivers and the like) you find everywhere, they were some of the most gracious drivers I've seen yet. Truck drivers gave us plenty of room and a supportive blast from the air horns. Then there were the sights you would find only in Mexico, such as people stopping at a road side shrine to "Nuestra Senora de Guadalupe" to cross themselves and offer plastic flowers. Or the broken bridge railing in Mulege that was recently caused by a drunken officer of the Policia Federale; he crashed his patrol car over the bridge into someone's back yard and survived the drop. Another person worth mentioning was an old gringo from Oklahoma on a motorcycle whom we met at a road side loncheria (a kind of road house). While we chatted about Baja, he downed a few cans of Pacifico Cerveza (beer), then got back on his bike, peeled out on the dusty lot and careened down the highway. Good thing we rode in the opposite direction. Thanks to everyone for taking the time to read this little report which compressed a few weeks worth of traveling and meeting tons of interesting people into a couple of pages. Until another time and another place.
Cabo San Lucas, Baja California Sur, Mexico
January 14, 2003
Friends Against Guzzling Surfers (FAGS)
The southernmost point of Baja California is a rocky outcrop that sticks out into the ocean and forms a natural harbor around Cabo San Lucas. In Mexico it's known as El Arco because a large natural arch graces one of the rocks; gringos call it "Land's End". Normally it's possible to take one of the ubiquitous water taxis to the beach next to El Arco and enjoy a nice barefoot walk on the soft sand. But I had made it all the way down the peninsula without the power of internal combustion engines, so the last mile was not going to be by boat I'm sometimes stubborn that way. As a result, what could've been a leisurely ten minute boat ride, turned into a two hour white knuckle climb over the steep, crumbling granite of El Arco. Luckily I got away with only a pair of scuffed knees and some minor scratches. Since I am planning to return to the US using some form of mechanized transport anyway, I thought of jumping on one of those boats, as soon as one showed up on the beach. But none showed up. So I gave up waiting and resigned myself to climbing out of the cove again. By this time the sun was high and it was hot already and only after I got up on the first peak a few hundred feet over the beach, I saw a boat land. Too late, by the time I climbed back down, it would have left again anyways. No choice but to continue back the original way. Back at the harbor I thought it would be fun to sail back to the US as a deck hand aboard one of the many yachts that docked there. But no such luck; after a lot of asking around, I realized that no one with a boat leaves Cabo in January. They all hang out until spring time or until it gets really hot here before heading north again. So much for that grand idea.
Meanwhile, Bernie had rented a Mexican built old style Volkswagen Bug and was tooling around Cabo in style. Being an automotive engineer at Audi's high end Quattro division, where he designs four hundred fifty horsepower luxury cars, he is amazed that here in Mexico they still build a car based on a sixty year old design and technology, and sell them like hotcakes. After we had our fill of touristy and expensive Cabo San Lucas, we mounted our bikes and rode around the Cape to the much quieter San Jose del Cabo. There it was back to the Mexican charm: dusty unpaved streets leading to a leafy plaza dominated by a mission, this time Iglesia San Jose. Nevertheless, the pace at which gringos are snapping up beach front lots here and building their McMansions makes one think that there is no land left in the US. Or affordable land at least. Hell, one real estate hawker even tried to sell me some land! He probably figured that, as sweaty and dusty as I looked, I could use some land to build a big bathroom on and take a thorough shower every day.
In San Jose del Cabo, unfortunately, Bernie's trip ended. He boarded a flight back to Germany to continue building Audis that can match BMW's M series and Mercedes' AMG monsters. But not before he was menaced by a horde of street dogs right at the airport entrance. Poor guy, dogs just don't like him.
For me it would be a couple more lazy days at the beach, swinging in a hammock and feeding on more tasty Mexican fare. After scouting the waves at Todos Santos, on the Pacific side of the Cape, I decided to forego renting a surf board. Watching other surfers getting pummeled under the twenty five feet tall faces more than satisfied my appetite for some wave riding. In Surfer Magazine I had always seen those wild images of surfers riding completely inside the barrels, but the real thing, even watching it from shore, was an utterly impressive sight. And the thunder each time a wave broke madre de dios!! Artsy Todos Santos has become not only a mecca for big wave surfers, but also for Santa Fe and Taos art types who burned out from the excessive commercialism of their trade in New Mexico and migrated to Todos Santos in hopes of transforming it into a mini Taos. It's slowly starting to look that way, but the locals don't seem to mind as long as they can take their daily siesta and drink their Cerveza.
In my quest for more beaches to check out along the cape region, I ran into an animal that I have never dealt with before: wild horses. In a deserted region, miles from anywhere I spotted two palomino colored mustangs dueling each other right on the road. They reared up high and tried to kick and bite each other rather furiously. Cows, steer, goats, lama, dogs, drunk surfers, moose, elk, bears I've seen them all on the road, but raging mustangs? I stopped ahead of them and they saw me and stopped fighting. Both just looked at me. And I looked back. For minutes no one moved. Shit. I don't want to turn around now. I reasoned that, being herbivores, they might bolt into the distance if I moved swiftly toward them. But they didn't bolt. Oh shit! But I kept my momentum up and avoided their gaze as I tried to swing around them as widely as possible. They didn't even flinch, but just watched me pass and exhaled great volumes of breath. Phew, that was a hair raising moment. Who knows, they may have been totally harmless, but they definitely didn't convey a warm fuzzy feeling. Further down the road I looked back and both mustangs were back at each others' throats again. Must be some females in heat nearby.
Eventually I plan to ride back to La Paz and probably return to Tijuana/San Diego border aboard one of those buses that sometimes ran us off the road on our south ward journey. If I see my bus driver do that to some other cyclist on the road, I will be inclined to smack him upside the head.