No trip to Memphis, Tennessee, is complete without a visit to the Graceland home of Elvis Presley, and with over 650,000 visitors each year, this National Historic Landmark is the second most visited house in America, only surpassed by the White House residence of the US President in Washington.
Of course, for many fans of Elvis and his remarkable musical career, a visit to the Graceland mansion is almost like a pilgrimage, or even a once in a lifetime trip to take a fascinating glimpse at his lifestyle and countless memorable achievements.

IMAGE SOURCE: @VisitGraceland via Twitter
Planning your itinerary
A trip to Graceland can sometimes feel like a trip to a theme park these days, given how much the location has expanded, with so much to see and do. As such, you can always expect long lines to see all the key attractions, so planning your tour comfortably in advance and booking tickets online is always a good recommendation. Likewise, and though it is busy throughout the day, many find that the biggest crowds can be avoided by visiting after 2 pm.
If your visit to Graceland is part of a wider tour of the many Memphis attractions, then one good tip to avoid costly parking is to start out at Sun Studios, where Elvis recorded his first album, then take the free shuttle out to Graceland. There's one every hour, plus it also stops off at the Memphis Rock n' Soul Museum, allowing you to take in three popular music sites at a more leisurely pace; all without worrying about the traffic and where to park.
Check online at the various ticket packages and options at the Graceland.com website, as there are many to choose from. These range from the Graceland Mansion Only Tour, right through to the Ultimate VIP Tour, with an expert guide for small groups and access to all sites and exhibits, plus a meal at Vernon's Smokehouse.
Graceland Mansion
Undoubtedly, at the top of everyone's itinerary is a visit inside the Graceland mansion itself, taking in the opulent décor and splendor of all the main rooms. From the plush décor of the basement Billiard Room and TV Room to the first floor Living Room and through the stained-glass peacock doorway to the Music Room, with a black baby grand piano, then onwards to the Kitchen and Dining Room, and the Jungle Room where Elvis recorded many of his final hits – just some of the splendor you'll see inside his home.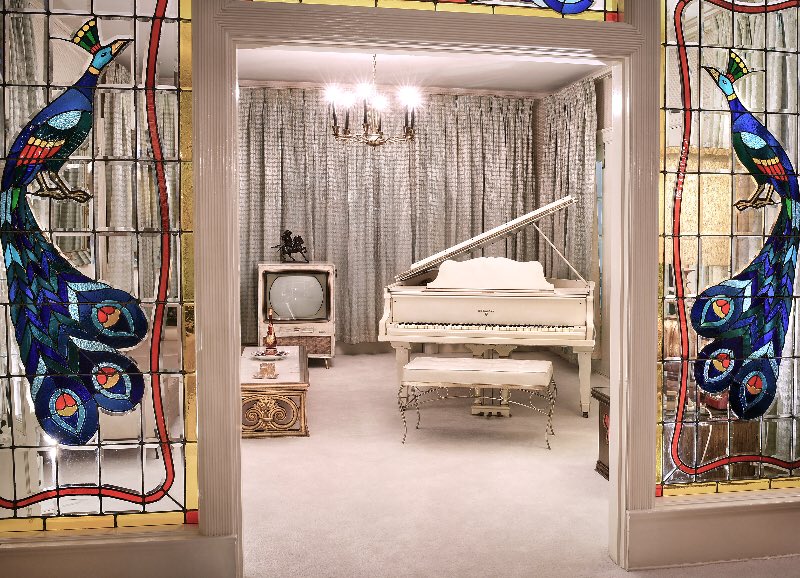 IMAGE SOURCE: @VisitGraceland via Twitter
However, what you won't get to see is the second floor, with Elvis' master bedroom, personal office, dressing room and bathroom, along with other family bedrooms. These apparently remain untouched since the day Elvis died, mainly out of respect for the Presley family. Indeed, it is very rare for non-family members to be granted access to this area.
Between 7:30 am and 8:30 am, before the house tours commence, free walk-ups to the final resting place of Elvis are permitted. This gives fans the opportunity to pay their respects, and to take in some of the outside of the mansion in a more peaceful and tranquil morning setting.
Elvis Presley's Memphis Entertainment Complex
While a wander around the mansion is genuinely fascinating, there's much more to see. Elvis' Pink Cadillac and extensive historic automobile collection can be seen in the Presley Motors car museum, and not far away, the Lisa Marie Convair 880 and Hound Dog II Lockheed JetStar airplanes, both of which are on permanent display.
Inside the Elvis: The Entertainer Career Museum, visitors can marvel at a vast collection dedicated to his impressive achievements, a proud plethora of awards such as his various Grammys, gold and platinum albums and singles, plus a gallery of some of Elvis' iconic glittering jumpsuits. Some of those were worn at popular shows in Las Vegas, so it's no wonder that two Elvis hits featured in a list of the top 10 casino-themed songs at Betway recently, recognizing A Little Less Conversationand Viva Las Vegas as timeless tunes still remain hugely popular today. Are you Lonesome Tonight was also included in Billboard magazine's official list of the 100 all-time best songs in the charts.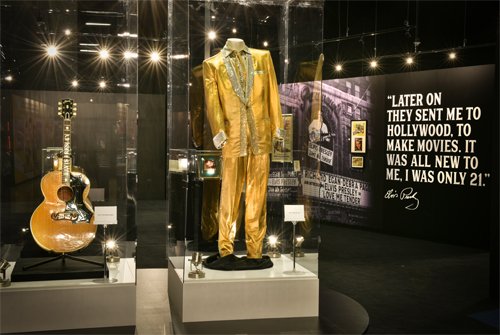 IMAGE SOURCE: @VisitGraceland via Twitter
Opened in 2017, Elvis Presley's Memphis is the largest entertainment complex of its kind, allowing fans and music enthusiasts to surround themselves with exhibits that defined his career, along with items which he loved and inspired his music. From the Tupelo Exhibit with photos and rare artifacts from his early life, or Elvis in the Army Exhibit about his time at Fort Hood and in Germany, to the Graceland Soundstage playing Elvis movies and concert footage; this museum complex has quite literally every aspect of his life covered.
Staying at the Graceland Guest House
Doubtless many avid Elvis fans would love to spend a night at his luxurious mansion home, but while that isn't possible, the next best thing is practically right next door at the Guest House; a spectacular resort hotel inspired by The King and boasting over 450 rooms, including 20 sumptuously Elvis-themed suites if you really want to splash out.
Here, you will also find two full-service restaurants named in honor of Elvis' parents. Vernon's offers traditional Memphis-style barbecue dishes, while Glady's serves up Southern-style treats, including Elvis' very own favorites such as fried peanut butter and banana sandwiches.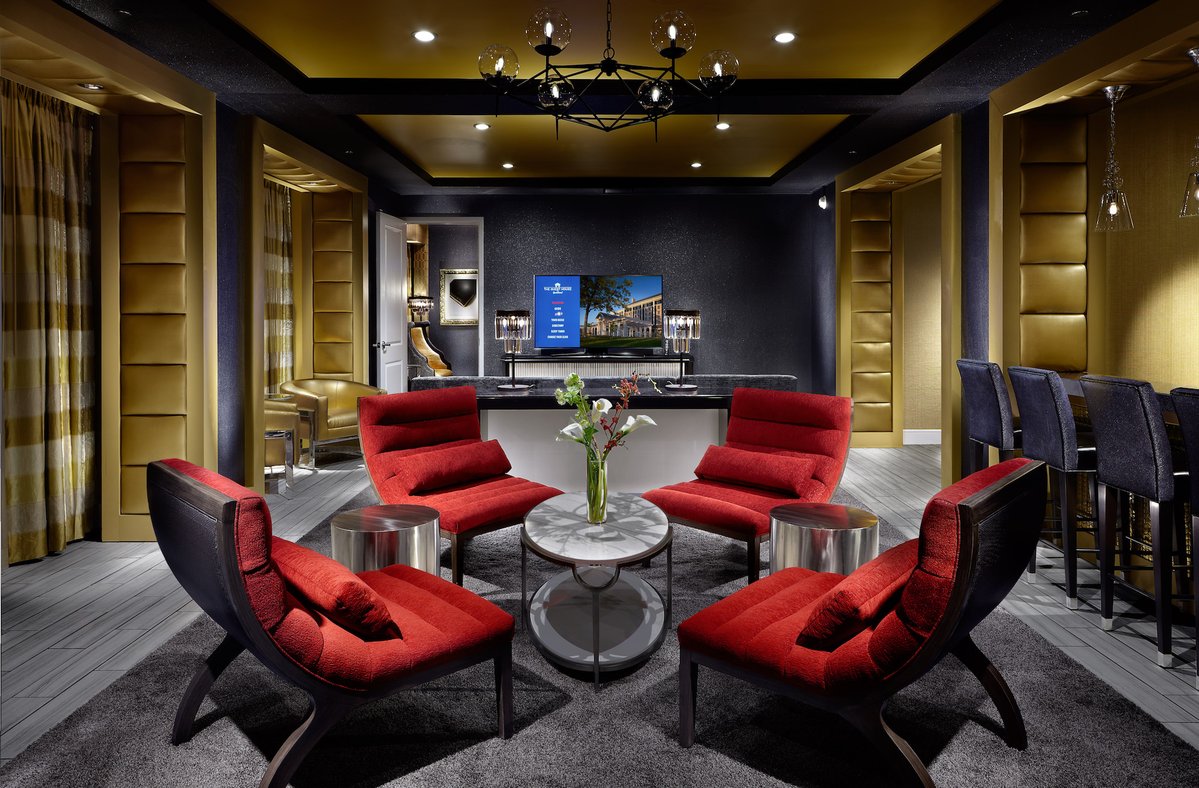 IMAGE SOURCE: @GHGraceland via Twitter
Nevertheless, if you would prefer to be closer to downtown Memphis and away from Graceland during your stay in the Tennessee city, then there's no shortage of superb hotel locations to choose from throughout the area, all with easy access to all the main tourist destinations, or offering spectacular wake-up views over the majestic Mississippi – always a favorite for snap-happy visitors taking photos of their American adventures.