Today we have exciting news, Can-Am will release the new Spyder F3 later this year and is currently holding a month-long Facebook contest where readers can register to win one of the first rides on the new 2015 Can-Am Spyder F3 at Daytona's Biketoberfest in Florida.
The winning entries will enjoy the unique opportunity to experience first-hand the freedom of the open road on a new Spyder F3 as they travel one of Florida's premiere riding routes. Winners will be selected October 2 and will earn a VIP all-inclusive experience that includes travel, lodging and spending money.
Oh and the entry is free!
Timeframe: September 2 – October 2, 2014
Also note, that during the last week of September, we will have an update from Can-Am Spyder in regards to the complete features and specifications of the new 2015 Can-Am Spyder F3. We will share those at that time.
Earlier this year I had the opportunity to test drive the Can-Am Spyder RT-S and enjoyed its handling and how comfortable it rode, even at freeway speeds. Riding the RT-S felt like the stability of being in a car but with the freedom of the open air all around you. I am looking forward to the F3 release later this year.
For more information about the Can-Am Spyder models visit: www.can-am.brp.com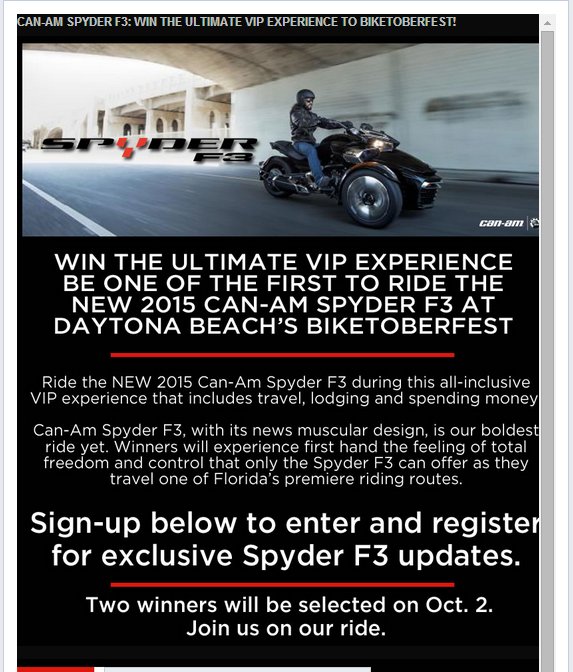 #ad I have been commissioned by and will be working with Can-Am Spyder for this program and resulting content