KINGSTON, JAMAICA, 2022 – Continuing the destination's strong tourism recovery, Jamaica welcomed its one millionth stopover arrival for 2022 today. This significant milestone was celebrated with the arrival of Brian Simmons, who recently landed at Montego Bay's Sangster International Airport (MBJ) on JetBlue flight 1479 from New York's JFK airport.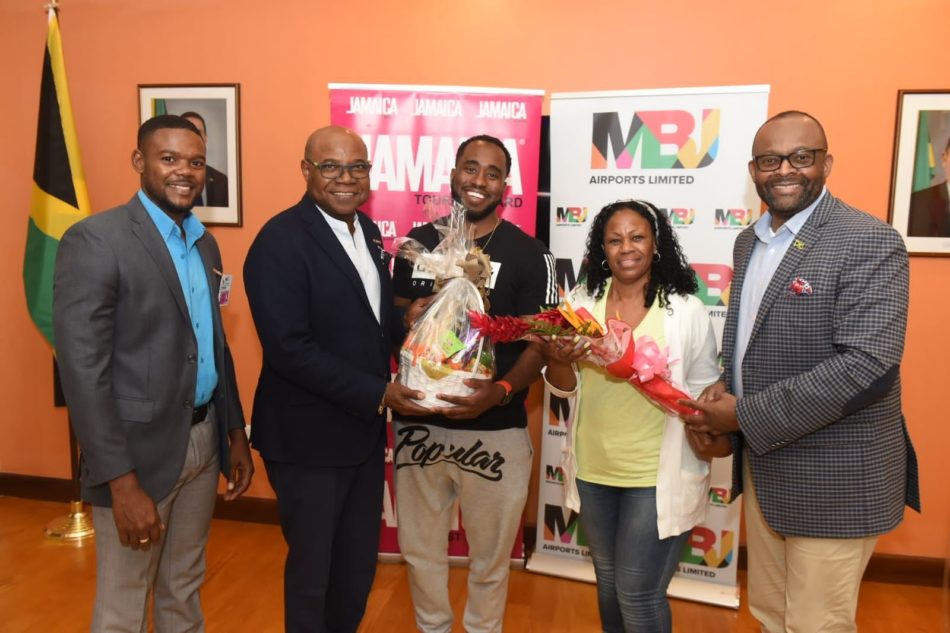 Pictured: Deputy Mayor, Montego Bay, Richard Vernon (at left); Minister of Tourism, Jamaica, the Hon. Edmund Bartlett (second from left); and Director of Tourism, Jamaica Tourist Board, Donovan White; present gifts to Jamaica's one millionth stopover visitor Brian Simmons (center) and Brian's mother and traveling companion, Monica Simmons (second from right) upon their entry into Montego Bay's Sangster International Airport on June 15, 2022.
"I could not be more pleased or prouder to greet Mr. Simmons, our one millionth stopover visitor arriving this year, and welcome him to our beautiful island home," said Minister of Tourism, Jamaica, the Hon. Edmund Bartlett. "This moment is a testament to the confidence that the market shows in Jamaica as well as the strength, resilience and enduring appeal of Jamaica's tourism product as we build back stronger."
In addition to Minister Bartlett, Director of Tourism, Jamaica Tourist Board, Donovan White and Deputy Mayor, Montego Bay, Richard Vernon, were on hand to mark the celebratory occasion. After offering a pleasantly surprised Brian and his mother, Monica, a warm greeting, Minister Bartlett and Director White announced that this first-time visitor to the island will receive an all-expenses-paid return trip.
"This occasion clearly demonstrates the success of Jamaica's recovery efforts," added Director White. "We have been seeing a steadily increasing growth in stopover arrivals this year and summer bookings are pacing ahead of 2019 to be the strongest summer we have ever experienced."
"It's wonderful to see more than one million guests already in this year of our 60th Anniversary, with the bulk of arrivals having accrued in just the past four months and the expectation that we will welcome our next million stopovers in the next four months," concluded Minister Bartlett. "We encourage everyone to explore the island, connect with our people and learn about our culture so they will want to come back to Jamaica again and again."
For more information about Jamaica, please visit www.visitjamaica.com.
ABOUT JAMAICA TOURIST BOARD
The Jamaica Tourist Board (JTB), founded in 1955, is Jamaica's national tourism agency based in the capital city of Kingston. JTB offices are also located in Montego Bay, Miami, Toronto and London. Representative offices are located in Berlin, Barcelona, Rome, Amsterdam, Mumbai, Tokyo and Paris.
In 2021, the JTB was declared 'World's Leading Cruise Destination,' 'World's Leading Family Destination' and 'World's Leading Wedding Destination' for the second consecutive year by the World Travel Awards, which also named it the 'Caribbean's Leading Tourist Board' for the 14th consecutive year; and the 'Caribbean's Leading Destination' for the 16th consecutive year; as well as the 'Caribbean's Best Nature Destination' and the 'Caribbean's Best Adventure Tourism Destination.' In addition, Jamaica was awarded four gold 2021 Travvy Awards, including 'Best Destination, Caribbean/Bahamas,' 'Best Culinary Destination –Caribbean,' Best Travel Agent Academy Program,'; as well as a TravelAge West WAVE award for 'International Tourism Board Providing the Best Travel Advisor Support' for a record-setting 10th time. In 2020, the Pacific Area Travel Writers Association (PATWA) named Jamaica the 2020 'Destination of the Year for Sustainable Tourism'. In 2019, TripAdvisor® ranked Jamaica as the #1 Caribbean Destination and #14 Best Destination in the World. Jamaica is home to some of the world's best accommodations, attractions and service providers that continue to receive prominent global recognition.
For details on upcoming special events, attractions and accommodations in Jamaica go to the JTB's Website at www.visitjamaica.com or call the Jamaica Tourist Board at 1-800-JAMAICA (1-800-526-2422). Follow the JTB on Facebook, Twitter, Instagram, Pinterest and YouTube. View the JTB blog at www.islandbuzzjamaica.com.