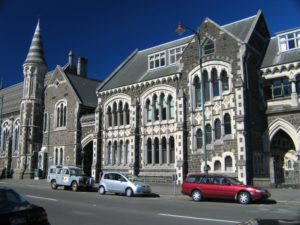 Online casino has its strong points, especially if we consider that it's constantly evolving and provides a pretty realistic playing experience these days. However, it still can't replace that good-old feel we all have when we enter a classic brick and mortar casino. Therefore, a big number of players still prefer land-based casinos, mostly because of the atmosphere it brings.
New Zealanders can enjoy traditional casino experience as well. There are six land-based casinos in New Zealand at the moment and all of them are really amazing, not just in terms of numbers of games, but in terms of the complete service as well.
Christchurch Casino – 30 Victoria Street Christchurch, New Zealand
Christchurch Casino is the oldest land-based casino in New Zealand. It has been located in Christchurch, southern island of the country, and it has been in the business since 1994. For all these years, it gained the reputation of one of the best casinos in New Zealand.
The reasons are obvious. First of all, it looks very luxurious and offers plenty of gambling options. There are 45 tables with different games in the offer, as well as more than 500 slot machines. Moreover, you may count on three restaurants and two bars. All of them provide excellent food and drinks, while we particularly like the award-wining Grand Café.
Dunedin Casino – 118 High Street, Dunedin, New Zealand
Dunedin casino has been in the business for more than two decades and it is one of the most luxurious establishments of this type in New Zealand. First of all, it is located in an old, Victorian-style building, which looks even more impressive from the inside. This is a typical old-school casino, full of flashy details and classic design solutions.
This is not the biggest establishment around, as it offers 12 gaming tables and 180 slot machines. Still, it offers an amazing gambling experience, as the service is excellent. Besides gambling, you can enjoy NZ cuisine in a couple of excellent restaurants.
SkyCity Auckland – Corner Victoria and Federal Streets, New Zealand
This grandiose establishment has been open since 1996 and not only that it's one of the oldest casinos in New Zealand, but it is also one of the biggest in this part of the world. This huge casino offers more than 150 table games and more than 2000 slot machines. You don't see such numbers every day.
Although the facility is huge, the service is excellent. This casino/hotel employs more than 2000 workers and you may count on an impressive level of hospitality. Besides tons of casino games, you can also enjoy numerous restaurants, a dozen bars and theatre.
SkyCity Queenstown – 16-24 Beach Street, Queenstown 9300, New Zealand
SkyCity is the biggest name in the business in New Zealand and its establishments around the country are numerous. One of them is located in Queenstown and it is much different compared to one in Auckland. This is a small establishment, perfect for those who don't like too crowded places.
Here, you may count on a relatively modest number of games. There are just eight tables plus four in the VIP room. When it comes to slot machines, there are more than 80 games in the offer. The staff is well-trained and the service is excellent.
SkyCity Wharf – Steamer Wharf, 88 Beach Street, Queenstown 9300, New Zealand
Those who prefer a more intimate atmosphere should definitely visit Queenstown, as they will find another small establishment of SkyCity franchise. This one is even smaller, as it offers just 6 gaming tables and around 60 slot machines.
Despite that numbers looks a little bit modest, the playing experience is excellent. The staff is well-trained, very professional but extremely friendly at the same time.
SkyCity Hamilton – 346 Victoria Street, PO Box 954, Hamilton, New Zealand
If you live near Hamilton, this is definitely a place you should check. This is a relatively big establishment, which offers all classic casino games on 23 tables. Also, you may count on more than 330 slot machines. That's a pretty respectable number, but this house also offers several bars and restaurants, as well as live entertainment events, so you may count on the full experience.