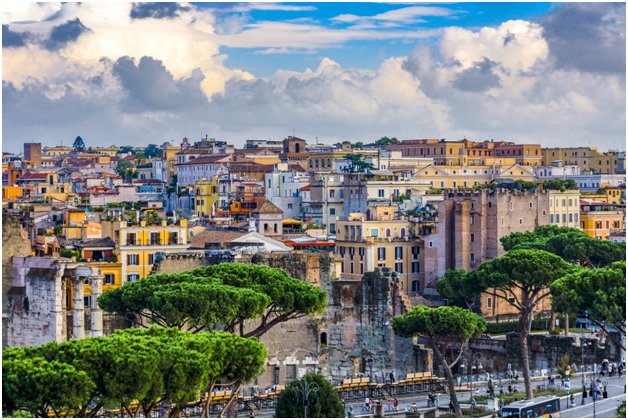 With everything from The Vatican to the Colosseum in its armory, Rome is consistently among the most talked-about and visited destinations on the planet. Traveling through this one-of-a-kind city, you'll pass through the imposing columns of the iconic Pantheon, sample gelato in front of the Trevi Fountain, and tour sites like the Roman Forum, St. Peter's Basilica, and the Piazza Navona.
The amazing thing about Rome, however, is that it is so jam-packed with famous monuments that highlights that would otherwise be popular among tourists are sometimes all but forgotten. The truth is, there are countless fun things to do and see in Rome even beyond the legendary top attractions.
Now, we wouldn't suggest you go too far off the beat path; don't sneak into the Colosseum for a beer, as some American tourists tried (and according to the BBC were heavily fined for) not long ago. But if you're looking to miss the crowds and find something special and unique to do, you do have some options beyond the first few pages of the travel guides.
1) See The Teatro Marcello
This is a prime example of a top attraction that would grace the front cover of most cities' travel brochures. But this isn't most cities. In any case, the Teatro Marcello –– which comprises a 20,000-seat Roman amphitheater –– is certainly worth a visit. While parts of the amphitheater lie in ruins, an exceptional amount has survived the millennia. The amphitheater was even used as a palazzo in the 16th century, and now contains deluxe apartments. It really is an extraordinary structure, and you can wander through its pillars and arches for free.
2) Grab A Drink At The Eitch Borromini Rooftop Bar
Make sure you book a table for this exclusive highlight. You can sip drinks (choose between high-end cocktails and prosecco) on the terrace of the Eitch Borromini deluxe hotel, snapping photos of all of your favorite attractions across Rome. You'll be able to see the Pantheon, the Piazza Venezia and St. Peter's Basilica from this spectacular vantage point. Naturally, there are plenty of excellent bars and restaurants in this city. But frankly, it's hard to beat this one.
3) Play Live Bingo
Bingo isn't usually the first thing you think of when you're exploring an exciting city. But the game is experiencing something of a resurgence, if primarily online. Today, leading internet bingo platforms have made the game trendy again, largely by incorporating animations, sound effects, and the like. Some have also popularized different twists on the game, with numerous sites hosting pop culture-themed rooms, and Gala Bingo re-popularizing Slingo (which is a sort of mash-up of slot machine arcades and animated bingo games). In Rome however, you'll find that the game is also still thriving in its original form. Italy has one of the world's oldest traditions with the game, and you can feel it when you play at a venue like Bingo Ritz Roma –– which incidentally also houses an excellent Sicilian restaurant.
4) Baths of Caracalla
In any normal city, these public baths would be the main attraction, and then some. Dating back to 216 AD, when they were constructed under Emperor Caracalla (hence the name), these ruins show how the Romans enjoyed their hot and cold baths. The complex is also home to an old gym, a library and an Olympic-sized swimming pool where Romans relaxed and played games together. You can even pick up a virtual reality headset to see what it all would have looked like millennia ago. This extraordinary tech really brings the attraction to life. Simply put, the Romans knew how to relax –– and the idea has proven appealing enough to modern travelers that a company known as AIRE Ancient Baths has begun popping up in major cities to offer a modern interpretation of the experience.
5) Admire the Ostiense Street Art
For something a little different –– after ancient ruins, drinks, and a bit of gaming activity –– an excursion to see the Ostiense Street Art might just brighten up your day. You'll marvel at the array of graffiti-like work sprawled across the façades of these elegant buildings. You can also take one of the guided walking tours to gain insight into the area's rich history. Indeed, the city has a fascinating graffiti tradition, with one anonymous artist even having become known as the Italian Banksy.
We hope these five gems have given you a new way of looking at the majestic destination that is Rome. And for more travel tips for destinations around the world, please visit Dave's Travel Corner again!