Winding through 14 different states and over a whopping 2,200 miles, the Appalachian Trail is one heck of a hike. With its impressive length and variety, it's no wonder that there are plenty of awesome things to see along the way— check out some of our favorites!
To keep things from getting too crowded, we've narrowed it down to a top 8. We're also listing the locations in the order they appear during the trek, so you know what to expect from your own Appalachian Trail guided hikes.
Eight miles off the start of the Trail, you'll find Amicalola Falls State Park, a wonderland for waterfall-lovers. The park's namesake, Amicalola Falls, is a spectacular 729-foot cascading waterfall, one of the biggest ones east of the Mississippi! Well-worth a detour in our opinion.
If you are interested in multi-day hikes with amazing, sparkly waterfalls, make sure not to miss the Laugavegur Trail in Iceland!
As the highest point of the Great Smoky Mountains National Park, Clingman's Dome is one of the most impressive overlooks you'll find along the Trail. On a clear day, it provides soaring 100-mile views in every direction!
A fan-favorite at 3,197 feet, McAfee Knob is one of the most photographed spots on the AT. It's easy to see why: It provides jaw-dropping 270-degree vistas of the valleys and mountains below.
4. First Washington Monument, Maryland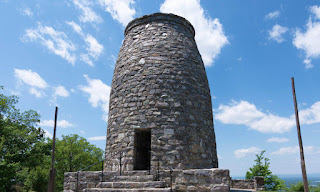 Spice your hike up with some history — stop by the First Washington Monument. As the name tells you, the 34-ft tower was the first monument constructed to honor the Father of the Nation, completed back in 1827.
5. Harper's Ferry, West Virginia

Welcome to the old political hub of the early US! Protected as a National Park since 1963, this quiet residential village presents a perfect blend of nature and history, with a heritage that far surpasses its modest size.
6. Pine Grove Furnace State Park, Pennsylvania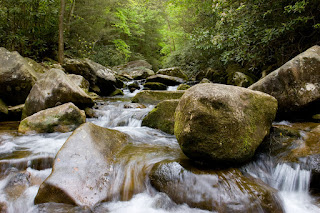 If you don't try the Pine Grove Furnace challenge, did you even really hike the AT? An old thru-hiker tradition, visitors in Pine Grove Furnace are tasked with downing an entire half-gallon brick of Hershey's ice cream in one sitting. Trust us, you'll need the calories!
7. High Point Monument, New Jersey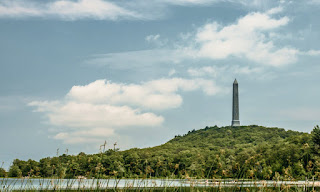 This 220-foot tribute to war veterans is a mandatory stop on every Appalachian Trail hike. Apart from its emotional gravity, it's also a place where you can take in soaring views of the Pocono and the Catskill Mountains, and access the famous Stairway to Heaven trail.
Located 2,193 miles from the starting point in Georgia, Mt. Kathmandin crowns the Trail in style. It's true, the final climb is quite a challenge. However, once you're at the top and see the path you walked to get there, you're overwhelmed by a triumphant sensation that makes every sweat bead, sore, and blister worth it.
We've only just scratched the surface. There are 2,200 miles of fantastic sights here, and we're sure that your top 8 list will be much different — and you'll have just as much fun making it.
Catch you on the Trail!
-57hours