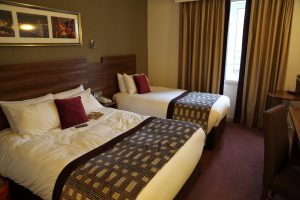 Scotland is one of the stunning destinations in the world to visit. Whether you're in the UK for a few days or longer, visiting here should really be on the cards.
It's got so much to offer visitors. From unrivalled scenery and historic sites to memorable nightlife and fantastic restaurants. The Scottish charm is something unique and really endearing.
Scotland may be small but it really packs a punch. It's got some of the most stunning wilderness in Europe. From the highlands to the borders there are Golden Eagles, Wild Cats and more amazing animals to gaze in awe at.
Not only that, the country is filled with so much ancient history. From the battle of Bannockburn and Culloden, to the Jacobite's; Scotland really has had a turbulent past. There are loads of castles dotted about that were fought over for centuries.
Added to all that, Scotland has some of the best culture from vibing music and nightclub venues to exports like Lewis Capaldi and tennis star Andy Murray.
Scotland has also upped its cuisine game. Gone are the days of deep frying everything in sight. It has some of the best restaurants anywhere in the UK.
This now gets us onto the main aspect of this article. Scotland's hotels aren't just lavish for any old reason. They have Michelin Star restaurants, fantastic accommodation options, unrivalled spa facilities and even better leisure amenities. Their locations are out this world and have loads of nearby attractions. This is what makes a lavish hotel. Not only one that has added perks but one that ticks every single box you could think of.
Here are some of the most lavish hotels in Scotland:
Trump Turnberry
Overlooking the Firth of Clyde, The Trump Turnberry in the district of Ayrshire has been restored to its Edwardian elegance. The legendary golf and spa resort is one of the premier hotels in Scotland. With two championship golf courses, unrivalled sporting and leisure activities and favoured by the rich and famous, Trump Turnberry is a hotel experience that will last long in the memory.
The location is just fantastic. Set on the Ayrshire coast within an 800 acre rural setting there are plenty opportunities for that Instagram moment. With views over the isles of Arran and Kintyre as well as the Firth of Forth, you can truly get away from the hustle and bustle of city life and really enjoy the moment of tranquillity in a luxurious setting.
With excellent style and character that takes you back to a previous era, Trump Turnberry is the essence of a lavish hotel. With golf courses, archery, personal training with a well-equipped gym and much more you could never get bored here. We have to mention the out this world spa. Fitted with a 65ft glass wall pool, hot tub, panoramic views, sauna & steam and ESPA treatment rooms, you can't come to this hotel without experiencing these amenities.
A wonderful place to enjoy at any time of the year.
Inverlochy Castle
Now if you're looking for a lavish accommodation that is set within jaw dropping surroundings then Inverlochy Castle should be considered. Not only that, Inverlochy Castle has a real Royal theme to it. Queen Victoria has resided here with renowned in house chefs taking charge of the kitchen, Albert and Michel Roux Jr.
Just a short distance from Glen Nevis, the Great Glen Way and Ben Nevis, there is also so much exploration on your door step. With free Wi-Fi, a great bar and range of majestic rooms, spending time here should be on your bucket list. Inverlochy Castle is also pet friendly so bring your dog too!
Skibo Castle
You might come here for a special occasion. It might be for your honeymoon or birthday. It should be on the cards as Skibo Castle is breathtakingly beautiful. It's a truly once in a lifetime experience. The high end hotel sits within a 7500 acre estate. Favoured by many celebrities and elite, Skibo Castle offers guests an experience like no other. From golf and Michelin star dining to splendid spa facilities and countless outdoor adventures.
Skibo Castle is in a league of its own.
Crieff Hydro
The Crieff Hydro deserves a special mention. This family friendly hotel really has it all. Not just in thanks to its splendid setting. Sitting on a raised location you get magnificent views of the town of Crieff and the district of Perth and Kinross. The majestic building really adds to its allure. No wonder it's been named Scotland's number one leisure resort. Not only are there loads of things to do in Crieff itself, this hotel has endless activities. From mountain biking and trekking to the more relaxed croquet and swimming, the choice is yours.
Prestonfield House
One of the most expensive hotel residences is Prestonfield House. Not only has it looked after every Hollywood celeb you could think of, its £10 million redevelopment is stunning. With its own helipad outside, it's set within a picture perfect 20 acre green woodland. The award winning onsite restaurant has over 800 bottles of wine to choose from so visitors won't go thirsty here.
Prestonfield House is the height of luxury and for over £300 per night you would expect that. The rooms are well appointed offering, Bose speakers, mini bar, large oak beds and endless marble decorated within each residence.
In conclusion
These fantastic hotels offer guests the lavish experience they always wanted. From top dining and spa options, to picture perfect settings and even more grandeur. Visiting Scotland is so unique and adding these hotels to your itinerary can enhance this experience even more.
These hotels and lavish residences give guests something different. A truly remarkable time in settings out this world. From Glasgow to Edinburgh, to the Borders and the Scottish Highlands, this "wee" country has an abundance of fantastic hotels waiting to be discovered.
Don't take our word for it – experience it for yourself.