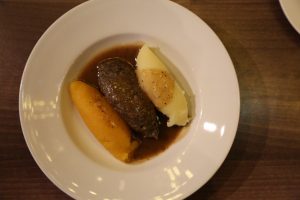 With the early signs of Spring blossoming this time of year in many parts of the world, I thought I would find at least some signs of the lessening grip of winter that these warmer months bring. I was completely wrong. I arrived in Glasgow and it was gloomy, raining and frigid. I didn't even see the trees starting to push green buds.
After I left the bus from the airport I didn't have much energy to look further – summoning the last bit of energy I could muster, I crashed hard in the lobby of the Jury Hotel and spent the next several days horizontal with barely enough energy to get out of bed to crawl to the bathroom.
Being sick anytime is no fun but especially so when traveling. After a few days I was able to go out for a few hours. I discovered Chaophraya Glasgow – they bill themselves as Europe's largest Thai restaurant. Had to try it. Was told I could have a table for 90 mins, no longer. Weird – what type of restaurant tells customers this upon arrival? Nice soup but very odd tasting beef salad. Menu listed mango sticky rice – apparently they had none. Brilliant.
Pushing through the meal I then headed back into the the nasty cold. I spotted a statue of Donald Dewar – the inaugural First Minister of Scotland and often called 'the father of the nation'. This statue was unveiled at the time by then Prime Minister Tony Blair in 2002. It is an imposing statue commemorating an important figure in Scotland's history – and is in front of an impressive building, the Royal Glasgow Concert Hall.
Wanting to try one local dish – I made a beeline for Rab Ha's Hotel & Pub and promptly ordered the Haggis. This Scottish dish did not look to appetizing but in actuality was quite tasty. Feedback from the social media world ranged from "it looks like poo" to "is it a piece of mud" to "the chefs have no idea what they are doing". I had no idea a piece of food could be so controversial!
Haggis is a mix of sheep heart, liver and lungs and perhaps some other miscellaneous organs.
I felt cheated physically and by Scotland itself (mostly due to the weather although mentally I expected this prior to my visit) and had to cancel all my area travel plans including to Edinburgh. With that said, I must return when the weather is warmer and I'm not so ill.