Thailand is one of the most attractive destinations for backpackers in Southeast Asia. It is also the most visited country within the region as it boasts of rich historical, cultural, and natural tourist sites.
The country offers several experiences for backpackers, no matter their budget. The best of these experiences includes:
1. Visiting the Floating Markets in Bangkok
The floating markets are some of Thailand's top tourist attractions. The experience created by the fresh food, Thai flavors, activity in the markets creates a positive memory to most people.
You can visit a market that is closer to the city or one that is far into the suburbs where traditional food is prepared and served on a boat. Some of the top floating markets in the city include:
• Damnoen Saduak
• Amphawa floating market located in Samut Songkhram
• Taling Chan that is only 12 km from the city
• Khlong Lat Mayom in Bang Ramat
• Bang Nam Pheung in Samut Prakan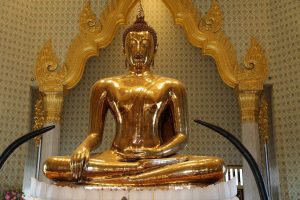 2. Visiting the Temples
Known for its cultural and historical heritage and is tailor made for luxury Thai vacations. The country has several temples that you should not fail to experience. One such temple is Wat Traimit or more known as the Golden Buddha, which is a golden image of Buddha that was discovered approximately 65 years ago in the temple's compound.
The 5.5-tonne image is kept in a four-story structure known as Phra Maha Mandop. Other temples include Wat Phra Kaew which features the Emerald Buddha, Wat Arun and Wat Phra Yai which is popular because of its enormous size that can be spotted from a far distance.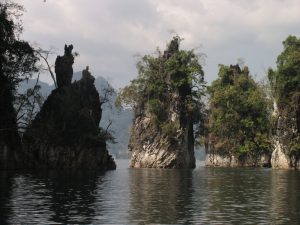 3. Diving in Koh Sok National Park
Koh Sok National Park is located in the southern part of Thailand. It covers more than 646 square miles and ranks among the best parks in Thailand. Koh Sok features several rivers and a manmade lake with the best diving spots.
Making the park your tourist destination allows you to experience challenging underwater caves. You also get to board the famous long-tail boats as you ride on the blue waters towards the diving spots. Caverns, submerged trees as well as sunken villages are visible under the water as you dive.
4. Teaching English
You can also decide to teach English to the locals as you learn about their culture. Thai schools usually employ several foreign teachers to help teach its students English, just one of a number of teaching jobs abroad a backpacker can get depending on their own experience. One place you can get teaching opportunities is Hua Hin where working conditions are of manageable standard.
The small resort town is located along Thailand's coast, a few hours from Bangkok town. Feel free to relax on the nearby beach during non-teaching hours. Another place for teaching is Chiang Mai, which is the country's second most renowned tourist destination.
The place is peaceful and home to thousands of other teachers. It has a more traditional set up that showcases the authentic Thai culture. The traditional markets around sell unique handicrafts from the locals.
5. Attend a Thai Festival
Thailand is a place for festivals. To maximize your fun as a backpacker, you may decide to attend one of the many festivals that take place all over the country. The Songkran or water festival occurs in the entire region every April.
There is also the ghost festival that takes place in June or July, the lantern festival or Yi Peng in November, and the rocket festival celebrated in June. Thai festivals always create remarkable sights. They are often accompanied by traditional music and a party atmosphere.
Conclusion
Backpacking in Thailand will give you the opportunity to explore the aforementioned experiences and more. Its breathtaking beauty and rich cultural and historical background makes it a destination that no backpacker should miss.