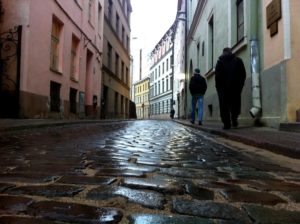 Tucked away in the northern part of Europe, Latvia is a Baltic gem waiting to be discovered. A beautiful blend of unspoiled nature, rich cultural heritage, and dynamic city life makes it a fascinating destination for all types of travelers.
Whether you're an adventurer, a history buff, a city explorer, Latvia has something special in store for you.
It's also the perfect place to travel and work at the same time! More and more people are choosing to get a digital nomad visa for Latvia to enjoy everything the country has to offer without having to take time off work.
Let's explore the top five must-experience destinations in this enchanting country.
1. Riga: The Vibrant Capital
Riga, the capital of Latvia, is the country's cultural and historical heart. Its Old Town, a UNESCO World Heritage site, is a maze of cobblestone streets, charming squares, and beautifully preserved medieval buildings.
Wander around the Doma Square, admire the intricate facades of the Three Brothers houses, and visit the stunning Riga Cathedral. Don't miss the Art Nouveau district, where you'll find one of the world's most impressive collections of buildings in this architectural style.
Explore the Central Market for a taste of local flavors, and as the sun sets, enjoy the vibrant nightlife – Riga is famous for it.
2. Jūrmala: The Seaside Resort
Just a short drive from Riga (25 km, or 16 miles), Jūrmala is the premier seaside resort in Latvia. The town is renowned for its healing mineral waters, mud baths, and a long sandy beach.
The city plays host to one of the largest water parks in Northern Europe: Livu Akvaparks. You can enjoy more than 10 pools, 20+ water slides, saunas, and much more.
Take a leisurely stroll along Jomas Street, one of the oldest boulevards in the center of the city. Completely pedestrianized, this charming street is lined with cafés, restaurants, and shops.
If it's nature you want, make sure to visit the Dzintari Forest Park. This is the perfect place for relaxation with its walking trails, playgrounds, and a viewing watchtower offering panoramic views of the area.
Take a stroll by the scenic River Lielupe, which flows through Jūrmala, or brave the waters in a canoe or kayak. There is no end to the list of things to do in this city!
3. Gauja National Park: The Green Soul of Latvia
Latvia's largest and oldest national park, Gauja National Park, is a paradise for nature lovers. Spanning an area of 917.86 km², most of which is woodland, it offers a wealth of outdoor activities.
The park has a long history of being a desirable destination — people have been coming to walk the forest paths of Gauja since the 19th century. Hike through the scenic trails, explore the fascinating sandstone caves, and marvel at the unique landscape.
Gauja National Park is also a renowned spot for bird watching, with around 150 bird species found here.
The park is home to several medieval castles. The most famous of these is Turaida Castle, which offers fantastic views of the Gauja River Valley.
4. Sigulda: The Adventure Capital
Often referred to as the "Switzerland of Latvia," Sigulda is known for its Neo-Gothic castle and varied terrain, making it a hotspot for both history buffs and outdoor activities.
Here, you can try bobsledding, go on a cable car ride across the Gauja Valley, or take to the skies in a hot air balloon. In autumn, Sigulda is a must-visit for its breathtaking fall foliage.
The nearby Gulmanis Cave is the largest cave in the Baltic nations and a popular spot for visitors to explore.
If you come during the summer, you might catch Sigulda's yearly Opera Festival — a traditional open-air event that takes place in the ruins of an old castle.
5. Rundale Palace: The Versailles of Latvia
Located in southern Latvia, Rundale Palace is a stunning Baroque and Rococo masterpiece. Designed by Bartolomeo Rastrelli, the architect of St. Petersburg's Winter Palace, it's often called the Versailles of Latvia.
Tour the opulent rooms, marvel at the intricate stucco decorations, and explore the beautifully manicured French-style gardens.
It is little wonder that this is one of Latvia's major tourist destinations, but it is more than that. The Palace is still used to accommodate important visitors, such as the leaders of other countries when visiting Latvia.
Latvia is a country where modern design meets timeless tradition, where serene landscapes meet lively cities, and where every turn introduces you to a new aspect of its rich heritage. We hope this list inspires you to visit Latvia and explore its many wonders.
Remember, the joy of travel often lies in the journey itself, so take your time to soak in the serene beauty, rich history, and vibrant culture that Latvia offers. Safe travels!