Travelling is such an important part of life for most people. It nourishes the soul, educates the mind, and provides some perspective about the world around us when all we see and read in the media is hate and fear. Arriving in a new city unsure of what the immediate future holds is incredibly exciting, and memories will be made that will last a lifetime.
No matter what sort of traveller you are, there are three goals you are likely to have when arriving in a new place:
• Find the perfect elevated views for those all-important social media or travel blog photos.
• Find cheap food so you can stretch your travel money as far as possible.
• Find a great place for a refreshing drink after a long day of sightseeing.
Fortunately for visitors to Melbourne, they can satisfy all three in some of the most unique rooftop bars found anywhere in the world. Not only can you get spectacular photos of the Yarra River, Southbank precinct, Flinders Street Station and CBD, but you can do so while sampling both classic and experimental drinks menus, and delicious food at a reasonable price.
Here are 5 of our favourites, although if the truth be known, there are many, many more for you to find and explore.
Asian Beer Café
Melbourne Central
Level 3, Cnr La Trobe and Swanston Streets
Melbourne VIC 3000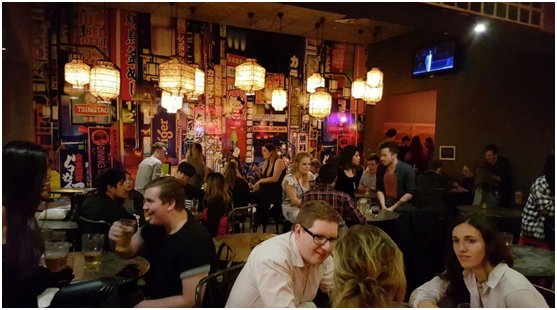 A cross between modern sophisticated fittings and traditional worn Asian style furniture, the Asian Beer Café specialises in the culinary delights of East Asia such as their delicious lunchtime Bento boxes.
Enjoy the inner furnishings, including remnants from an old cargo ship that was sunk by pirates off the coast of Indonesia, or venture out to the iconic Melbourne rooftop bar where you can experience superb views over Swanston Street and the State Library.
Open 7 days per week from 11am-1am
Deck Mercantile Place
Waterside Hotel
508-514 Flinders Street
Melbourne VIC 3000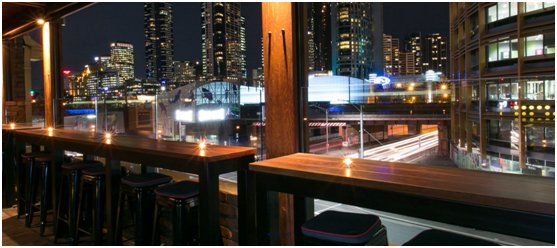 For exceptional views over Southbank, Crown Casino and the Yarra River, look no further than the Deck Mercantile Place. As you'll soon discover when searching for bars and clubs in Melbourne, the entrances of many of the best can be found down hidden alleyways, and 'The Deck' is no different.
Built for Melbourne's notoriously fickle weather, there's a retractable roof, heating and a fireplace, and you can enjoy burgers, pizzas and salads for well under $20.
Open Thursday and Friday from midday-late; and Saturday from 6pm-late
Bomba Bar
103 Lonsdale Street
Melbourne VIC 3000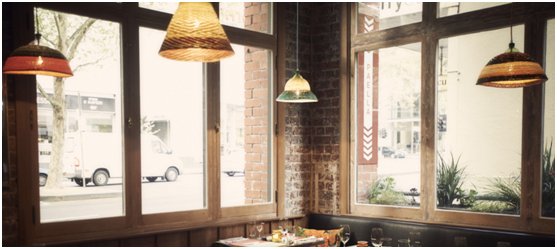 A combination of excellent Spanish food and well stocked bar featuring local and international vermouth, gin, rum and whisky, you can easily spend several hours here enjoying the view over the trees that line Lonsdale Streets.
Bomba Bar's retractable roof is perfect for Melbourne's ever-changing weather patterns, while the $15 Worker's Lunch features a range of tapas, raciones and verduras to choose from. You can even wash it all down with $5 red sangria, manzanilla or Two Birds Golden Ale.
Rooftop Bar open 7 days a week from 3pm
Rooftop Bar
Level 7, Curtin House
252 Swanston Street
Melbourne VIC 3000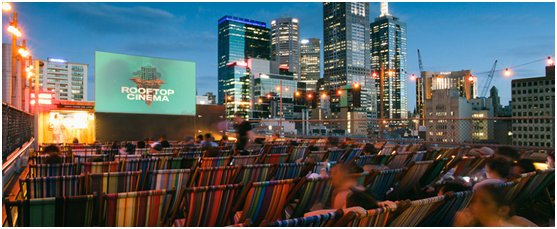 Arguably the very definition of what a rooftop bar is, you can grab a refreshing drink and outstanding views of the city from seven floors above the busy streets below. Unfortunately there's not much cover should the weather turn nasty, but there are umbrellas and gas heaters for those lucky enough to score them when the rain sets in.
During the summer months Rooftop Bar turns into an open-air cinema five nights a week from 8pm, playing indie classics, cult films and art documentaries. Grab a bite to eat from the All Day Burger Shack or downstairs at Mesa Verde.
Open 7 days a week from midday-1am.
Loop Roof
Level 3, 23 Meyers Place
Melbourne VIC 3000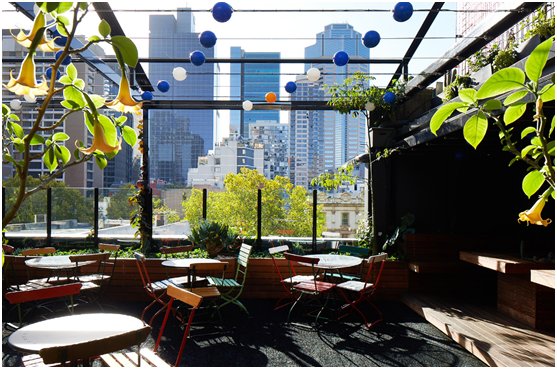 Climb the stairs and escape from the concrete jungle below in this garden-themed open-air cocktail bar, surrounded by Melbourne's CBD skyscrapers. Cocktails with vegetable flavours are a feature of the Loop Roof Bar drinks menu, while 'hard iced tea' punches and vodka-based snow cones are also very popular.
When the hunger pains strike, indulge in sliders (3 for $13-$16), tacos, buffalo wings, Thai salads and a range of other delicious foods, all for well under $20.
Over to you…
Whether you're venturing down secluded alleyways, climbing rickety stairs, or entering via hidden entrances off the beaten track, finding one of Melbourne's many outstanding rooftop bars will be one of the stories you tell your friends back home over and over again.
Mix with well-dressed friendly locals (Melbourne also claims to be the style capital of Australia) for a quiet drink over lunch or a longer evening stay, and let the expertly trained bar staff mix up one delectable beverage after another. And to ensure you have an enjoyable night free of incident, Melbourne bar staff all have their RSA VIC, so they know when to cut of those who may have enjoyed one too many drinks.
More rooftop bars have appeared on the Melbourne nightlife scene over the last six months than at any time during the past decade, so you won't get to experience them all. But these five will get you off to an excellent start, while finding a few others will all be part of your Melbourne adventure. If you are looking to travel and pickup work in hospitality in Australia you can take advantage of a 50% discount Offer for an RSA Online Australia Certificate
The RSA qualification (SITHFAB201 – Provide Responsible Service of Alcohol) can be completed online or by correspondence by Express Online Training (Course RTO 40592).