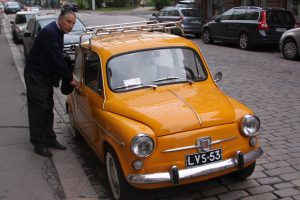 There comes a time in your life when you're filled with a sudden urge to go exploring around the countryside in some far flung continent.
Although the idea of endless beautiful scenery flying past seems like a great idea the time, once you get out on the road you reach a point of boredom where seeing what's probably the fiftieth giant rolling hill of that day just isn't going to cut it anymore.
That's why many of us plan ahead and pack a few things to distract ourselves as we slowly crunch away mile after mile of open and often dull sections of road, a point where travelling and tedium always tend to intermix with one another.
If you're travelling yourself you many want to consider a few things that will not only keep you awake but will engage you mentally so you don't become too distracted from keeping your large metal box with wheels stuck firmly to the road.
That's why many people driving alone either on trips or commuting to their daily workplace tend to use either podcasts or audio books as a preference to listening to irritating radio jockeys churn out the same 'Totally hip hit songs of today' over and over and over again.
Comedy podcasts are pretty good for adding that bit of humour, putting you in a relaxed and fun mood or topical podcasts that talk about something you're interested in, like cars or video games.
Plus with recording equipment being relatively cheap to get a hold of, there's an infinite list of entertainers for you to choose from.
In the case of audiobooks it's a far more relaxed affair, it brings you this nostalgic feeling you had as a kid when your parents would read to you, only the topics are a tad more grown up, murders and space battles are our forte now, not caterpillars with eating disorders.
Or if you're travelling with family or friends you consider a few more options, why not bring along some board games or handheld consoles, allowing them to interact with one another whilst you focus on the driving.
You could even consider using smart devices like tablets or phones to play a few fun game of Bingo online.
Although you might get a few roaming charges, there's nothing better than the chance of winning yourself and your friends some spending money to use when you eventually arrive at your destination of choice.
So no matter how you distract yourself from long trips, just make sure that it's something you enjoy that will keep you entertained for hours because when it comes to travelling, it's not tiredness that kills, its boredom.