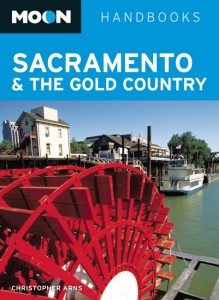 Sacramento & The Gold Country, by Christopher Arns
Initial impressions of Sacramento perhaps: Inland. Old town. Brick buildings. The state's capital city. A good thing considering its somewhat central geographical location in the state, rather than being located in one of the major urban coastal areas. More recently occupied by a body builder, turned actor turned politician. But he has gone away now and there is a "new" governor – or rather an old – albeit experienced one. There is a beautiful river here – incidentally, of the same name as the city. Those are just impressions from afar. Moon Handbooks has just released a new detailed guide to Sacramento & the Gold Country region.
Sacramento, perhaps has been bypassed by San Francisco Bay Area-ans and other tourists either on the way to the Bay Area or commonly up to Lake Tahoe.
However, the city commands a presence incorporating its own unique blend of old and new – and is well worth a visit for Californian's who have not been in a while as well for those visiting California – making it and the foothills of the Sierra Nevada's, a destination in and of itself. This book delves deep into the heart of Sacramento; there is more here than one not familiar with the city or one who has not visited in a while is aware of.
The city has a thriving entertainment and arts community – a number of neighborhoods have been remade offering up small bistros and museums. Author Christopher Arns is a Sacramento resident and grew up in Gold Country and provides a perspective that only a "local" who has lived in this region for many years can do.
Sacramento enjoys a plethora of sunshine filled days throughout the year – it can be warm to hot in the summer and from mid December through mid February – often cold or rainy. But it is a city that experiences four seasons – and each season has its own charm. An International airport is only located about 15 minutes from downtown mostly offering flights to a number of Domestic locations.
Is there Gold here? You will have a hard time finding it naturally occurring in Sacramento proper, but its legacy has helped built the city and is certainly alive in the Gold Country – a mountainous part of the north and central state which includes the Western foothills of the great Sierra Nevada mountains. And yes there is still gold in these foothills that has not yet been discovered.
This book covers in great detail both the "north" and the "south" gold country. Charming towns that fell on hard times decades ago – well after the 1849 Gold Rush have been rejuvenated by tourism (wineries, caves, whitewater rafting, history, shopping etc). Picturesque downtown's that incorporate each town's unique history -with boutique shops and antiques dot Highway 49 – the often windy road that forms the spine of "gold country".
The guide contains 18 detailed and easy-to-use maps – lists plenty of activities both in Sacramento proper and the foothills of the Gold Country – and provides ideas for planning specific types of trips.