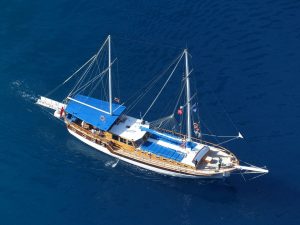 During the dark days of winter, many dream of the summer, sun, sea and sand and over the years, companies marketing different destinations around the world have used images to promote travel, holidays and their locations in particular. One of the oft used photographs, certainly within the Continent of Europe, is the stunning 'blue lagoon' of Oludeniz, near Fethiye in the middle of the Turquoise Coast of Turkey. Oludeniz actually means 'dead sea' in Turkish but it is far from dead. The description is because of the calmness of the sea, sheltered even in poor weather.
Just a few kilometres from Fethiye, sitting below Mount Babadağ that rises 2000 metres above sea level, it is a stunning location on a coastline that has become increasingly popular as the years have gone by. This part of Turkey is well serviced by the International Airport at Dalaman around an hour to the west. Dalaman has regular direct flights from a host of regional airports as soon as winter departs and right around until it approaches again.
Fethiye
Charters heading for Oludeniz typically start at Fethiye which is a town that has expanded tremendously over recent years as indeed have all of the places along this coastline. The town has a large waterfront and marina with plenty of berths, bars and restaurants from everything from coffee or a beer to the best of Turkish cuisine, perhaps a range of mezes, the fresh fish with seasonal fruit and vegetables, and famous
Turkish desserts
There are plenty of shopping opportunities but it is best to leave that until the end of a holiday before your flight home. First things first; board your gullet or yacht, settle in and relax as you set off on your voyage.
Oludeniz
Oludeniz beach regularly receives recommendations as one of the top beaches in the world. It is in fact pebbles but that does not detract from the setting that visitors see on arrival, whether reaching by road, or better still from the sea. It is a restricted access area at night but those on a private cruise need not fear being chased away as the crowds leave. While passengers are not free to do as they wish, charters can drop anchor and enjoy the setting long after the beach is deserted and the sun goes down. Temperatures during the hot weeks of summer are still warm throughout the night.
Perhaps paraglide from the top of the Mount down to the sea? Instruction is available for beginners and you can glide with an experienced instructor if you wish. The actual 'flight' takes around an hour with unforgettable views all the way down.
Butterfly Valley
Another major attraction nearby is Butterfly Valley which is a steep-sided canyon with waterfalls and stream running down towards the sea. It is accessible from the sea and during the main summer months there is a host of butterflies and moths to see, including the very colourful Jersey Tiger. This is a very sensitive environment but guests are welcome to stay in one of the eco-friendly cabins. As well as the butterflies, the flora and fauna are well worth the visit.
12 Islands
There are many small uninhabited islands in these waters with plenty of places to anchor and beaches to enjoy. The beauty of being on your own boat is that you can stay when those on a day trip are heading back to harbour. You may like to fish for your dinner though if you are not too confident of catching anything you will have to have something else on board unless you want to head to land and one of the many fine restaurants.
If you want a Blue Cruise Turkey is certainly the place to go. There is a wide choice of itineraries right along the coast. The immediate area around Fethiye has enough to keep everyone happy, those just wanting to relax and the more active in a group who might want to enjoy everything on offer. There is no pressure to decide anything immediately because good companies with quality websites provide plenty of information and are happy to handle enquiries and answer every question. What fun on a cold winter's night to sort out a dream holiday!